New bars, events and communities are making Singapore a regional whisky hub
From the rise of bars and festivals to the proliferation of online communities and niche-label distributors, it's boom time for the malted liquor in Singapore.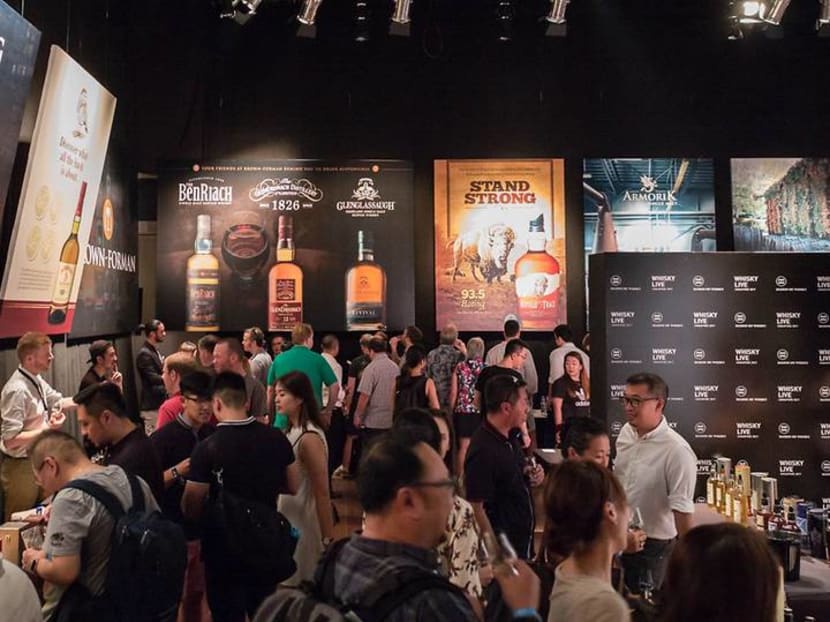 Just five years ago, the number of whisky bars in Singapore could be counted on one hand. Establishments like The Auld Alliance, La Maison du Whisky and Quaich Bar were the go-to's for whisky enthusiasts looking to score a quality bottle. 

Lucas Tan, co-founder of The Malt Affair, an online marketplace specialising in whisky, recalls that back then, "there were only a handful of collectors who really knew their whiskies". 
To him, 2015 proved the turning point, when the Yamazaki 2013 Sherry Cask was awarded "World Whisky of the Year" in whisky writer Jim Murray's annual publication, Whisky Bible.

"Jim Murray's declaration of a Japanese whisky being superior whipped demand for Japanese whisky into a frenzy. The resulting scarcity and rapid escalation of prices of Japanese whiskies led some to turn to Scotch as a more economical and viable alternative," Tan explained. 
Not only were imbibers' curiosity regarding Japanese whisky piqued, the increase in demand for Scotch whisky invariably led to a general interest in this golden nectar of a beverage that's been called "water of life".

A WHISKY BAR FOR EVERYONE

When Chua Khoon Hui set up The Whisky Store, a whisky wholesale and retail business that also runs Quaich Bar, back in 2006, most consumers were still drinking whisky blended with soda and "maybe trying the occasional neat single malt or buying a few bottles for a rainy day".
Since then, the whisky drinking scene in Singapore has no doubt matured and become more diverse and educated. Chua notes that there are now strong subgroups of collectors, people who drink a quality single malt casually with friends, folks who drink whisky cocktails, and those who seek deep understanding of whisky history, flavour and production. 
"There is no one bar that can cater adequately to all of these groups, which is why we are seeing the diversification in bars and events dedicated to whisky," said Chua.

There are now close to 30 different whisky bars in Singapore with at least half a dozen opening in the last six months, including Room For More in May, The Cooperage in August and, most recently, The Excise Man last month. These range from establishments looking to draw new drinkers into the world of whisky, to bars catering to serious whisky connoisseurs and collectors, as well as places that straddle the fence and try to have something for both.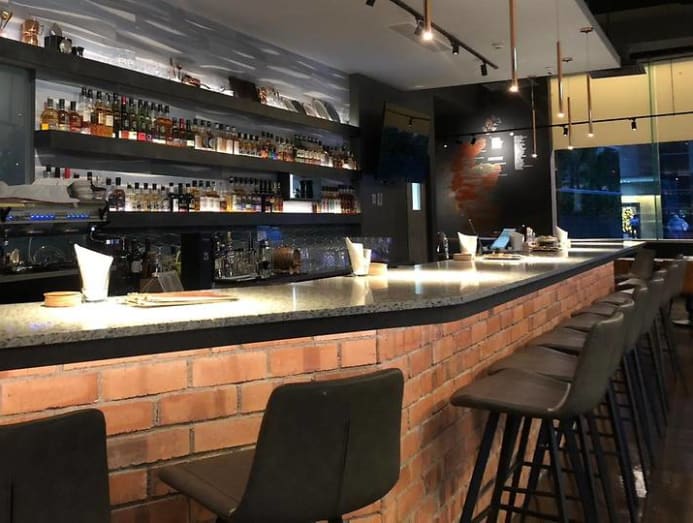 The Whisky Store's newest offering, The Copper Plate, is a casual whisky bar where drinkers have the option of ordering whisky by the carafe, a range of whisky cocktails, as well as unfussy dining fare to go with their beverages.

Part-wine bar and part-whisky lounge, Tipple & Dram brings whisky lovers and drinkers of other spirits and alcohol together. That said, their impressive 200-plus bottle whisky collection includes more than 100 distillery-exclusive bottles that the owners hand-carried back from their visits. 
According to co-founder Anand Pande, today's consumers are looking for specialised bar experiences. To provide that, Tipple & Dram also stock grain whiskies, that from closed distilleries, as well as whiskies from 35 other countries.

If it is Scotch whisky that you are after, The Swan Song focuses on the best-regarded rare and vintage Scottish Single Malts produced in 50s to 70s, as well as hard-to-find and unusual modern expressions. 
Yet, co-owner Kelvin Hoon believes in carrying whisky of all levels so as to ensure there is something special for everyone. To do this, the bar offers a wide range of tasting sets, as well as customised sessions for groups and even one-on-ones where they are happy to talk and share all about whisky.

"We wanted to have a space where true blue whisky enthusiasts as well as those eager to find out more about whisky can mix and mingle," he explained. 
"We find there is real organic growth in the numbers of people interested in whisky, and this groundswell has come from long exposure to common brands and their basic range. Eventually people who are interested want to learn more."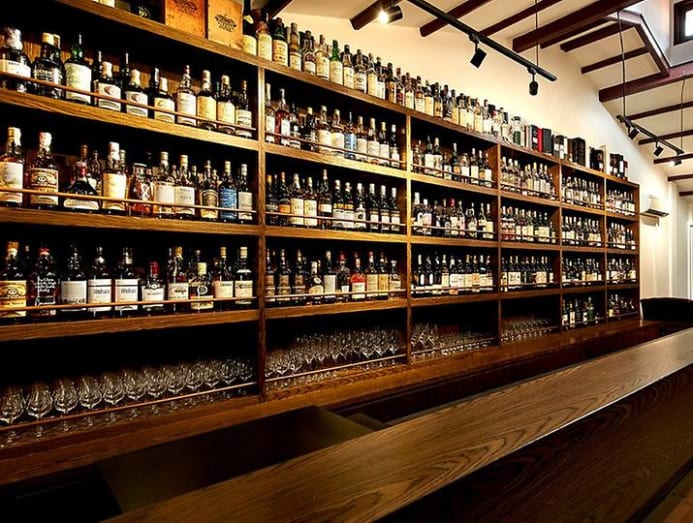 WHISKY EXPERIENCES

Whisky bars alone are not enough to quench the local market's thirst for whisky knowledge and experiences. As with all things with history and tradition, it is only fitting that the malted liquor be bestowed a grand museum. And that can be found tucked away on the fifth level of ION Orchard, in the form of The Grande Whisky Collection.

This gleaming 3,600 sq ft museum houses a comprehensive vault of 4,500 old and rare whiskies that is open to the public for tours. Your tour brings you past bottles from across Scotland, including ghost distilleries like Port Ellen, Brora; as well as Japan – the centrepiece being three bottles of the Yamazaki 50-Year-Old single malt – and ends off with a tasting flight.

Besides this, flip through the local whisky calendar and one will be able to find a whole host of whisky-related events, including fairs and exhibitions, bottle launches, as well as exclusive tastings and dinners when distillery brand ambassador or master blenders visit town.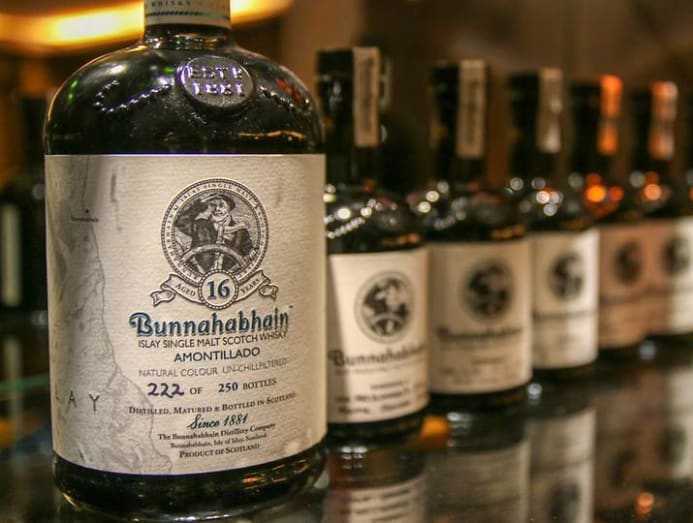 In November alone, Singapore saw three different whisky fairs and events that put a spotlight on the drink. Targeting mass consumers, both the 1855 The Bottle Shop's bi-annual Wine & Whisky Week and La Maison du Whisky's Whisky Live allowed the public access to taste a wide range of whiskies and other spirits, as well as attend various themed masterclasses.

Then there was Volume Three of The Malt Affair. This community-driven event organised by the folks of The Malt Affair is meant for fervent whisky fans. Its exhibitors are mostly collectors dipping their toes into the business side of things. The items found at The Malt Affair are meticulously curated.

Tan explained: "Our priority is to provide participants the opportunity to sample unique, interesting, old and/or rare whiskies at reasonable prices. For instance, all of the whiskies exhibited at our Volumes are sourced only from private collectors, partner bars and distributors personally known to us. Even so, we stringently vet prices for these whiskies to ensure a well-curated selection that is not overpriced."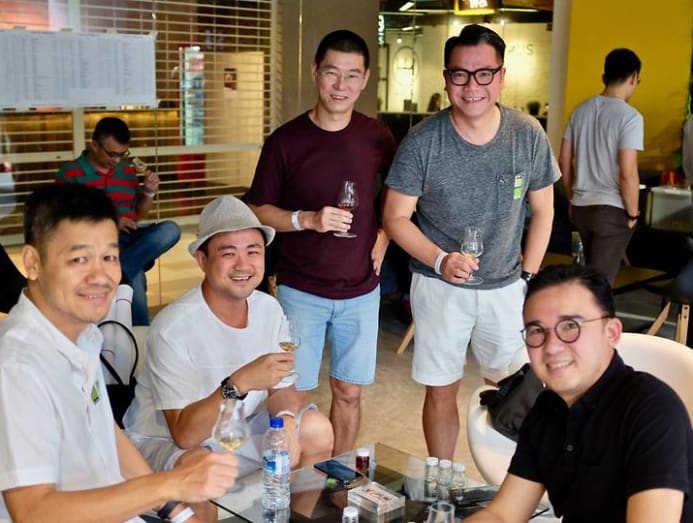 Whisky collectors now also have a premium location for them to store and showcase their bottles. At the Whiskey Library in The Vagabond Club, there are over 1,000 bottles of rare and refined award-winning whiskies from around the world. 
Guests can sign up for a membership programme offering access to one of 80 lockers that can each store up to 15 bottles of whisky. Members can bring one of their own bottles for every two bottles purchased at The Whiskey Library, enjoy special bottle pricing and reserved seating at regular Whiskey Club events and experiences.

WHAT'S NEXT FOR SINGAPORE'S WHISKY SCENE

Justin Choo, co-editor at Spirited Singapore, an online website about whiskies, wines, spirits and beers, started collecting whiskies back in 2011 and has witnessed how the whisky scene in Singapore has evolved.

"Today, whisky is a spirit that attracts people who appreciate fine liquor and people who look favourably on their investment or collectable value. We've reached a point where the average whisky drinker makes a distinction between whisky for collecting's sake, whisky for everyday drinking, and whisky for special occasions. The niche of whisky enthusiasts grows slowly by word of mouth," he said.

And it is through the sharing of whisky knowledge via like-minded folk that has sustained whisky's popularity in Singapore.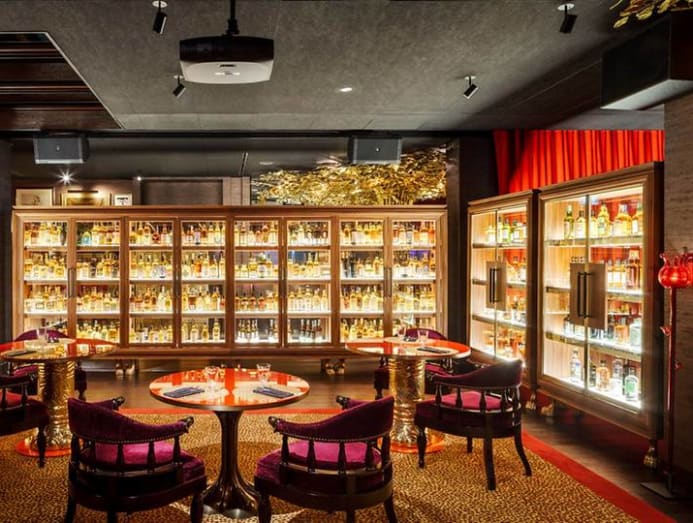 A quick search on Google and Facebook turns up results for many online whisky community pages, such as Dram Full, Singapore Liquid Gold Club, and Dram Club. For Choo, these groups play an important role in connecting whisky fans and industry folk, and subsequently bolstering and maturing the whisky scene in Singapore.

"As the whisky community expands and becomes more discerning, there is certainly a growing curiosity about less commercially visible whisky, and enthusiasts are more willing to venture outside the usual tried-and-proven sources (such as DFS at Changi Airport) to obtain them," Tan noted. 
"This much is evident in the rise of online retailers such as SimplyWhisky.sg as well as local distributors such as Spirits Castle, FriendsWithDrams and Interco-MLE, who are raising the bar by importing some excellent independent bottlings."

Choo also pointed out there are more and more independent labels becoming available in Singapore, through local distribution as opposed to buying direct online. 
"We are now seeing the whisky boom newcomers starting to venture forth into the world of indies (independent distilleries). We can see whether or not whisky will sustain its interest in Singapore through how well these relatively new local distributors fare," said Choo.

Tan is hopeful for Singapore's whisky scene. "I believe that Singapore is poised to become the hub for whisky in the region. If the whisky community continues to grow at the exponential rate we are witnessing today, this may occur sooner rather than later."