Oxtail doughnuts, fried mala quail: The chef behind Between Buns opens new Wildcard restaurant
At this tucked-away new cafe-by-day-wine-bar-by-night at Furama Riverfront, Chef Ahmir Arshad is all about comforting flavours that kickstart cravings, and making old-school flavours great again.
Chef Ahmir Arshad didn't want to smile when our photographer took his picture. Instead, he said, he wanted to go with the "natural look, so that when people come here, they know what to expect."
Clearly, even his stony chef-face could not disguise his sense of humour – which must be why the food he puts out at new restaurant Wildcard is perfectly polished, yet imbued with an irresistible sense of let-your-hair-down.  
Wildcard, unassumingly located in a corner off Furama Riverfront Hotel's lobby, is a new cafe, restaurant and wine bar that you'll be hard-pressed to spot from the outside, with its tiny sign, secretive cafe curtains shrouding the windows and low-key, retro-diner vibe.
Officially open this week after a soft-launch period, the establishment is a collaboration involving Ahmir, sommelier Charlene Yeap and Maxi Coffee Bar owner Denise Lum.
While it's a temple to caffeine in the daytime and a laid-back place to have a glass or two of wine in the evening, the constant is that there's soul-nourishing food all day: A small but punchy menu of compellingly uncomplicated dishes planned well, seasoned properly, done right – a rarity in the casual dining scene.
There's the Oxtail Donut, for instance – savoury braised oxtail ragout within a spherical doughnut that's glazed with espresso barbecue sauce and topped with bone marrow crumbs and chives. Or the fried Jerusalem artichokes with onions and comte shaved over the top. Or the pasta dish that begs to be washed down with a glass of something grapey: Paccheri served cacio e pepe style but with pesto and topped with a silky egg yolk. I could go on, but I'd probably just end up listing nearly the entire menu.
Ahmir has a sharp focus when it comes to the kind of food he loves to do. "I always strive for three things for any dish I make: Tasty, of course; comforting; and repeatable," he said. "You shouldn't feel like Wildcard is somewhere you go only on occasions. It shouldn't have to feel like a special day for you to come in. Come on a Wednesday after gym, after work, have a plate of pasta or a sando anytime."
Ahmir is also the man behind Between Buns, a home-based sandwich business he started during the pandemic that had people lining up for his fried chicken sandwiches. So, it's quite clear that he deals in comfort food of the highest order.
The 28-year-old trained at SHATEC and worked at restaurants including, for a significant amount of time, modern tapas place Esquina. He always thought he'd do "tweezer" cuisine. But that was until a serendipitous encounter with a sandwich shop in Melbourne supercharged a new culinary obsession.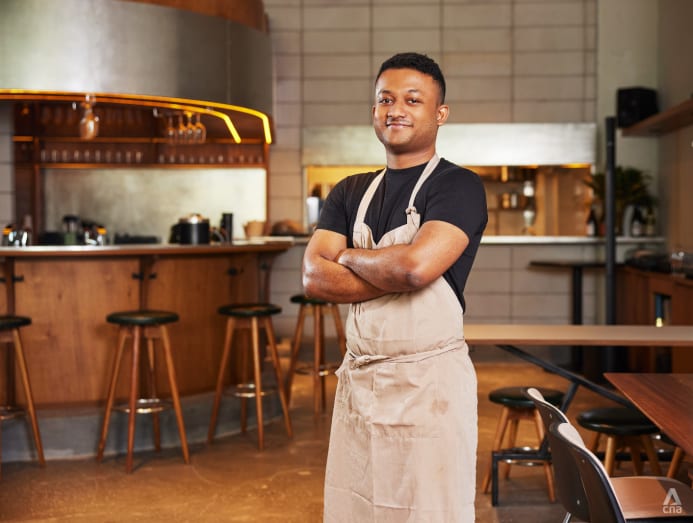 He'd moved to Melbourne to work at Southeast Asian restaurant Sunda, one year before the pandemic hit. During that time, he visited the popular Hector's Deli, and the tuna melt changed his life. "I left the shop and walked home with my head down, just thinking… 'This is exactly what I want to do with my life'."
So, back in Singapore, he set out to recreate that tuna melt and, along the way, put out many other sandwiches by way of Between Buns, like a fried oyster po' boy with gribiche and salsa macha; curried lamb ribs on Turkish bread; and a chicken tikka banh mi.
It's still his dream to immerse himself in the world of sandwiches – someplace by the beach in Bali, perhaps – but for now, at Wildcard, where he holds his first head chef position, exploration, creativity, learning and fun are the order of the day. He changes the menu up whenever he feels like it, and makes sure his kitchen team doesn't "go to work every day worrying about having to be perfect".
Buttermilk fried quail with duck fat, sichuan pepper and pickled daikon is one dish on Wildcard's menu that traces its lineage back to Between Buns' popular fried chicken sandwich. "It is the same brine recipe that I use for my chicken. I thought I wouldn't want to serve chicken here – and it'd be fancier to put quail on the menu! The mala glaze on top is just something that I enjoy – the tingling sensation from Sichuan peppercorns."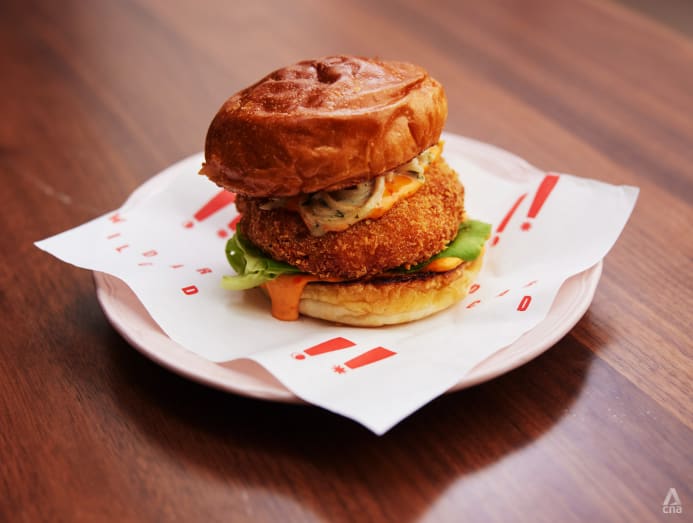 It's the prawn sando that's currently the biggest hit with diners, though: Prawn katsu, fermented chilli aioli and celeriac remoulade between milk buns. "It's crazy how on Saturdays and Sundays, people turn up just for the prawn sando, and if you tell them it's sold out, they just turn around and leave," noted Ahmir, who's also worked in the kitchens of Rvlt and Fool Wine Bar.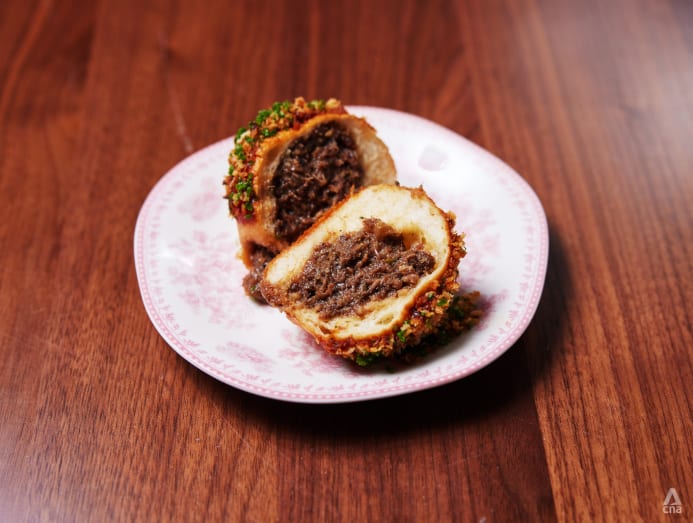 The Oxtail Donut, fluffy, meaty and loaded with umami, is my pick, and my advice is: Don't share.
But Ahmir's personal favourite dish on the menu is an unassuming sticky toffee pudding served with vanilla bean ice cream. "Did I mention that this is my favourite?" he quipped when he served it to me. Yes, only about three times.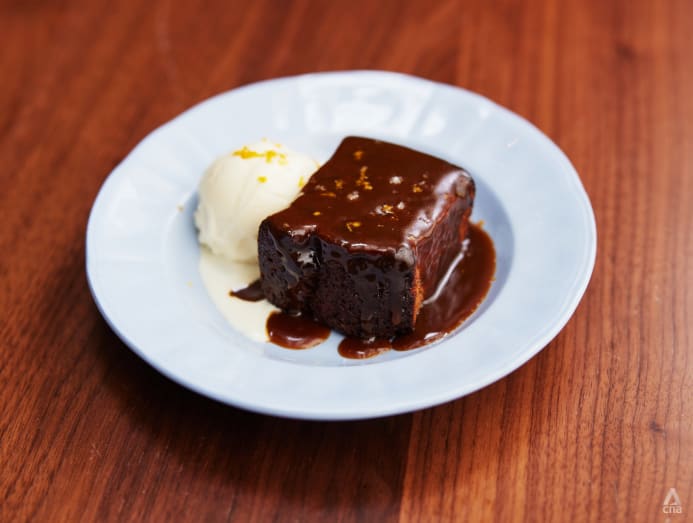 The humble dessert, he said, embodies "the style I'm trying to achieve – things that have been forgotten about or are seen as outdated. I try to bring them back, put them on the menu in a slightly more current way. I'm currently working on a new dish with caponata, which is a super traditional Italian sauce. I'm just trying to bring back all these old things, old flavours, because nobody else is doing it. Everybody thinks, 'Oh, that's lame'. Nobody wants to eat it. But I'm trying to bring it back and show that old school stuff is still tasty, lah. Like, those people knew what they were doing when they made it."
He added, musing: "Maybe I'm an old soul. Yeah, I just like nostalgic stuff."
Wildcard is at 405 Havelock Road, #01-03 Furama RiverFront.