Lo hei cheat sheet: 5 things to know about yusheng, everyone's favourite Chinese New Year tradition
What do you say and what exactly are those auspicious sayings? Where did this practice originally come from? If you're ready to start tossing, CNA Lifestyle has a handy guide.
It's convivial, colourful, messy, loud and always heaps of fun. Which is exactly why so many people look forward to the annual tossing of yusheng come Chinese New Year (CNY) season.
The quintessential CNY "prosperity" salad has become an ubiquitous part of festive celebrations in Singapore and Malaysia. But how much do you really know about the dish aside from the constant shouting of "huat ah!" while trying not to poke your loved ones' eye out with the long chopsticks?
Here's a handy guide to yusheng, ready to be used this and every Chinese New Year.
WHAT IS IT?
Yusheng ("yusang" in Cantonese) means "raw fish" in Mandarin. The name says it all – this is a salad that contains thinly sliced raw fish, shredded or pickled carrot, radish and cucumber, candied citrus peel or melon, bits of fresh pomelo, chopped peanuts, fried wonton skin, five-spice powder, plum sauce, hoisin sauce, oil and various seasonings.
Eaten usually during Chinese New Year, there is no longer one "set" yusheng recipe. The dish varies from restaurant to restaurant, household to household, palate to palate, evolving over the decades from a simple salad to one that comprises a wide variety of ingredients.
The dish is also sometimes called "lo hei" in reference to the ritual of communal tossing that's performed before eating it. Loved ones are invited to gather around the large round plate it's usually presented on.
WHERE DID IT ORIGINATE FROM?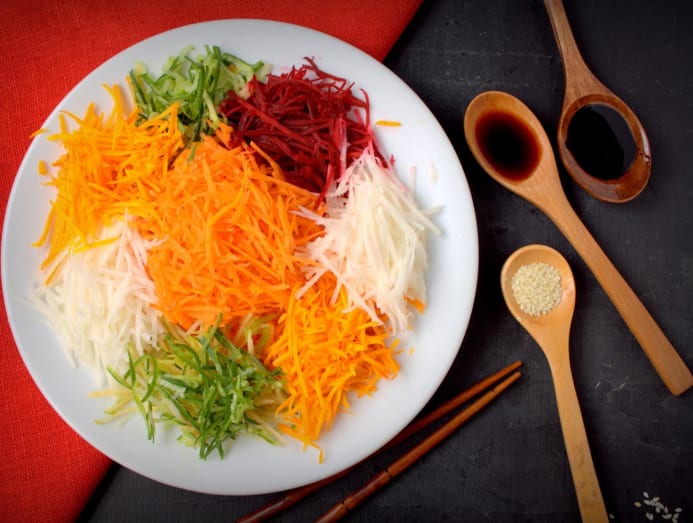 According to the National Library Board's Infopedia, the origins of the dish dates back more than 2,000 years in China.
Yusheng is believed to have originated from the Guangdong province, where fishermen along the coast of Guangzhou celebrated Renri, the seventh day of CNY, by feasting on their fresh catches. Renri means "every man's birthday", signifying that people become a year older on this day.
The earliest known written documentation of the dish can be traced back to the Zhou dynasty in 823 BCE, describing how these fishermen would finely cut strips of fish. It became popular after the Han dynasty (206 BCE–220 CE) that poems were written in praise of the dish.
In the past, the dish was only eaten on Renri. But as evidenced with the popularity and frequency of yusheng being tossed and eaten numerous times throughout the entire 15-day celebration period, this CNY tradition has evolved over the years. It is now usually served at the start of every meal.
HOW DID IT COME TO SINGAPORE?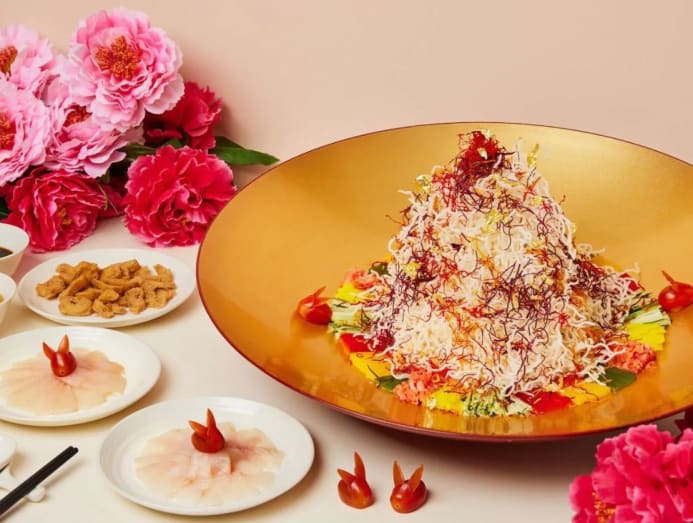 According to the same article, the dish came to Singapore with the migration of Cantonese and Teochew people from China in the 19th century. Those from Jiangmen, Guangdong province, were said to be the first to start selling the dish in more or less its current form: Raw fish slices with ingredients such as ginger slices, lime juice, spring onions and sesame seeds.
The Cantonese yusheng was traditionally eaten on Renri by businessmen looking for a good year ahead, while for the Teochews, the dish is known as "husay" and is eaten throughout the period.
It's also slightly different: The fish is air-dried and served with sliced vegetables and sweet and sour sauce.
WHAT ARE THE AUSPICIOUS SAYINGS?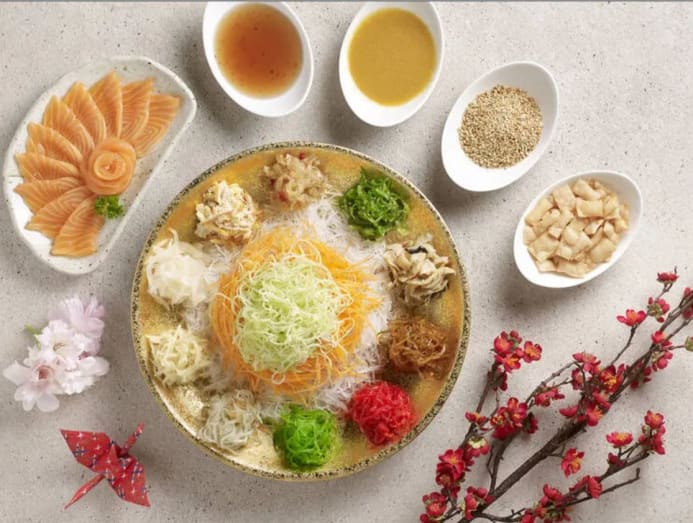 One of the most fun parts about yusheng has to be the lo hei (tossing of luck) portion where the ingredients are added and mixed, all the while yelling out well wishes for all our loved ones. Who doesn't want or need some good luck invocations? But what exactly do we say as each ingredient or seasoning is added? And which order do we do it in?
Here's a step-by-step guide with the corresponding phrases to say out loud:
1. Arrange raw fish slices: Nian nian you yu 
Auspicious meaning: "Abundance over the years! Prosperity every year!" or "May every year come with ample surplus!"
2. Add dried orange peel, pomelo or lime: Da ji da li 
Auspicious meaning: "Great luck and great prosperity!"
3. Add pepper and seasoning powders: Zhao cai jin bao
Auspicious meaning: "May the wealth be incoming!"
4. Drizzle oil: Yi ben wan li
Auspicious meaning: "May you make a thousand-fold profit from your investment!"
5. Drizzle oil: Cai yuan guang jin
Auspicious meaning: "May plentiful wealth come in from all directions!" or "Good luck will come your way!"
6. Add carrots: Hong yun dang tou
Auspicious meaning: "May opportunities strike you!"
7. Add green radish: Qing chun chang zhu
Auspicious meaning: "Stay young forever!"
8. Add white radish: Bu bu gao sheng
Auspicious meaning: "May you rise higher with each step!" or "May your work and business progress by leaps and bounds!"
9. Add cabbage: Feng sheng shui qi
Auspicious meaning: "May you have success and promotion at work!"
10. Sprinkle chopped peanuts: Jing yin man wu
Auspicious meaning: "May your house be completely filled with gold and silver!"
11. Sprinkle sesame seeds: Sheng yi xing long
Auspicious meaning: "May your business prosper!"
12. Scatter crackers (golden pillows): Man di huang jing
Auspicious meaning: "May your floor be abundant and overflowing with gold and wealth!"
13. Pour plum sauce: Tian tian mi mi
Auspicious meaning: "May your life be sweet and filled with loving relationships!"
14. Toss yusheng: Wan shi ru yi
Auspicious meaning: "May everything be good and life be smooth-sailing!"
15. Continue tossing: Sheng ti jian kang
Auspicious meaning: "May your body stay strong and healthy!"
16. While still tossing: Gong xi fa cai
Auspicious meaning: "Wishing everyone great wealth!
HOW HAS YUSHENG EVOLVED TO WHAT WE KNOW TODAY?
Through the years, people have added their own ingredients and put their spin on yusheng. Back in the 1930s, the owner of a restaurant called Loong Yik Kee was said to have added pickled vegetables, sugar and vinegar. A Malaysian restaurant called Yow Kee, which opened a branch in Singapore in 1978, was also said to have introduced plum sauce into the mix.
Probably the most famous people in yusheng lore are the "Four Heavenly Kings" (no, not that one). In 1964, chefs Lau Yoke Pui, Tham Yui Kai, Sin Leong and Hooi Kok Wai are credited with creating the colourful qicai yusheng (seven-coloured raw fish salad).
Also known as the facai yusheng (prosperity raw fish salad) or xinnian yusheng (Chinese New Year raw fish salad), the quartet started serving it in their restaurants to draw more customers during the period.
It's their version that we now commonly know and eat, which includes a lot more ingredients, such as shredded white and green radish, pomelo and peanuts. They also introduced pre-mix sauce to ensure a consistent taste (they're chefs, after all). They're also credited with introducing the performative aspect – the auspicious sayings that make lo hei sessions more fun and meaningful.
By the 1970s, and with the younger set slowly embracing their take, it slowly became the standard for yusheng. Which, of course, has morphed as well. Some spins on the recipe include the addition of salmon, lobster or abalone, while versions like masala, Thai and Vietnamese yusheng are also available.