The 17 most anticipated movies of 2019 (besides Captain Marvel, of course)
Sequels, reboots, live-action remakes, franchise-ending 'finales' and another stab at the Joker. The most anticipated films of 2019 are also looking really familiar.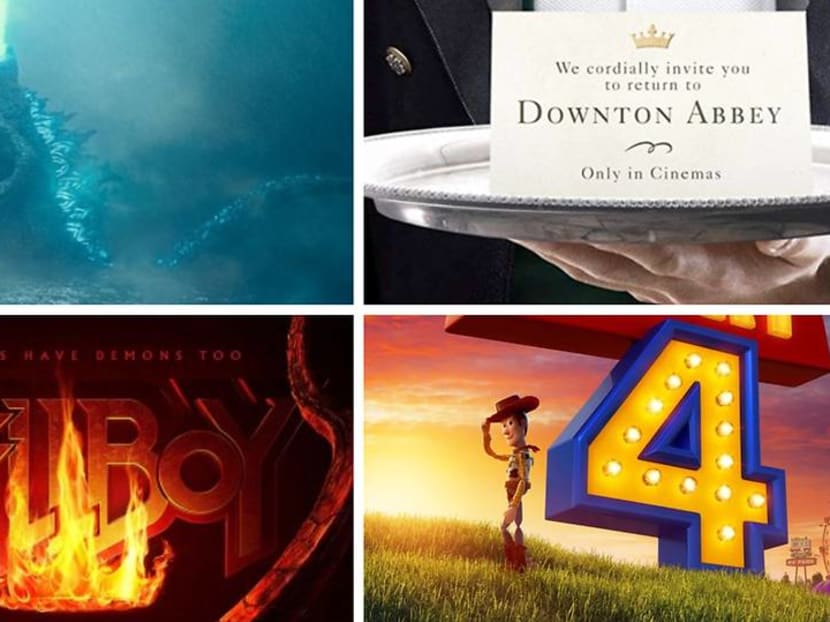 Now that the Asia stop on the Captain Marvel press tour is done and dusted, fans only have to wait a fortnight for the new Marvel film to open in Singapore. 
But Captain Marvel isn't the only movie we're looking forward to. Here are 17 other blockbusters also opening this year, including Avengers: Endgame, Downton Abbey, and sequels to Frozen and It.

1. DUMBO (Mar 28)
The pressure is on director Tim Burton to make this beloved oddball-for-the-win classic more Nightmare Before Christmas than the nightmare that has been his more recent output.
The good news: It stars former Burton collaborators Michael Keaton and Danny DeVito. The bad news: It's written by the guy who wrote three Transformers movies.
2. SHAZAM! (Apr 4)
Part of the DC Extended Universe, Shazam! (yes, with an exclamation mark) is the latest entry in a trend of light-hearted superhero films with retro appeal.
Older audiences will remember shouting the word "Shazam!" with gusto in hopes of gaining super powers. Younger audiences will recognise lead actor Zachary Levi as "the guy who voiced the guy in that really old animated movie, Tangled".

3. HELLBOY (Apr 12)
Arriving 11 years after Hellboy II: The Golden Army, this one is not helmed by director Guillermo del Toro, leading to former lead Ron Perlman refusing to don his horns. Instead, the project has been turned into an R-rated reboot starring Stranger Things' David Harbour as the new anti-hero.
4. AVENGERS: ENDGAME (Apr 26)
Two trailers have been released. Neither of them say very much besides: Everyone is sad. But you still know we'll all be watching Endgame. Just take our money, Marvel. Just take it.
5. POKEMON: DETECTIVE PIKACHU (May 9)
Ryan Reynolds, potty-mouthed star of Deadpool, is Detective Pikachu. We're laughing already.  
6. ALADDIN (May 23)
It's big, it's blue, and it's been seen all around the world. Fans may not have taken well to the sneak peek at Will Smith's Genie in the upcoming Aladdin, but the film still has a few months to spin this narrative around (and fix some CGI) before it opens in May.
7. GODZILLA: KING OF THE MONSTERS (May 30)
The giant lizard gets bigger with each reboot. Godzilla: King Of The Monsters is the third film in the MonsterVerse by Legendary Entertainment, prefaced by 2014's Godzilla and 2017's Kong: Skull Island – all to build towards an epic showdown between the two critters in 2020's Godzilla Vs Kong.
8. DARK PHOENIX (Jun 6)
Set to be the 12th film in the X-Men franchise, Dark Phoenix follows the telekinetic Jean Grey as she loses control of her powers and has to be stopped by her own teammates.
It's also said to be the last instalment of the franchise as we know it, now that X-men rights have gone to Marvel Studios. 

9. MEN IN BLACK: INTERNATIONAL (Jun 13)
The fourth instalment in the Men In Black franchise follows a London-based team of Men In Black (MIB) secret agents, who become involved in a series of alien attacks that sends them travelling around the globe.
Starring Chris Hemsworth and Tessa Thompson as Agent H and Agent M, the duo features alongside Liam Neeson and Emma Thompson in the first MIB without Will Smith and Tommy Lee Jones.
10. TOY STORY 4 (Jun 20)
Bring out the tissues for this one. Nine years after Woody, Buzz Lightyear and the rest of Andy's toys were handed to young Bonnie Anderson, the fourth film in the blockbuster franchise follows the toys as they interact with new characters, including a… spork.
11. SPIDER-MAN: FAR FROM HOME (Jul 4)
After the events of Avengers: Endgame, Peter Parker does the most teenage thing he can think of: Leaving his suit behind and going on vacation with his friends. (After somehow coming back from The Snap, of course.) While in Europe, he is approached by Nick Fury to help fight the Elementals.
12. THE LION KING (Jul 18)
This rivals Aladdin with the most to live up to. The live-action version of the popular classic must do what the original animated musical did in 1994, but with real animals and CGI. A few things are stacked in favour of this film, however. Chief among them having Donald Glover and Beyonce on board as the voices behind Simba and Nala, along with James Earl Jones reprising his role as Mufasa.
The soundtrack will once again be created by composer Hans Zimmer, and will feature reworks and new compositions by Elton John, Beyonce, Tim Rice, Glover and more.
13. IT: CHAPTER TWO (Sept 5)
The supernatural horror is a sequel to 2017's It, which spooked audiences worldwide enough to rake in US$700 million (S$949 million), 20 times its production budget. Deadline Hollywood calculated its net profit to be the highest for any horror film of all time. The trailer to the film has not yet been released.

Based on Stephen King's 1986 novel, the sequel is set in 2016, 27 years after the events described in the first film. The characters of The Losers Club, now adults, will be played by James McAvoy, Jessica Chastain, Jay Ryan, Bill Hader, Isaiah Mustafa, James Ransone and Andy Bean.
14. DOWNTON ABBEY (Sept 12, TBC)
Set in 1981, Joaquin Phoenix plays a failed stand-up comedian who is driven insane and becomes the psychotic criminal mastermind. Phoenix is the seventh actor to play the role of Gotham City's deranged villain. No trailer has been released yet, though word is Phoenix is just the right amount of crazy to nail the character.

16. FROZEN 2 (Nov 22)
Elsa returns without song and dance in the mysterious trailer for the sequel, which shows the ice queen sprinting towards large waves and attempting to surf like The Incredibles' Frozone. It seems there will be an adapted version of Let It Go rumoured to feature in the film.
17. STAR WARS: EPISODE IX (Dec 20, TBC)
Reportedly set a year after the events of The Last Jedi, the film sees the return of Daisy Ridley, Adam Driver, John Boyega, Oscar Isaac, Lupita Nyong'o and Kelly Marie Tran to "end" the epic space opera franchise. Until the studio wants more merchandising dollars, we're assuming. Ready or not, principal photography on the film wrapped just days ago.