Rooting for you: A&W returns to Singapore after 16 years with Jewel Changi Airport outlet
The latest outlet of the fast food chain, known for its root beer and root beer floats, seats 80 diners and will be open for 24 hours a day.
After 16 years away from Singapore, American fast food giant A&W Restaurants returned with the official opening of its Jewel Changi Airport outlet today (Apr 11).
Located at Basement 2 of the new complex, the restaurant seats 80 and will operate for 24 hours a day to serve travellers at Changi Airport.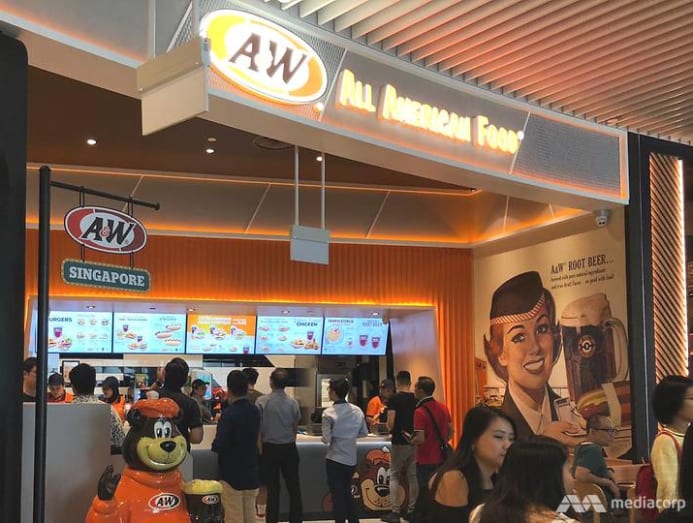 "Making our comeback into the Singapore market, we are very excited to be finally offering our well-loved classics again, alongside some newer favourites from around the world to cater to the market's international footfall, as well as to Singapore's evolved tastes and preferences," said Kelvin Tan, director of Marketing and Communication, in a press release. 
Classic items making a comeback include the iconic A&W root beer (S$2.90), served in a chilled mug, the Chicken/Beef Coney Dog (S$5.20) and Curly Fries (S$3.60).
Also available are the Root Beer Float (S$3.50) and Waffle Ice Cream (S$7.90).
Menu items making their debut in Singapore include the Cream Cheese Chicken/Beef Burgers (S$7.90), as popularised by A&W restaurants in Okinawa, Japan, and the Golden Aroma Chicken (from S$3.20) from A&W restaurants in Indonesia.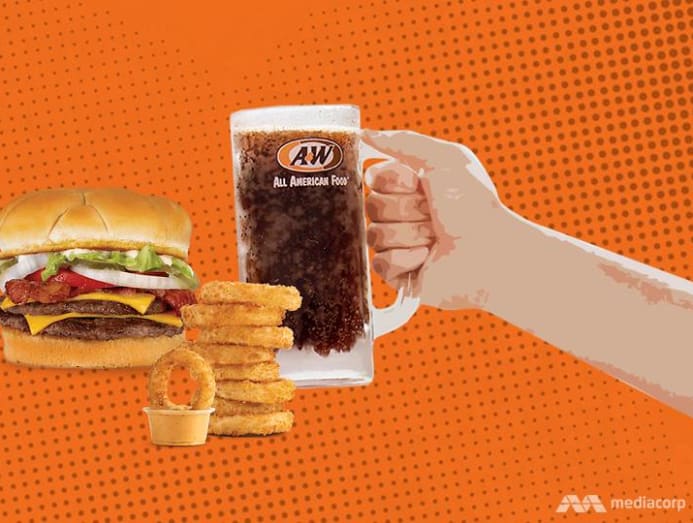 A&W first opened in Singapore even before larger names like McDonald's and KFC entered the local market. The fast food brand was brought into Singapore by US couple Al and Geri Lieboff in 1966, who opened the first outlet in Dunearn Road.
The franchise later opened Singapore's first drive-in restaurant in Bukit Timah Road in 1970. After decades in Singapore, the fast food chain decided to pull out of the country in 2003, with five outlets then.
Founded in 1919 by Roy Allen, the A&W chain of restaurants now counts nearly 1,000 franchises in 10 countries and territories. The chain's international corporate office was recently set up in Singapore to manage the 370 restaurants in the region, namely in Bangladesh, Indonesia, Okinawa, Malaysia and Thailand.