Aaron Carter just tattooed his face again – with his girlfriend's name
The singer-rapper's "Melanie" tattoo above his right eyebrow joins the Medusa tattoo on the other side of his face.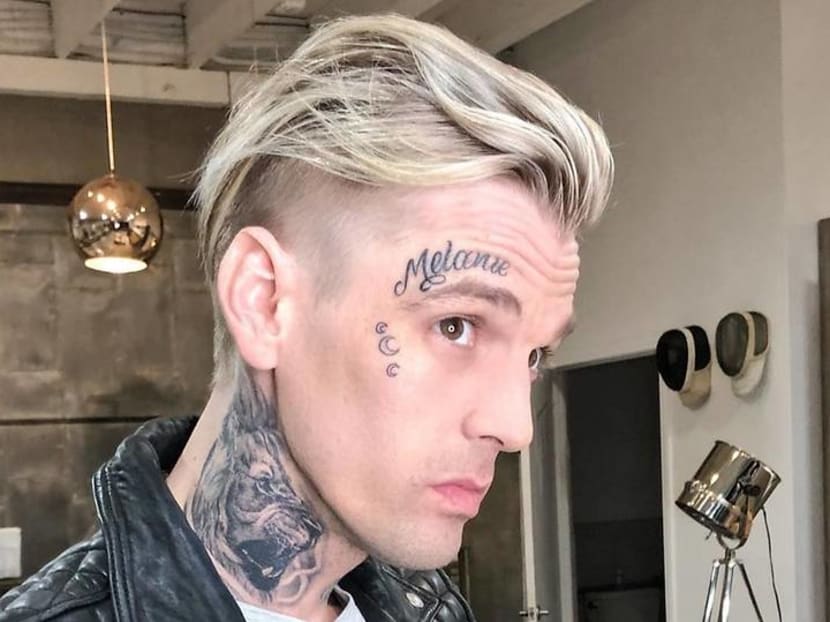 In today's episode of What Was He Thinking: Aaron Carter has revealed his latest face tattoo. Which happens to be his girlfriend's name.
The 32-year-old singer and rapper's hairstylist posted a photo on Instagram on Saturday (Mar 7) that showed the name "Melanie" inked above Carter's right eyebrow, presumably referring to the model Melanie Martin.
Naturally, Carter's latest haircut went unnoticed.
The new tattoo, which accompanied three crescent moon tattoos on his cheekbone, joins another sizeable Medusa inkwork on the other side of his face, for which he recently did some touch-up work.
For the record, Carter got his Medusa tattoo from artist Herchell Carrasco, who also added the word "love" below his eye. He reportedly spent US$5,000 (S$6,900) in Sep 2019 on it, which appears to have been inspired by Rihanna's 2013 GQ cover. According to TMZ, Carrasco had tried to talk Carter out of getting the Medusa tattoo, but eventually gave in to his client's wishes.
Carrasco told TMZ: "Before I tattoo anyone, I take into consideration their mental state ... in Aaron's case, I assessed the situation and I genuinely felt he was in a good place mentally to get tattooed."
As for "Melanie", here's hoping it works out for the best for the couple, who are said to be already looking for engagement rings, with figures at around US$80,000 (S$110,000).