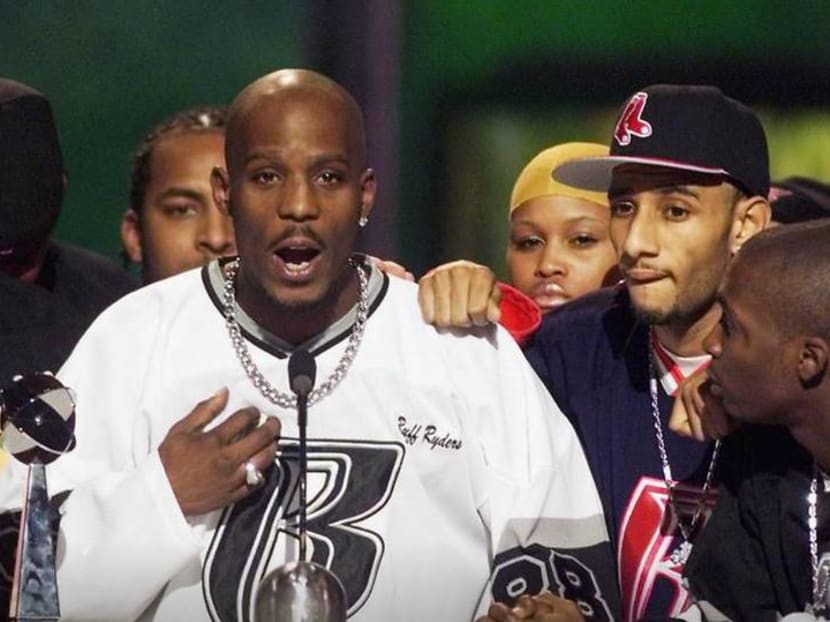 NEW YORK (Reuters) -American rapper and actor Earl Simmons, known by the stage name DMX or Dark Man X, died on Friday (April 9), his record label said, after he suffered a heart attack during what media reports said was a drug overdose. He was 50 years old.
The chart-topping artist's songs included Party Up (Up in Here) and X Gon' Give It To Ya. His career had been marked by legal troubles and prison time.
DMX collapsed at home late on April 2. Celebrity publications TMZ and Billboard said he had overdosed on drugs triggering a heart attack.
On Friday April 9, White Plains Hospital in New York said DMX had died peacefully with family by his side after suffering a "catastrophic cardiac arrest."
"Earl was a warrior who fought till the very end," family members said in a statement, adding that his music "inspired countless fans across the world and his iconic legacy will live on forever."
The rapper's intense songs told stories of a complex character's "sins of the streets," according to a biography on allmusic.com, which described DMX as a "hip-hop Johnny Cash."
His album ...And Then There Was X was his biggest seller, certified five-time multiplatinum. DMX released eight albums and was nominated for three Grammys.
DMX earned more than 40 film and television credits, including Belly, Romeo Must Die, and action films Cradle 2 the Grave and Exit Wounds, also contributing music to their soundtracks.
He had 15 children, according to media reports.
In 2017, DMX pleaded guilty in federal court to avoiding paying US$1.7 million (S$2.28 million) in taxes from 2000 to 2005 by shifting money among accounts belonging to managers and associates. He was sentenced to one year in prison.
The rap star's prior arrest record included charges of animal cruelty, reckless driving, drug possession, weapons charges and probation violations. He served prison time in Arizona and New York.
In the 1998 song Slippin', DMX rapped: "To live is to suffer, But to survive, well, that's to find meaning in the suffering."
Below are reactions from musicians, actors and others:
ACTRESS HALLE BERRY
"His gift meant so much to so many. Sending love to his family."
SINGER MISSY ELLIOTT
"Even though you had battles you TOUCHED so many through your MUSIC and when you would PRAY so many people FELT THAT! This is heavy for the HipHop family but your LEGACY LIVES ON & your SPIRIT."
RACING DRIVER LEWIS HAMILTON
"I'm devastated to wake up to the death of DMX. I grew up listening to him, his words and stories got me through some difficult times as a kid and I'm so grateful for his wisdom and light. Gone too soon but I hope on to a more peaceful place."
RAPPER ICE CUBE
"Sending warrior prayers to the homie DMX"
DEF JAM RECORDS
"DMX was a brilliant artist and an inspiration to millions around the world. His message of triumph over struggle, his search for the light out of darkness, his pursuit of truth and grace brought us closer to our own humanity. Our thoughts and prayers are with his family and all those who loved him and were touched by him. DMX was nothing less than a giant. His legend will live on forever."
CHANCE THE RAPPER
"Rest in Heaven DMX"
ACTRESS VIOLA DAVIS
"RIP DMX. I pray for the comfort of your children and loved ones."
ACTRESS GABRIELLE UNION
"No words right now. Nothing but fierce love, prayers and protection for X's family, friends and fans. This loss is devastating."
DIRECTOR AVA DUVERNAY
"One of my favorite performances in one of my favorite films was given by DMX. If you haven't seen BELLY in a while or at all, gift yourself with his talent in that film this weekend."

MUSICIAN SWIZZ BEATZ
"I'm truly beyond devastated !!!!!! But I'm so happy my brother is no longer in pain . I watched him take everyone's pain and make it his own."
RAPPER EVE
"This world has lost a REAL ONE but the heavens have gained an ANGEL."
MUSICIAN LL COOL J
"You did everything you came to do. You impacted the world. You went from the underdog to the Big Dog."
DJ STEVE AOKI
"Rest In Peace to the legend DMX"