Videos of Adele, Linkin Park stopping shows to check on fans go viral after Astroworld tragedy
In the clips, stars such as Harry Styles, Billie Eilish and Dave Grohl were seen making sure fans in the audience were okay before continuing to perform.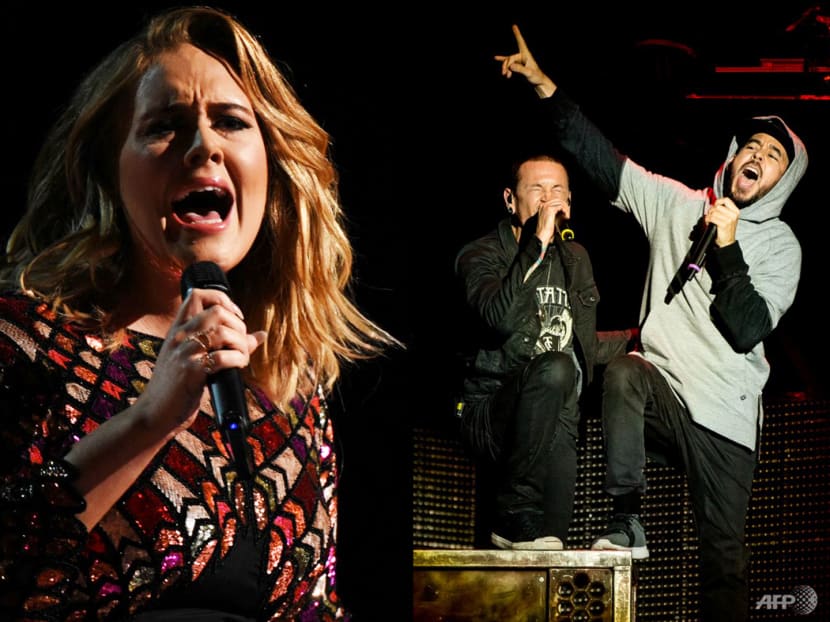 Following the deadly stampede at the Astroworld music festival headlined by rapper Travis Scott on Nov 5 where eight concertgoers died, videos of musicians who stopped their concerts once they saw that their fans in the audience were in trouble have gone viral.
The first to circulate on Twitter over the weekend was that of rap-rock group Linkin Park. In the clip, singer Mike Shinoda could be seen urging the crowd to practise "safety first".
"We got to look out for safety first, for real. Nobody gets hurt, that's number one," Shinoda said.
Bandmate Chester Bennington then asked, "Let's go over it one more time: When someone falls, what do you do?" to which the crowd responded, "Pick them up".
Since then, more videos featuring other stars such as Adele, Harry Styles, Coldplay, Billie Eilish and Dave Grohl of the Foo Fighters have also been making their rounds online.
In the one with Adele, the British singer could be seen stopping her performance of Rolling In The Deep in order to call attention to a fan who had fainted. She was heard saying, "Can you see? Can someone act like they care, please? Someone's fainted over there."
She then directed the medical crew to the spot where the injured fan was and also asked the crowd to step out of the way.
In a TikTok clip, Styles could be seen checking on a fan and asking, "You all right there?"
These clips come as criticisms surround 30-year-old Scott for not stopping his performance once he realised there was trouble. Eight people were killed and numerous others injured after a stampede of fans surged to the stage during the performance.
According to the Washington Post, Scott is known to rile up his crowds. In 2018, he pleaded guilty to disorderly conduct after he encouraged people to rush to the stage and in 2015, he also pleaded guilty to urging fans to jump barriers during a show.
Following the Astroworld incident, Scott released a statement to say he was "absolutely devastated" by the tragedy and that he was "committed to working together with the Houston community to heal and support the families in need".