Wish granted: Aladdin The Musical's Genie is loving his chilli crab in Singapore
Sorry, but actor Gareth Jacobs, who plays the Genie in the stage production, won't be granting you three wishes, even if you ask nicely.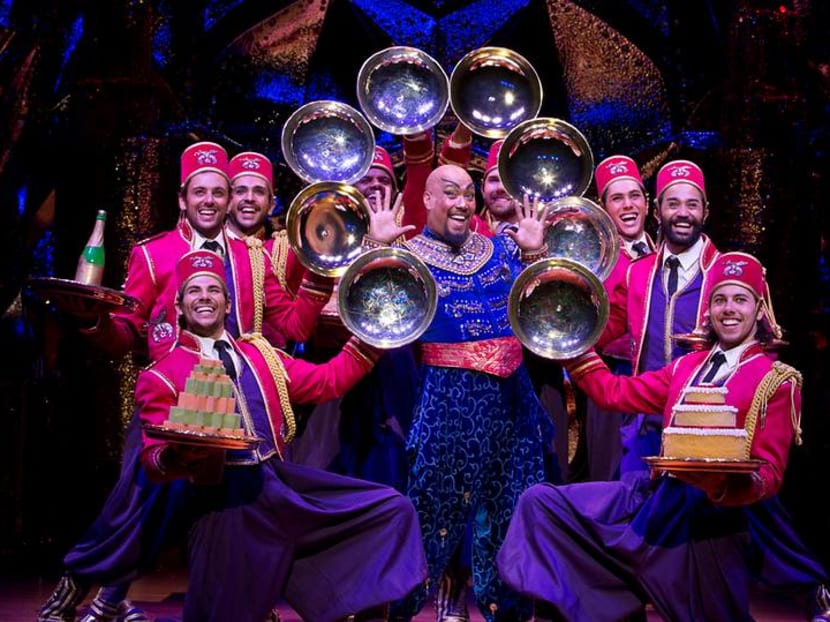 When you play the magical Genie in Aladdin The Musical, you'll have to get used to people coming up to you on the street and asking for three wishes – even if you're not in costume and haven't got your eyebrows on.
Gareth Jacobs knows that full well, especially since his face is plastered on the ads all around town.  
It's a whole new world for CNA Lifestyle's May Seah, who got to dress up, meet Princess Jasmine, Aladdin and Jafar – and get an unexpected wish from Genie.
"Look, there are quite a few people who ask for three wishes," he chuckled, during an exclusive backstage interview. "But until you find the actual lamp, you can't actually have the three wishes. That's part of the rulebook, actually. It's part of the genie handbook."
Aladdin The Musical opened at the Sands Theatre at Marina Bay Sands two weeks ago and runs until Sep 1, with Singapore being the only Asian stop in a tour that included Australia and New Zealand.
Since they've been here, the cast and crew have been indulging in the local cuisine. "I'm never averse to trying different foods, which is great. Chilli crab and xiao long bao are my favourites. I love a good dumpling. So, I'm in the right spot for all the great food," Jacobs enthused.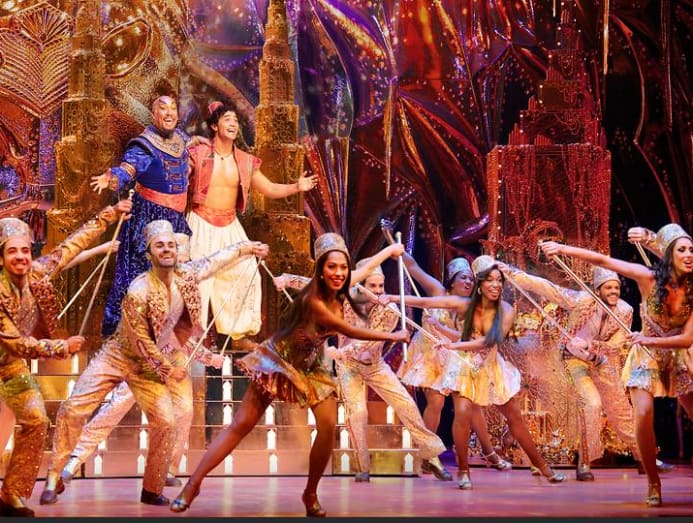 It's hard to imagine Aladdin and Jasmine, with their defined physiques in their exotic outfits, eating char kway teow, so if you ask us, Jacobs is definitely the one having the most fun in the production – especially on stage.
"It is so much fun, and I think with the script and the writing of the show, it's hard not to be front and centre as the Genie. He gets to have the most fun out there. It's one of those roles and shows that is an actor's dream," said the 36-year-old Melbourne native. "There's so much to do and my character is so fully developed – there's that funny side; there's a bit of a sad side; there's this almost nurturing, motherly side that comes out, too. So, it's really fun to play with all aspects of the role."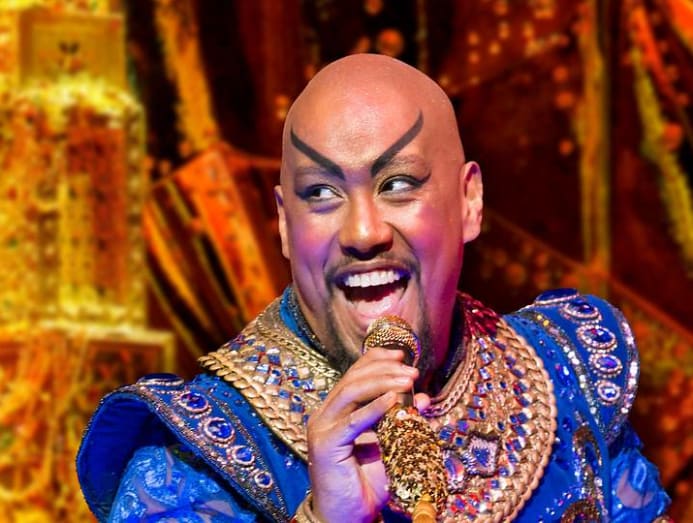 What's one genie secret he can share with us? "The glitter that you see is specifically made as 'Disney genie glitter'. They have certain ratios of different colours that get put into one pot, which creates what you see as the genie glitter," Jacobs said, adding that even he doesn't know the secret formula. "It's like KFC's 11 herbs and spices. No one knows that one, either."
Aladdin The Musical runs until Sep 1 at Marina Bay Sands' Sands Theatre. Tickets from S$68 from Sistic or www.marinabaysands.com/ticketing.