Zoe Tay as Romeo Tan's mum? Just one of the challenges for the cast of All Is Well
Singapore and Taiwan actors also got a taste of each other's home countries when filming for this co-production.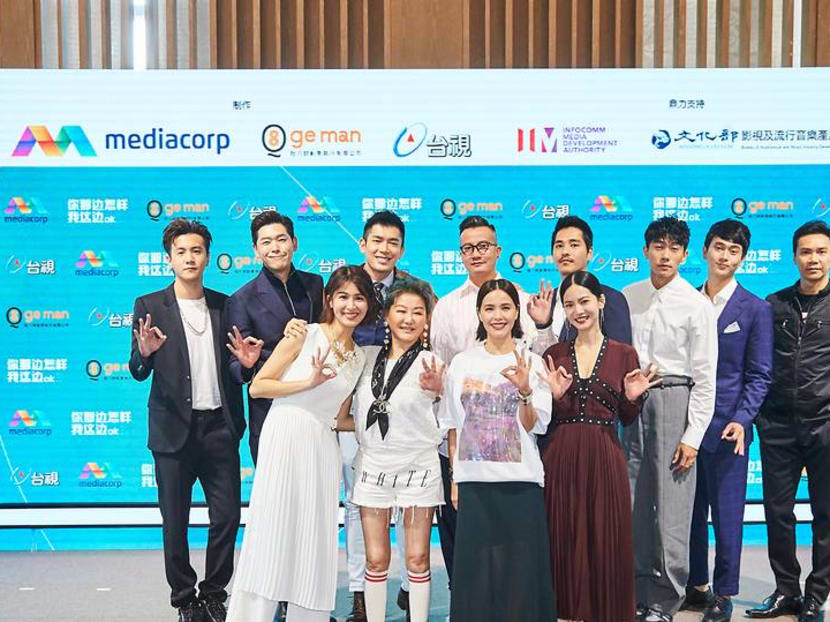 An actor's job is not an easy one. Often, a lot is asked of them. And one of the hardest things to deal with must be being cast as the mother of someone 20 years older than your own son.  
That's what Zoe Tay, 51, does in All Is Well, Mediacorp's upcoming Mandarin drama. She and Chen Hanwei play the parents of the character portrayed by Romeo Tan, who's 34.
"It was like, 'Huh? Romeo – my kid?'" Tay recounted. And as a further twist of the knife, when she asked if special-effects makeup would be used to make her look older, the answer was no.

Set in Singapore and Taiwan, All Is Well features an all-star cast from both locations, including Taiwan's Blue Lan alongside Zoe Tay, Chen Hanwei, Elvin Ng, Romeo Tan and Desmond Tan among others.
Still, Ah Jie, every inch the star, handled it in a cavalier fashion. "It was a bit weird in the beginning, but you have to convince yourself," she shrugged. "I didn't have many scenes with Romeo, so it was fine." In future, she quipped, "I'll be Elvin's mum; Desmond's mum … everyone's mum."
All Is Well is a Taiwan-Singapore co-production that's set to be a blockbuster: Set in both locations, two storylines will air over two channels – one at 9pm on Channel 8, the other at 10pm on Channel U. The 40-episode Mandarin thriller has also been acquired by platforms in Malaysia and Vietnam. It features an all-star cast from both Singapore and Taiwan, including Fann Wong, Joanne Tseng, Sheila Sim, Ian Fang, Lan Hsin Mei and Pets Tseng.
While Taiwanese stars including Blue Lan and Liu Kuan Ting spent several months filming in Singapore, local actors Romeo Tan, Elvin Ng and Desmond Tan filmed many of their scenes in Taiwan.
Ng, who spent four months there, shared that one of the biggest differences in production habits was that in Taiwan, scripts can change on the spot. "In Singapore, we have to prepare far in advance, but there, we have to live in the moment and be quick to adapt," he said. "Every day, you feel like you're living on the edge." The experience has helped him grow both in his career and as a person, he added.
In addition, "The Taiwanese are more exuberant. They're more expressive. In terms of acting as well, they can be very spontaneous, or they can be suddenly very slow and suddenly very fast. It's a lot more irregular. You see the difference in cultures."
On Romeo's part, it was the little things that took adjusting to, like how the Taiwanese drive on a different side of the road. "There are a few scenes in the show where I am supposed to drive, so that was a bit challenging. When I first got to Taiwan, I opened the (driver's) door when I tried to enter a taxi. The uncle looked at me, like, 'What are you doing?'"
He also experienced his first earthquake when he was in a cafe and the chandeliers and glasses began to tinkle. His first instinct was to panic, but when he noticed that the people around him were calm, he decided not to overreact. All was well in the end.
Perhaps the biggest challenge was being away from his dog, Tigger, the schnauzer. He missed her so much, he said, that he bought her lots of treats and clothes while he was there – and even a video surveillance system so that he could watch her remotely.
Meanwhile, Blue Lan enjoyed his time in Singapore in the simplest of ways. During his time off, he shared, "I liked watching the light show at Marina Bay Sands and walking around the Esplanade area, enjoying the night view; as well as going to hawker centres to eat." 
His favourite dish, he said, is duck and salted vegetable soup. "I think it's fantastic. Each pot of soup is individually cooked for many hours. I think the taste is extraordinary. Even though the weather's very hot, it tastes so good."
Catch All Is Well starting Aug 26, with the Singapore story airing weeknights at 9pm on Channel 8 and the Taiwan story at 10pm on Channel U. Also available on Toggle from Aug 19.