Allan Wu's daughter gets accepted into Stanford University, was also offered a spot at Princeton
The fees are a whopping S$120,000 to S$130,000, but for the actor and host, being able to fulfil the dreams of his kids is more important.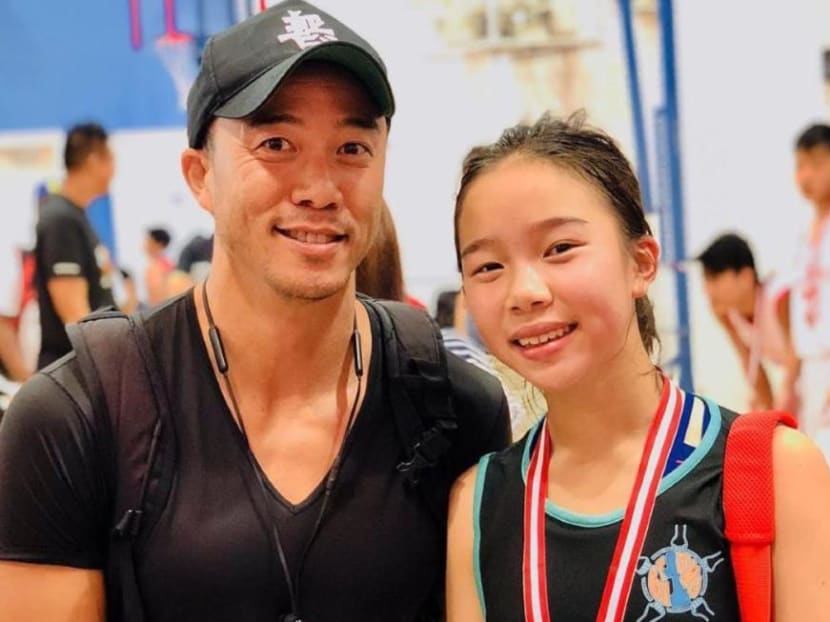 It's no secret that Allan Wu's daughter, Sage, is an overachiever. The teen, who turns 19 in September, was awarded student of the year for topping her class at SJI International School in 2021. Fast forward two years and Sage has been accepted into the prestigious Stanford University in California, one of the top-ranked schools in the world.
When 8days.sg caught up with Wu, 50, over Zoom on Thursday (May 4), he tells us that Stanford "wasn't necessarily Sage's dream school".
She had initially applied to Princeton University, which was her first choice, last November and was already offered a place there. While she was ecstatic at the early acceptance and was set on attending Princeton at that time, she only decided recently that Stanford was a better fit for her.
"Both of them are the top universities in the world in terms of prestige and reputation, and in terms of what they can offer. I'm so proud of her," said Wu who also has a son Jonas, aged 17.
He co-parents both kids with his ex-wife, former actress Wong Li Lin. The couple split up in 2013 after nine years of marriage.
They also had help from university admissions consultancy and mentoring company, Crimson Education, which assisted Sage during her application process.
"They played a vital part in her receiving a place in not one, but two of her dream universities," added Wu, who is an alumnus of University of California, Berkeley (UC Berkeley).
HOW DID YOU CELEBRATE SAGE GETTING INTO STANFORD?
ALLAN WU: We haven't celebrated yet as she's in Europe now spending time with friends and family friends. But we'll celebrate when she gets back next month. We'll have a nice dinner at the very least. I think I'll take her on a trip before she starts attending school in September.
YOU PREVIOUSLY SHARED ABOUT SAGE'S INTEREST IN ROCKET SCIENCE, AEROSPACE AND COMPUTER SCIENCE. WHAT WILL SHE BE SPECIALISING IN AT STANFORD?
I think she's still undecided but I would say she's narrowed it down and is looking into electrical engineering, economics and even politics. Those are her top areas of interests right now, so I think she wants to do something maybe related to energy transition, renewable energy sources.
Definitely along the lines of conservation, sustainability and environmental issues and using what she learns in uni to help the world and the environment.
DO YOU SPEAK TO HER ABOUT HER AMBITIONS AND WHAT SHE WANTS TO BE IN THE FUTURE?
We haven't gone that far yet. Right now I think college to her is just a huge opportunity to explore her interests in many different subject areas. She's undecided in terms of what she wants to focus on, so once she decides on that then we can probably speak more about what type of career path or career trajectory she wants to go on.
She's a very self-motivated, hardworking, self-possessed young woman and I know, in the next four years, she will definitely know what she wants to pursue.
WILL YOU BE FLYING OVER WITH HER TO GET HER SETTLED IN?
Definitely! I think her mum is going too. I can't wait to go 'cause I can go see my family in LA and meet my old college classmates from UC Berkeley. Now that Sage is going to a rival school, it should be a lot of fun (chuckles). I'm looking forward to it. 
HOW MUCH WILL YOU MISS HER?
I'll definitely miss her a lot more than she will miss me (smiles). I learnt [how to deal with missing my kids] throughout the pandemic. Obviously, they spend most of their time with their mother, so I also learnt to not be so reliant on them too. They are also very independent children, both Sage and Jonas.
I think with technology, it's very easy to stay in touch via Zoom, WhatsApp and social media. I also have a lot of friends in the Bay area too, so I know she'll be taken care of. I have a lot of family and college classmates there, so I'm excited about that. Gives me more reason to go back [to the US] but I'm not going to go back specifically just 'cause I miss her.
HAVE YOU CALLED YOUR FRIENDS AND FAMILY IN THE US TO TELL THEM THE GOOD NEWS?
Absolutely. She was already set on Princeton then just a couple weeks back she wanted to go [check out Stanford]. She flew to the open house from New York to San Francisco.
She's never been to Stanford before so I had my friends in San Jose take care of her, pick her up and they let her stay with them. The next day, my brother flew from Los Angeles to be with her, and my cousin, who attends Stanford medical school, was there. My other cousin is also doing her PHD at Stanford, so they all met her for a couple of hours and it was a great experience.
I wish I had gone with her, but I was busy working and travelling. Luckily, I have a lot of family and it definitely helped in her choosing Stanford over Princeton.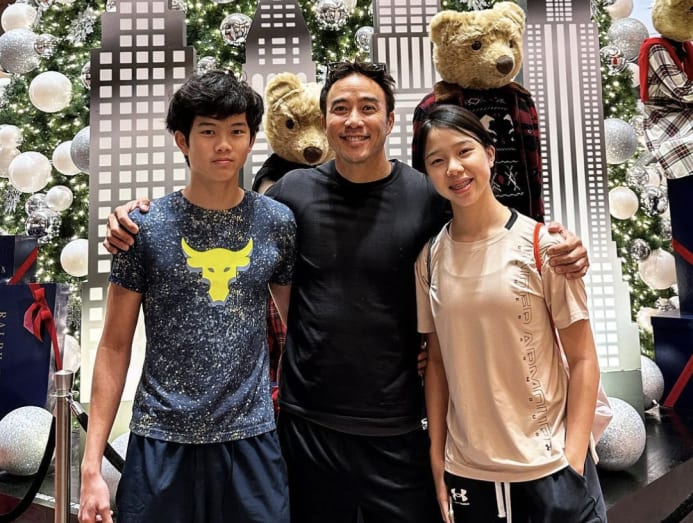 WHAT WAS LI LIN'S REACTION WHEN SHE FOUND OUT ABOUT SAGE GETTING INTO STANFORD?
I think she's happy as long as the kids are happy, and she's happy with whatever the kids want. I haven't talked to [Li Lin] directly but I know she's definitely very happy and proud of Sage, as I am too.
I think everyone thought Sage had a good chance of getting into the very best universities, not just in the US but in the world. When you tell anyone you go to Stanford, Harvard, Princeton, Yale or MIT everyone is like "Wow these are the top five schools".
WHAT IS IT LIKE CO-PARENTING TEENAGERS?
It [can be] challenging. When you have children you are able to impart [things to], and teach to be independent, to be self-motivated and hardworking, it's easier. My kids are very independent, they know what they need to do to get the job done and they aren't easily distracted.
My son is focused on his school work and with running and exercise too. A lot of it comes down to parents who establish the right values and set a good example for them.
So parenting teenagers, it's not hard. I honestly don't spend as much time with them as I wish I could, but that's also because they are so busy themselves with their own friends, school work and college applications. Of course [they also have] their own sources of entertainment. They have a lot more options now as compared to when all they knew was us. I think it comes down to the relationship each respective parent has with their children, and that is established much, much earlier on. [We have to understand] that each child is different and bring out the best in them without being too forceful.
Sometimes I wish they were more sticky and more needy but they are very thoughtful, considerate and positive. I couldn't ask for more in that respect. 
HOW DID YOU INSTILL THESE QUALITIES IN THEM?
I think the first 10 years of a child's life are by far the most formative and the most crucial in establishing the trajectory they are going to take. The greatest teachers a child will ever have are parents. What are you going to do with the time you have with them? Are you going to let them sit and watch YouTube or play with their iPad all day or are you going read a book with them, take them out to exercise and to learn and explore new things? That's up to the parent. You could spend money and let them go for enrichment classes and have [someone else] teach them to ride a bike or swim, but I rather be hands-on.
In my line of work, I was very blessed because sometimes I only work maybe two or three months a year. The rest of the time I had, I spent with Sage and Jonas. Whether it was me taking them to the track at 1pm, or to the swimming pool.
I think Sage and Jonas would say that I definitely pushed them athletically. Even though everyone calls me the "Singapore-based Tiger Dad", I'm nowhere near your stereotypical Tiger Dad.
I asked Sage and Jonas if they see me as one and they're like, "No you're not".
For me, it was about trying to set a good example. Be it when I'm working, or working out to stay in shape, or trying to spend time with [them]. I lead by example.
Athletics has always been the huge foundation of who I am, and I see that in them too. Athletics teaches children so much more than just sports. That's something a lot of parents fail to realise. They're so focused on their kids doing academics, taking enrichment classes and doing well in exams. I think athletics helps them with understanding teamwork, disappointment, and improvements. It makes them more resilient and a lot more disciplined not just in sports, but who they are when they try to find their own dreams and achieve their own goals.
It's our job as parents to let them find their passion and let them use it to drive themselves. That's what I think is very, very important.
DO YOU THINK ACADEMIC QUALIFICATIONS ARE IMPORTANT IN DETERMINING WHETHER A CHILD WILL BE SUCCESSFUL IN THE FUTURE?
Hmm, academic quality, absolutely. I don't think a uni degree is essential for everyone but I think for most people, it definitely doesn't hurt and it helps to have the academic qualifications. If you can go to a top uni, why not? If we're gonna spend all that money and invest all that time and effort into uni, if [they] can get into Stanford and Princeton, why not go there and spend that money versus going to a school that no one has ever heard of?
THE FEES IN THESE TOP-TIER SCHOOLS ARE KNOWN TO BE NOTORIOUSLY EXPENSIVE.
Not even a brand-name school, just any university. They are expensive, super expensive.
HOW DID YOU SAVE UP FOR IT?
You definitely need to have the money set aside. You have to prepare for the best. Honestly, once I found out how much NUS costs versus going to a school in the US, you could go to NUS three times over.
NUS is a good school, it's ranked one of the top 30 schools in the world. But I always thought that when a uni has to explain that they're really good in this department or they're really good at this or they're top in this, I would say [they've] already lost the battle.
If you go to a school like Harvard, Yale, or Stanford, you don't need to say anymore 'cos everyone knows you have arrived.
So I've been saving up for a long time for something like this, a time when they are able to realise their dreams.
IS SAGE APPLYING FOR ANY SCHOLARSHIPS?
She's been doing that and she's also going to apply for financial aid. Obviously, you try to do what you can because it's expensive. Fees are about S$120,000 to S$130,000 a year. A year. It's like you dig yourself this big hole and obviously, anything will help.
But you go for the experience. There's nothing wrong with the schools here or in Australia or the UK, everyone has their own preferences. I'm just being totally biased. You will never get a more comprehensive college experience [anywhere else besides in the US]. It's not just the school, but the people you meet, the sports, the fraternities. My happiest years and some of my best friends were the people I met in college.
As a parent, our greatest investment is our children. We want them happy and if they've shown the desire to work towards getting into these very best unis, then why not help them?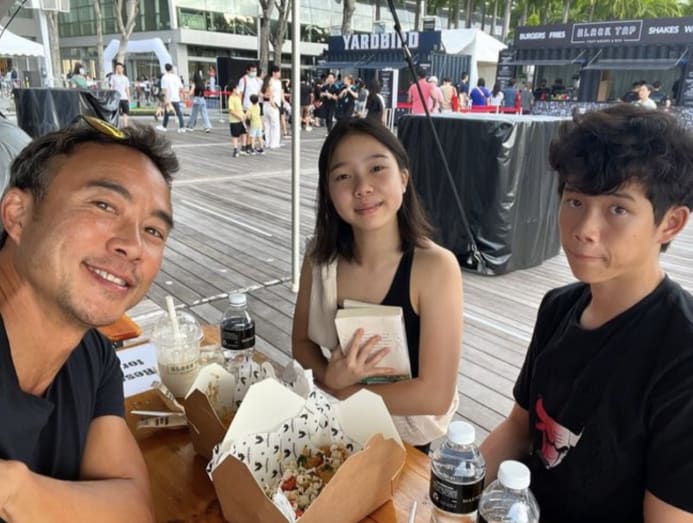 IS JONAS FOLLOWING IN HIS SISTER'S FOOTSTEPS?
He's working hard. He's in an IB programme now too but he doesn't have an interest in the Ivy League schools. He's looking more into schools in the UK so he's not exactly following Sage.
He is doing very well academically too and also doing the Crimson programme. His sister has set a very high bar but he's self-motivated and disciplined and I'm really proud of him too.
WHAT FIELD IS HE INTERESTED IN?
He's into medicine. He wants to be a doctor. It's going to be tough. It's a lot of stress.
DO YOU TALK TO YOUR KIDS ABOUT LIFE AND DATING?
I do, but not that much. They tell me they're not dating anyone, and I don't think they are. They have friends who are dating in high school and in JC and I just told them bluntly: "Look, if you find someone you like, that's great but honestly don't waste your time with anyone right now, focus on yourself. You have the rest of your life to let your feelings overcome you and find someone you like but this is your time to shine and you don't need any distractions."
I never dated at all in high school. I just focused on sports and academics. I think they should spend time on themselves and learn to grow, experience, explore, make mistakes now. Understanding what you want will only come with time and experience. The second you have someone else in the picture, you have to compromise that time and sacrifice that time too.
ARE YOU DATING ANYONE NOW AND DO YOU USUALLY INTRODUCE WHO YOU'RE SEEING TO YOUR KIDS?
I'm not seeing anyone formally and I don't introduce them [to my kids] unless I think it's going to be more serious. It's nice to have someone around but watching them grow up has already given me so much joy. Also, I think who the hell would want me, you know, this single dad with two teenage kids.
So yes, I'm just dating here and there, just kinda seeing people. I'm not looking for anything really serious right now. My priority since the divorce has always been Sage and Jonas and to see them happy and grounded means the world to me.
This story was originally published in 8Days.
For more 8Days stories, visit https://www.8days.sg/