This mum-of-three raised S$30,000 to build care kits for low-income families
In celebration of her daughter's second birthday, Juwel (Nyla) Ang launched Amelia's Rainbow Fund to create care kits for low-income families with children struggling during this pandemic.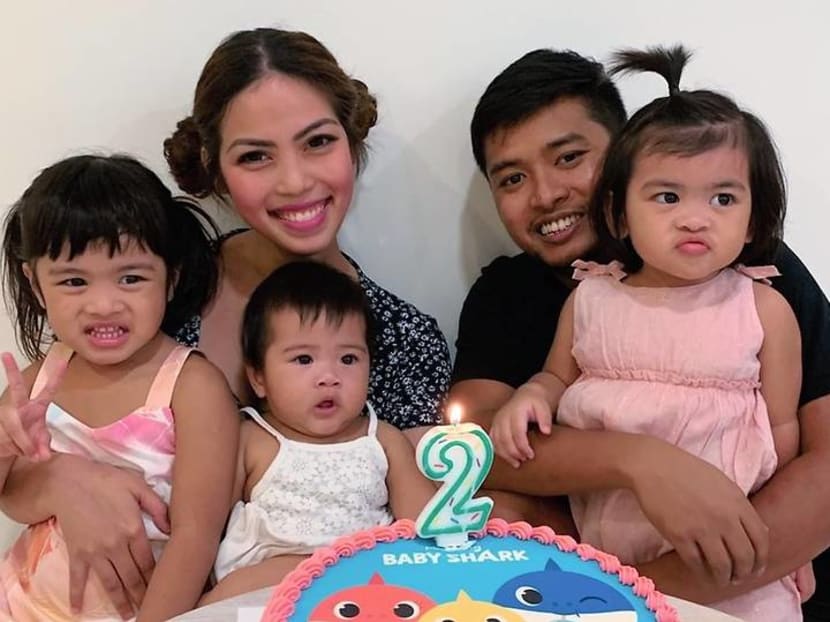 The "circuit breaker" has disrupted many aspects of our daily lives, but parents with children born between April and May are faced with an added dilemma – how do you celebrate your child's birthday?
One Singaporean mum of three decided that the best way to celebrate her daughter's second birthday was to give her the gift of giving back. 
So Juwel (Nyla) Ang – Nyla refers to the name she took after converting to Islam – created Amelia's Rainbow Fund, a charity initiative named after her daughter, to raise money for the purchasing, packing and distributing of care kits to low-income families with children.
"My second daughter turned two on Apr 10. But unlike other years, we couldn't celebrate her birthday this year. So instead of holding a celebration, we thought it would be nice to give her this gift of giving back, and to set up a charity initiative in her name," said Ang, who owns e-commerce retail site No Skin Attached.
"With the amount raised, we wanted to build care kits for low-income or single-income families with children, who may be struggling to cope during this period."
The fund was launched on Apr 9, and over the course of just nine days, a total of S$29,415.99 was raised. "I honestly didn't expect such an overwhelming response. Especially during this time when many people's incomes have also been affected," she told CNA Lifestyle.
With the amount raised, Ang put together care kits consisting of anti-bacteria body wash, anti-bacteria wipes, board games, children's colouring kits, S$100 worth of NTUC vouchers, as well as essential food items such as rice, instant noodles and biscuits. 
With the help of volunteers, the care kits were then distributed to a total of 150 low-income families with children in the Bukit Merah and lower Henderson areas.
To identify these families, she worked together with Beyond Social Services, a charity dedicated to helping children and youths from less privileged backgrounds break away from the poverty cycle. "Working with a social service gave us more credibility. We knew that we had to account for what people gave us and what they trusted us with," Ang acknowledged.
Her desire to give back to low-income families with children in particular stemmed from her own experience as a mum herself. 
With three toddlers at home, she could empathise with the difficulties other families might be facing. "I have three young kids and they are really active. You really have to play with them and engage them during this period. And not only that, since they are now at home more, you also have to take care of their meals," said Ang.
"I realised that I am so privileged to have resources to keep my children entertained. But what about those who do not? They might not even have the means to buy snacks for their children like Nutella or Oreos. I really wanted to do my part to give back to these families."
Distributing the care kits was an eye-opening experience. "I saw families with six, seven or eight people living in a one-room flat. Some children were also alone at home, as their parents, who are probably essential workers, were out for work," she shared.
What made the experience a memorable one for Ang was the reaction of the beneficiaries when they received the care kits. 
"The kids were very excited when they saw the care kits. I delivered a care kit to one family and when I walked past the house again, I saw the children gathering around and excitedly taking everything out. One hundred and fifty families is not a lot, but it's nice to know that our efforts helped at least some families."
I realised that I am so privileged to have resources to keep my children entertained. But what about those who do not?

As only S$28,000 out of the total amount of money raised was eventually used to purchase the care kits, the excess funds were then donated to two charities – It's Raining Raincoats and Foodbank SG. 
It's Raining Raincoats has launched a meal voucher programme to help low-income families and migrant workers, while Foodbank SG collects excess food from food suppliers and redistributes them to organisations such as old folks' homes, family service centres and soup kitchens.
"We raised more than we intended, but knowing that there's a lot more initiatives out there providing aid to different groups of people, we really wanted to maximise the funds and help other communities," Ang said.
She hopes that Amelia's Rainbow Fund can help raise awareness on the plight of underprivileged families in Singapore. 
"Sometimes we tend to have the impression that everyone in Singapore is taken care of. But to be honest, a lot of them are really struggling right now, especially those who have lost their jobs due to COVID-19. So I think it's nice to do whatever we can to help out," she said.
As for her own daughters, Ang acknowledged that they may be too young to understand the importance of charity and giving. "Honestly, I don't hold any expectations for Amelia to be charitable just because she has a fund in her name," she shared. 
"I started it as a gift for her, and until the time she can fully grasp what it means to help others, I will continue to guide my girls by example. If one day they decide to embrace giving, I will be glad to help them with the first step."