Broke and depressed in Taiwan, actor Andie Chen starts a gaming company
Together with his entrepreneur brother, the Singapore actor started the blockchain gaming company Freedom Nation – and joked that wife Kate Pang now approves of his lifelong hobby playing online games.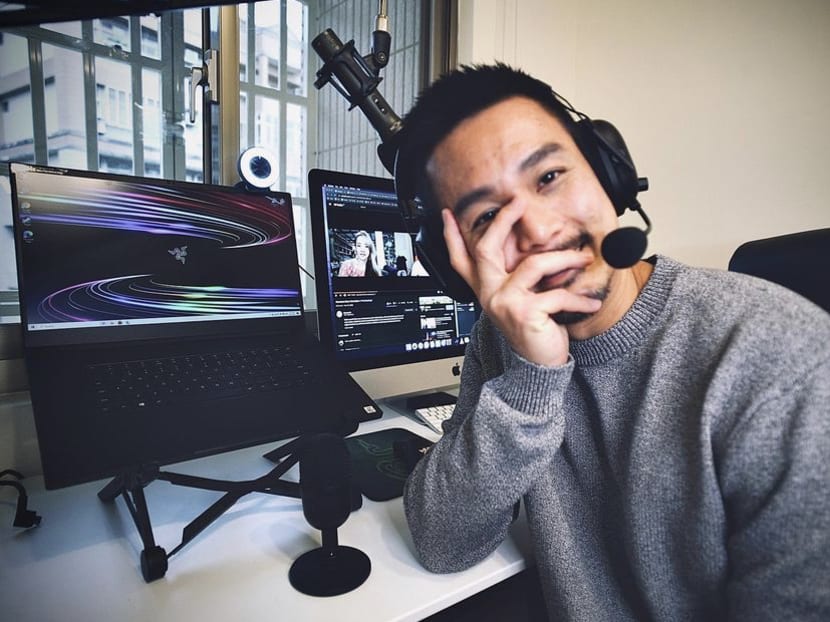 The metaverse is proving very useful for Andie Chen. A year ago, the actor relocated his family to Taiwan in search of career prospects. But within six months, he had run out of funds, to the point where he was borrowing money from his parents.
His wife, Kate Pang, returned to Singapore where she could earn an income through her lifestyle company. This left Chen to care for their two young children, who were enrolled in school in Taipei, solo. An unfamiliar new country, loneliness and his dire financial situation all took a toll on his mental health.
"I was just really sad and unhappy all the time," he told CNA Lifestyle. "I was the primary caregiver for my kids, and sometimes I would cry at night. I would try to hide it from my kids. If they spotted me crying, they'd come and hug me to sleep."
He revealed, "I had a bout of depression when I was 19, with suicidal tendencies, and it lasted for more than a year. So, I am very aware of my mental health status on a day-to-day basis. It was a feeling of helplessness and emptiness. I have built enough routines that I could still have gone on, but it was on auto-pilot."
Unexpectedly, he found a light at the end of the financial tunnel in the form of a lifelong hobby: Online gaming. Yes, he found a way to earn money by playing games.
A friend introduced him to Axie Infinity, a game at the forefront of the trending "play to earn" movement that melds blockchain technology, cryptocurrencies and non-fungible tokens (NFT) with online gaming.
To play the game, he purchased NFTs, and as he progressed, started renting the extra NFTs he gained to players who couldn't afford to buy the starter NFTs. These players earned tokens within the game known as "smooth love potion" (SLP), which can be traded for cash.
"The players that got to use my NFTs were coming back with stories of fixing their roof, buying medicine for their parents, buying a new phone, and so on. That became a very positive experience," he said.
With the help of his brother, entrepreneur Adam Tan, Chen decided to turn it into a business, establishing a company called Freedom Nation that "bridges and provides resources for people of all levels to prosper in the inevitable migration into the metaverse".
In three months, he claimed, they have generated S$500,000 of value, based on the value of SLP at average market price, and they are on track to hit a million dollars in the next three months. He values the company at S$12 million.
His wife "used to give me a lot of shit for playing games, mainly passive aggressively," he laughed. "But now, when she sees me playing games, she gets me tea or snacks, and asks me not to work too hard. Gotta love blockchain gaming!"  
Chen said he dived deep into educating himself on blockchain and cryptocurrency, watching lots of explainer videos and reading books and white papers.
"I lost a decent chunk of money at the start, but I took it as school fees," he said.
In the not-so-distant future, he said, people will spend more time in the digital space than in the physical world.
"I don't see it as a good or bad thing, I think it's a natural progression, just like radio to TV to Netflix. The younger generation are already living in Fortnite and Roblox. It is just us old folks who are still fearful of this change."
In his case, adversity bred innovation. "I think I would never have been able to do (this venture) if I had been healthy and had enough money," he said. "Being down and out has its perks!"