'I hated how I was': How Andie Chen fought a medical condition to become an action star
The actor, who's seen in the martial arts drama The Good Fight, opens up about struggling against an autoimmune disorder to build not just a strong body but also a healthier mindset.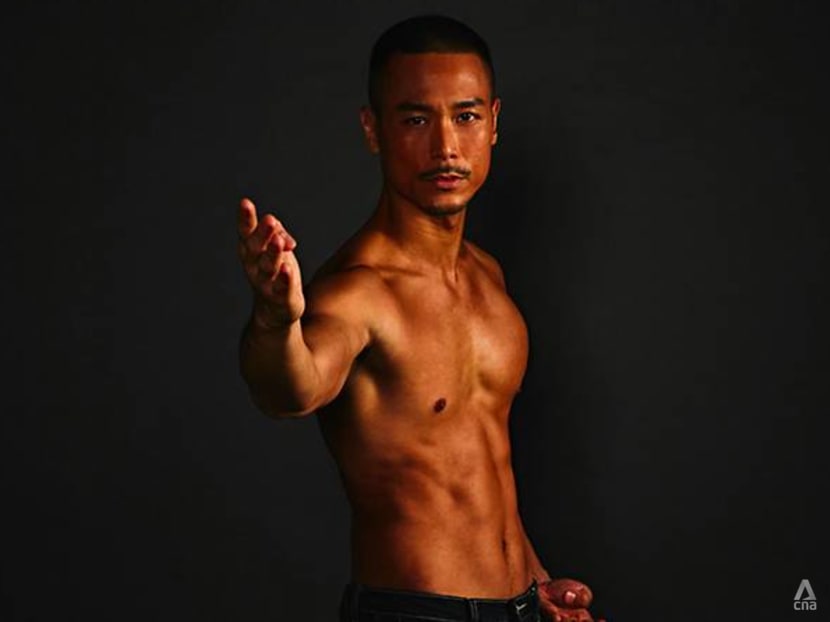 Here before you is Andie Chen, baring his soul. Well, actually, he's baring his torso, but that's just semantics. It's not the first time we're seeing him show off his toned physique, and it won't be the last, either.
That's because the 34-year-old is slowly and purposefully building a name for himself as a bona fide action actor, harking back to 2011's Code Of Honour. At the moment, he stars in the martial arts themed drama The Good Fight.
What you might not know is that in order to transform his body into the lean, mean, flexing machine he is today, Andie has been at war over the years against an unknown autoimmune disorder that, at its most severe, even caused him to collapse on set.
In addition to uncontrollable skin flare-ups and fatigue, the condition got so bad that "I had to stop filming a lead role in Taiwan – I fainted on set," he recounted.
It was frustrating when doctors couldn't help him identify the problem. "They just said, 'You're fine,' then gave me antibiotics and skin cream," he recalled. "Even up until today, I still don't have a proper diagnosis." So, "I read books and follow remedies."
He also experimented with changing his diet to find what worked for his body. During that time, "I lost a lot of weight. At one point, I was 62kg. I'm 74kg now. I was very scrawny for a long time."
He continued, "I hated how I was. When I looked into the mirror, I thought, 'That's not how I feel inside.' So, I wanted to challenge myself, and kind of prove to myself that, 'Yes, you can be everything you want to be, and be happy about it.'"
WINNERS AND LOSERS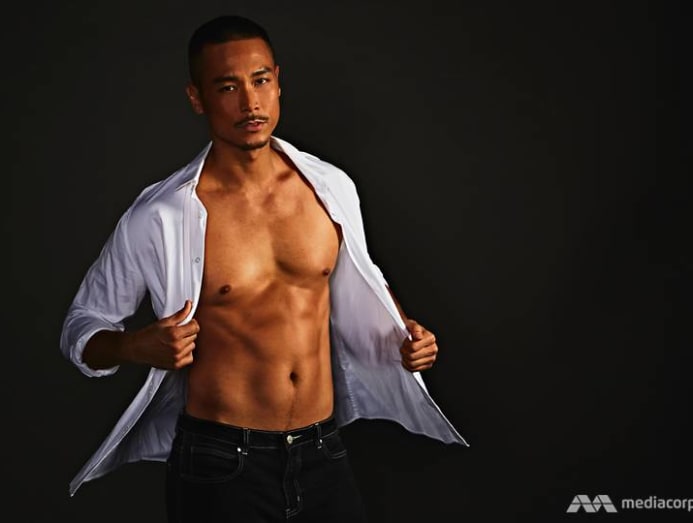 While the search for answers continues, Andie makes keeping fit a priority. Today, he works out about six times a week, for between one and three hours per session. "I also do meditation and breathing exercises, and I consider those workouts as well. I spend quite a lot of time in the gym. I could spend an hour just stretching. During the first half of the year, I did stunt training and Muay Thai. Then, I hurt my shoulder and stopped, but I'm looking to go back to that."
That's on top of juggling his duties as husband to actress-host Kate Pang, father to their two young children, running his own YouTube channel and acting full-time – this year alone, he was in four productions, and next year, he will have a role in the Channel 5 drama Titoudao, premiering in February.
Through discipline and determination, he's found his way to a lifestyle that works for him. "I'm kind of a health freak now. I have a lot of good habits that I've built up through the years, which have gotten me where I am today," he said. For example, he wears blue light blocking glasses to help with better sleep at night. In addition, "I've been eating and sleeping correctly. I used to love dairy, pasta, everything – now, I'm done with dairy, gluten and recently, fried food and bad oil. I've been healing myself, and at the same time, getting healthier. Now, I'm trying to get fitter as I'm getting healthier. It's been a long process. It's been rough."
Some people might have given up. But not working hard to balance good health with his career and personal duties has never been an option for Andie.
"Many of my friends are relatively healthy. When they hear the things I'm doing, they think I'm a freak. But it's because I've lost (my health) before. So, I realise how important it is," he said. "In the past, I was just running on willpower. That wasn't enough. My body just gave way. I realised that if I wanted to get where I want to go, and become the person I wanted to be, I can't do it based on willpower. So, all this, to me, is part of the process of becoming better."
As a "totally growth-oriented person", he shared, he sees life as meaningless unless he's constantly improving himself. "So, for me, it's almost like there's no choice: I need to get better, healthier, fitter. I just need to become the best."
However, he continued, "It used to be in a very egotistical way: 'I need to be the best actor. I need to be the most famous.'"
It didn't help that, being raised in a traditional household, he had always felt that meeting his parents' expectations was a prerequisite for receiving their acceptance and validation.
"It's always binary: 'You win or you lose. You succeed or you fail.' I think most Singaporeans – most people – have that mindset. It took a long time to get out of it," he mused.
For example, the voice in his head would point out that although he had won the Star Search 2007 competition, runner-up Desmond Tan was "more popular". "When people talk to you, you can tell that that's how they are measuring success and failure," he said. "Like, huh? That means I'm going to feel like a loser until I'm more popular than him, and then he should feel like a loser?"
With candour, he revealed, "It took me a long time to be truly happy for someone's success, like I am now. For the first time, I'm actually, sincerely 100 per cent happy – not, like, 80 per cent happy and 20 per cent jealous. Now, I'm just like, 'Great! I should work harder also.' Because we're not going to run out of popularity – it's unlimited. I'd rather play the everybody-can-win game."
It's only with maturity and perspective that these internal changes have taken place, said Andie, who insists that he'd always been an "obnoxious" person.
These days, "I just feel like I'm so blessed. I'm in Singapore. I'm educated. I'm not poor. I have my limbs. By sheer luck, I'm doing what I love, earning decent money, married with kids. I have mental health. I have options. All these, to me, are privileges and gifts. If I don't serve them, I'll just feel like a piece of sh*t. Like, 'Huh? You've been given all these things and you didn't make it?' It would be almost embarrassing."
He continued, "I remember when I was younger and people talked to me about religion and spirituality and being alive, and they'd say they wanted to serve and be a servant. In my mind, I was always thinking, 'Huh, what a loser. You want to be a servant? I want to be a f****** winner.' But now, I realise having this 'servant' mindset is actually very liberating because I can't really fail anymore. All I can do is try my best. I'm a lot calmer now. Because when it's about you, and you lose, it's the freaking end of the world.
"And when I'm done serving my gifts, I think I will know. Like, 'You're okay. You've contributed enough. You can move on to the next stage.'"
BRING ON THE MACHO BULLSH*T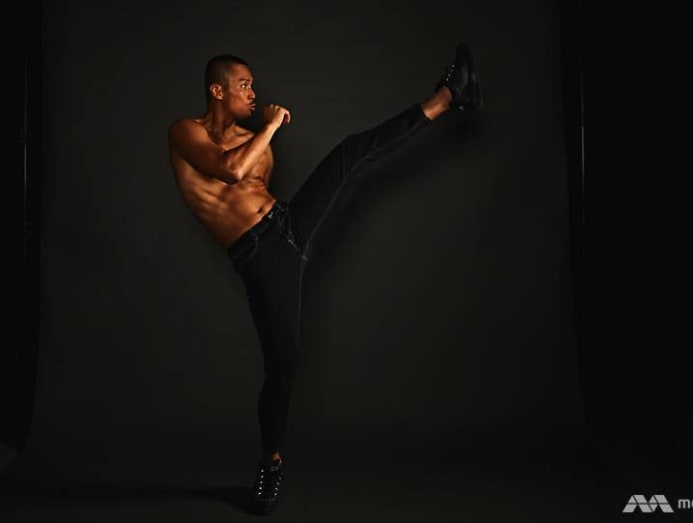 It has been his goal for some time now to be a specialised action actor – the one that producers and directors immediately think of when casting for action roles.
"It was only three or four years ago that I became comfortable calling myself an actor," he said. "Before that, I was just kind of learning; trying to fake it. Once I felt like I knew my craft decently well, I wanted to specialise – not just as an actor, but hopefully, also as a producer, eventually."
Being cast in The Good Fight, alongside Zheng Geping, Rebecca Lim, Paige Chua and others, came as a happy surprise. "I was training before I got the role, and in my mind, the role would come in three or five years' time. But it came in six months," he said, adding that although he didn't feel ready, "It's a great start." These are the kinds of roles he'd like to continue doing, because that's where he identifies the gap in the market.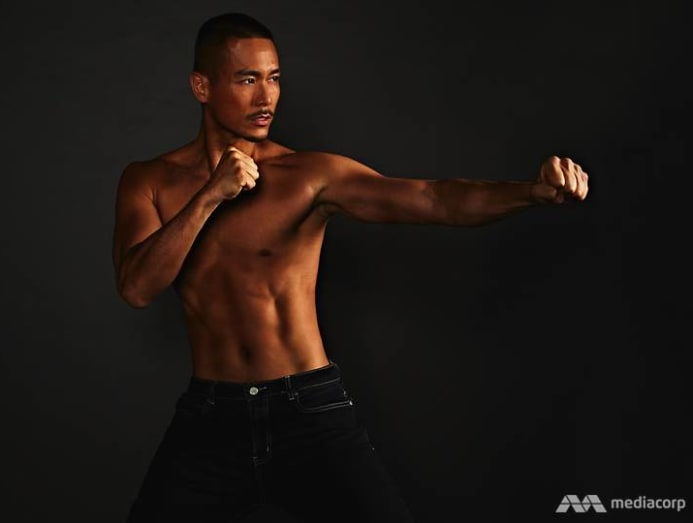 He explained, "I call my genre of interest 'macho bullsh*t'. Things like historical war films, playing a spy, anything with firearms, close combat – just macho bullsh*t, lah. You know it's a macho bullsh*t show when you see it. I want to do things I'd be excited to watch. People still remember Code Of Honour. People are already starting to establish me as someone who does action films in Singapore. And when people think about doing action shows, hopefully, my name might pop into their minds."
But while the rest of us might admire his grit, his dedication and his six-pack, there's one person in his life he can always count on to keep him grounded: His wife, Kate, who, unlike the few dozen random strangers who occasionally proposition him via direct messages on Instagram, is completely unimpressed by the aesthetic appeal of his body.
"She thinks it's a complete waste of time. She doesn't care," he laughed, rolling his eyes. "Every time I feel like I've made some progress and I'm like, 'Eh, do you think there's something different about me?' She's like, 'Oh, okay. Good for you.' She's the worst person to get any form of encouragement from when it comes to my body. She really doesn't care, unfortunately."
Now that's true love.
Catch The Good Fight on weekdays at 9pm on Channel 8. Also available on Toggle.