Andy Lau proudly shows 11-year-old daughter's paintings in exhibition, says she's 'more creative than me'
Lau recently had his first exhibition at the West Kowloon Cultural District in Hong Kong.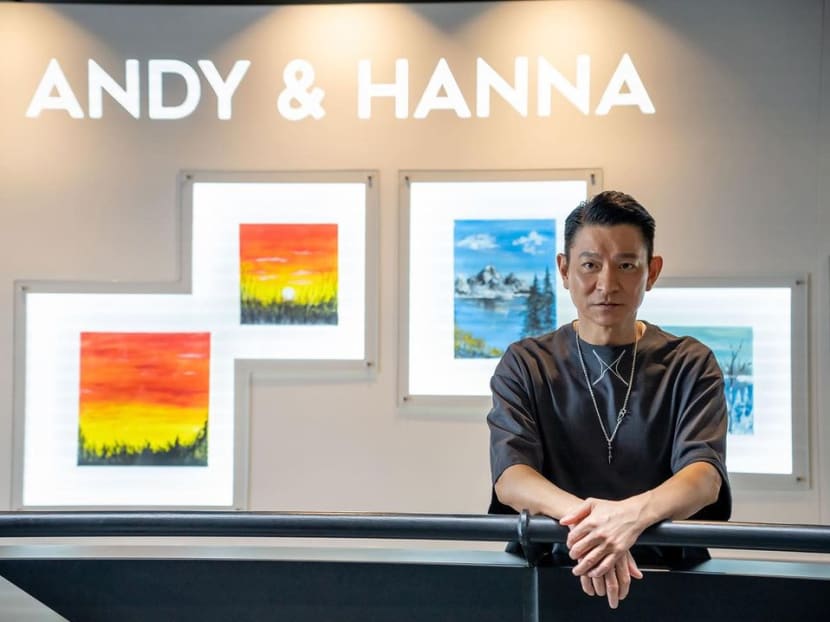 Hong Kong singer-actor Andy Lau, 61, recently had his first art exhibition, 1/X Andy Lau X Art Exhibition. The exhibition housed paintings, digital art pieces, calligraphy works and even a three-metre-tall sculpture of Lau's character in the 2003 Hong Kong action film, Running On Karma, all of which allowed visitors glimpse a different side of the Heavenly King.
The most talked-about section was the corner dedicated to Lau and his daughter, 11-year-old Hanna.
Though he is famously protective of the privacy of Hanna and his wife, Malaysian former model Carol Chu, 57, Lau's not shy when it comes to sharing Hanna's art.
Earlier in 2020, Lau revealed he had been taking art classes with Hanna and even shared a 20-minute video going through a couple of paintings they worked on together.
In interviews, Lau beamed and explained that the section containing their paintings was named Honey because he and his daughter were inseparable.
Sharing more about their landscape paintings, Lau revealed: "When we started, her school wanted (the students) to work on lots and lots of artistic works. If she drew a mountain, I'd draw a mountain, I was merely joining her for the ride. There might be some differing ideas (when it comes to painting) but what's strange was that we never had any conflicts."
He went on to add that he believes art is a "two-way street" and that he and Hanna influence and inspire each other, which allowed him to "learn childlike innocence" from her.
In an interview with Hong Kong media, Lau said that those who work in the art industry have remarked that Hanna is a better artist.
"I've been told by (these) professionals that I have to think outside the box 'cause my daughter is more creative than me," he said.
This story was originally published in 8Days. 
For more 8Days stories, visit https://www.8days.sg/