Did Miley Cyrus and Liam Hemsworth just get married?
The pair have not confirmed the rumours, but viral images provide damning evidence.
Just last month, pop star Miley Cyrus and actor Liam Hemsworth were distraught. Their Malibu home was among the many celebrity homes in the Los Angeles area destroyed by the Californian wildfires.

But what a difference six weeks makes.

Over the weekend, a series of Instagram Stories posted by Cyrus's friend Conrad Carr showed the couple in what appeared to be a low-key wedding ceremony. Not surprisingly, screengrabs of the Stories went viral, sending the rumour mill into overdrive.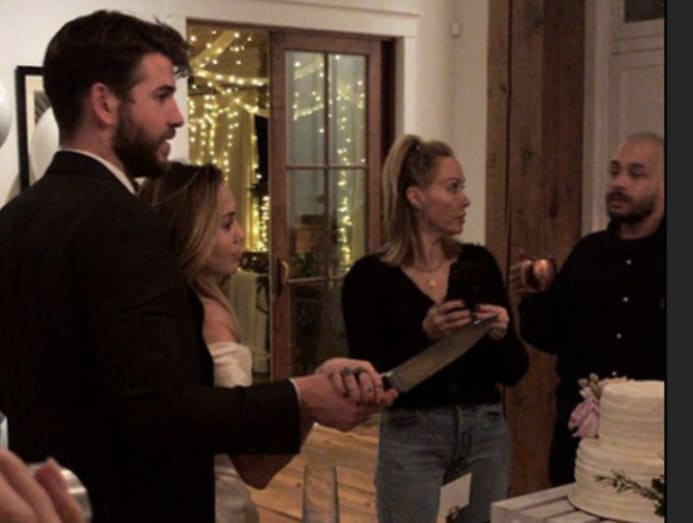 In the first of two widely-circulated images, Cyrus is seen dressed in an ivory-coloured gown, while Hemsworth appears decked out in a tux. Their hands are clasped around a large knife, anticipating the cutting of a two-tiered wedding cake. On a table are cupcakes and champagne flutes, while balloons can be glimpsed in the background.

In the other picture, it's another set of balloons that are a dead giveaway – spelling "Mr" and "Mrs". In this image, the other two Hemsworth brothers, Chris and Luke, are seen imbibing shots. Also in attendance is Cyrus's mum, Tish, who is seen sporting a casual black shirt-and-blue jeans outfit in the first picture.

The pair haven't confirmed the marriage rumours – Cyrus hasn't updated her Instagram wall in three days while Hemsworth's last post was on Nov 24. Their agents have not responded to queries either, according to reports.

The couple met on the set of the 2010 teenage rom-com The Last Song. They were engaged in 2012, but split up a year later. In 2016, they got back together and have been together ever since. According to tabloid reports, the pair have been delaying their nuptials because Hemsworth wants children but Cyrus felt she wasn't ready to become a mum.

Perhaps surviving the loss of their home changed her mind? After all, she told radio jock Howard Stern that she now calls Hemsworth her survival partner. "He thinks it's not romantic, but I learned that it is. That is why you pair up with someone, for survival."