Ariana Grande reportedly paid US$8m for Coachella performance, featuring NSYNC, Diddy and Nicki Minaj
Arichella, her headlining performance featuring 25 of her hits, was criticised for its set design.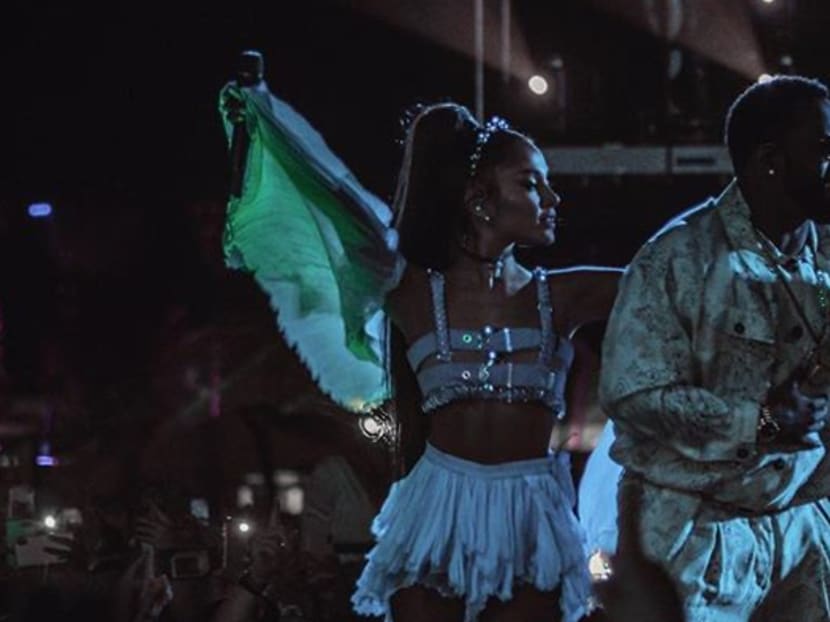 Ariana Grande was reportedly paid US$8 million (S$10.82 million) for her headlining performance at Coachella yesterday (Apr 15), reported Variety.
As the closing act of the first weekend, Grande brought out four-fifths of NSYNC, Diddy, Muse and Nicki Minaj, who faced severe technical difficulties which blundered her minute of screen time.
Serving as Justin Timberlake-adjacent, Grande performed slick choreography with the other four members of NSYNC for their songs Makes Me Ill and Tearin Up My Heart. Minaj's appearance, however, was marred by technical issues, which resulted in her segment of the 2014 hit Bang Bang arriving a few counts delayed.
Diddy and Muse came out for Mo Money Mo Problems, a Notorious B.I.G. tune into which they worked memorial shout-outs not just to Biggie but a host of lost hip-hop artists leading up to and including Mac Miller and Nipsey.
The brisk 85-minute set had Grande quipping at one point that she was "running out of time". As she barrelled through 25 of her hits across five albums, many of the final numbers were shortened to omit entire verses.
Critics noted that the spectre of Beyonce still loomed large over this year's headliners. Beyonce's show-stopping headline performance last year has since been turned into a Netflix special, airing Wednesday (Apr 17).
Grande's set design and staging also proved more suitable for an arena tour, where audiences are guaranteed to spot the star. With dim lighting and a completely flat stage setup, Grande was hard to spot at some points in a sea of more than 100,000 festivalgoers.
Grande is set to reprise her performance at the second weekend of Coachella, starting this Friday (Apr 19).