Welcome to Pandora: Check out the new Avatar immersive exhibit at Gardens by the Bay's Cloud Forest
Fancy meeting one of Pandora's banshees? Wondering what you'll look like as a Na'vi? Visit Avatar: The Experience exhibition at Gardens by the Bay ahead of the upcoming sequel to James Cameron's blockbuster sci-fi movie.
Thirteen years. It has been that long since James Cameron's epic sci-fi movie Avatar hit the screens worldwide in 2009 that you might have forgotten how visually stunning it was.
To jog your memory – and to whet your appetite for the sequel Avatar: The Way Of Water, which is slated to come out in December – take a trip to the world of Pandora by way of Gardens by the Bay's Cloud Forest. 
The new Avatar: The Experience exhibit opened on Friday (Oct 28) and it's truly an immersive experience. The minute you step inside the Cloud Forest, your synapses will be triggered by the sight of a fearsome forest banshee – like the movie's protagonist, Jake Sully, when he hooked up to his blue-skinned avatar.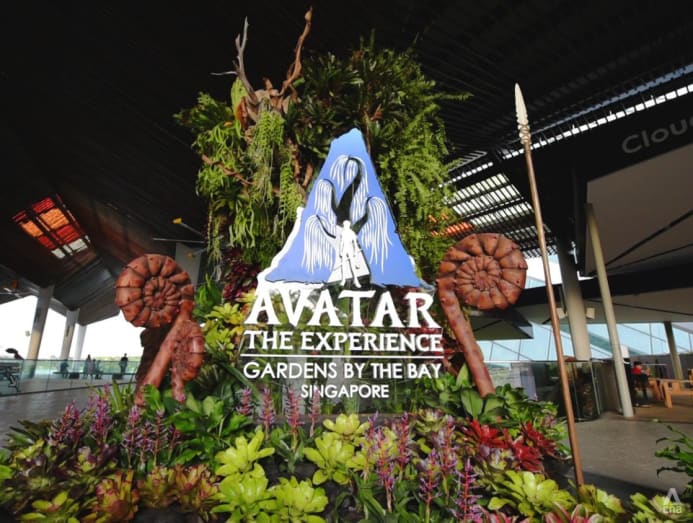 Right in front of one of the world's tallest indoor waterfalls and with a backdrop of lush tropical plants, the colourful forest banshee, with its mouth agape, is just a teaser.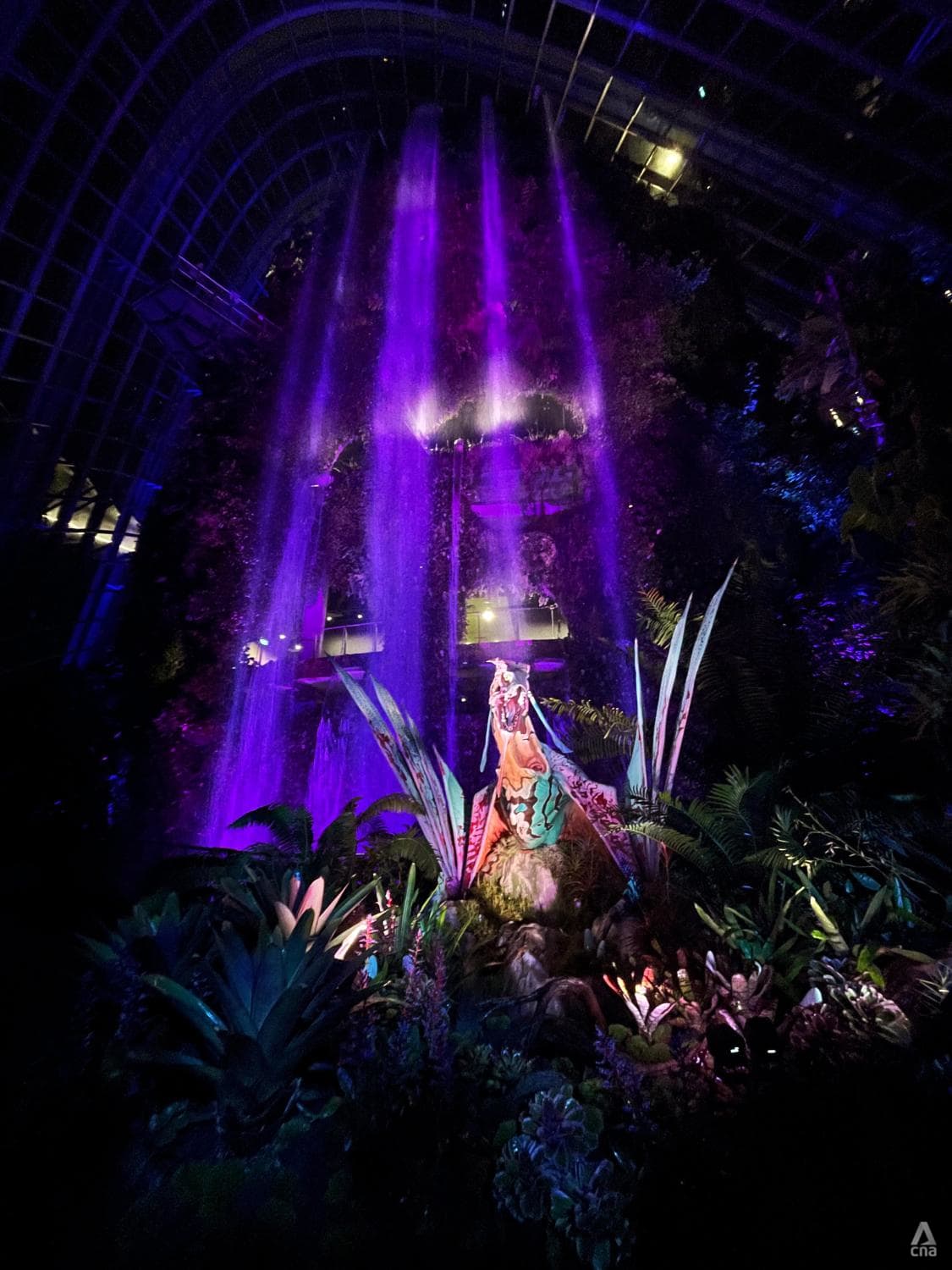 You'll later meet its bigger cousin, the mountain banshee, a 6m-tall, magnificent animatronic that reacts to its surroundings in real-time (a Siri with teeth that growls, if you will). Just don't ask it to order food for you; you might just become food.
It's no wonder that Na'vi warriors deem these ferocious creatures an honour and a rite of passage to tame in the movie. (If you're there at the right time, you may even meet a baby banshee pup that can interact with its impressive parent.)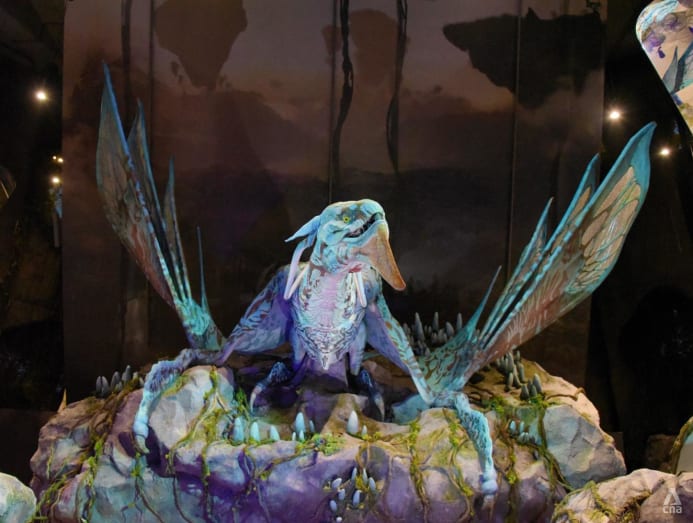 The exhibit comprises five zones (be prepared to spend about 90 minutes wandering around the premises) and will also give visitors a sneak peek at what to expect in the upcoming movie, such as the new slender-necked marine creature known as the ilu in an "underwater grotto".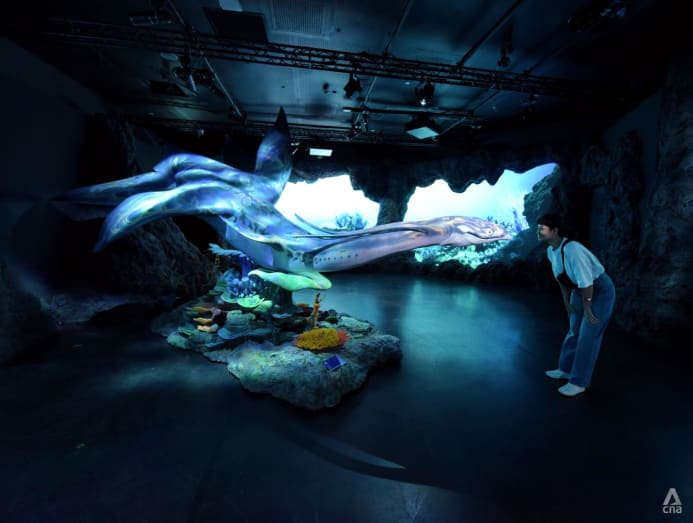 AVATARISE YOURSELF
But it's not all selfies and wefies. You can also "fly" through the Hallelujah Mountains – floating islands drifting slowly in the magnetic currents like icebergs in the sea – at one of the flight simulation kiosks.
There's also the chance to "Avatarise" yourself, complete with tail, yellow eyes and pointed ears, at the interactive kiosks. Don't forget to scan the QR codes to download the pictures onto your handphone.
Meet more denizens of the movie's fictitious moon planet as you wander through the Cloud Forest now bathed in Pandoran bioluminescence and forest sounds.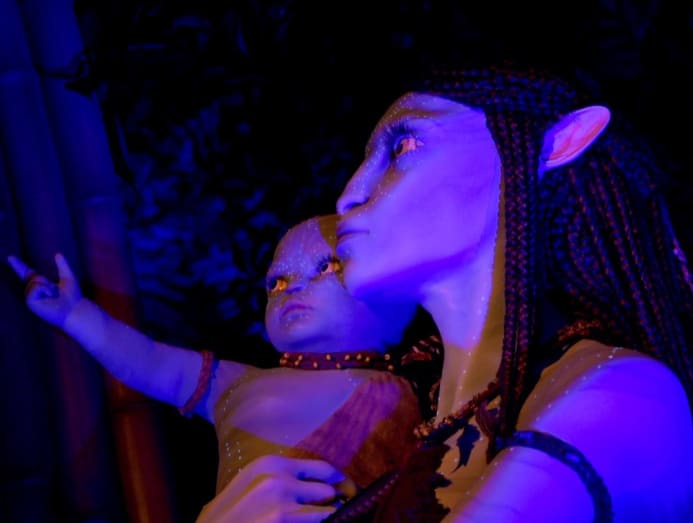 Play on a "lichen" and see how your touch sends off light and sound signals through the flora. Spot cheeky lemur-like prolemuris vying for fruit in the trees and a prowling viperwolf on the hunt. If you're lucky, you might even meet a viperwolf cub up close.
They've certainly saved the best for last. In the fifth zone (called Pandoran Celebration), you'll get to walk through a hallway of pink, luminescent tendrils akin to the movie's Tree of Souls, before entering a multimedia show.
Then, bathed in a visual light experience, relive the wonders of the movie by interacting with Pandora's bioluminescence, the delicate and sacred woodsprites and other mystical creatures such as the fan lizards with their retractable spinning neck discs.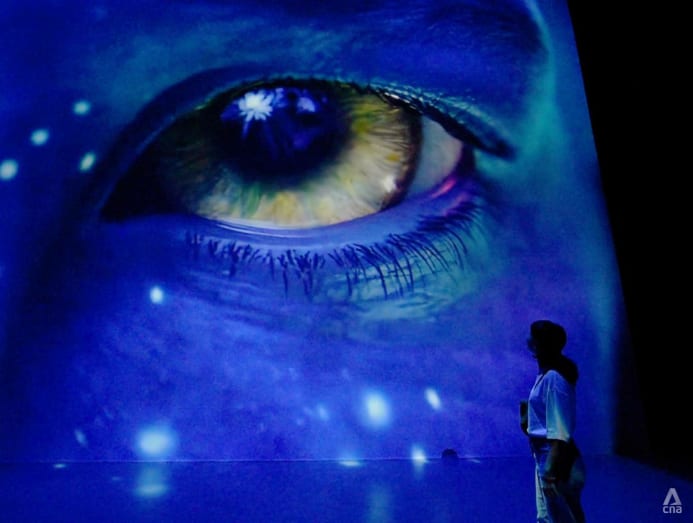 Meanwhile, the Cloud Forest itself has undergone its own Avatar transformation, with an additional 5,700 plants comprising more than 160 species, of which 20 are new to Gardens by the Bay.
In keeping with the blue hues of Pandora's flora and fauna, you can find real-life plants such as the aechmea blue tango with electric blue flowers and contrasting hot-pink flower stalks, and microsorum thailandicum, a fern with iridescent blue-green leaves.
This immersive transformation of the Cloud Forest is its first in 10 years and is undertaken by Cityneon Holdings, Disney Location-Based Experiences as well as James Cameron and Jon Landau's Lightstorm Entertainment.
Avatar: The Experience runs until Mar 31, 2023. Tickets start from S$23 and can be purchased on-site or through Gardens by the Bay's and Klook's websites.