From Angry Birds to Avengers: Top 10 pop culture moments from the 2010s
Do you remember life before Netflix, Gangnam Style and being "stunned like vegetable"? CNA Lifestyle takes a look at the decade's most un-un-believable moments.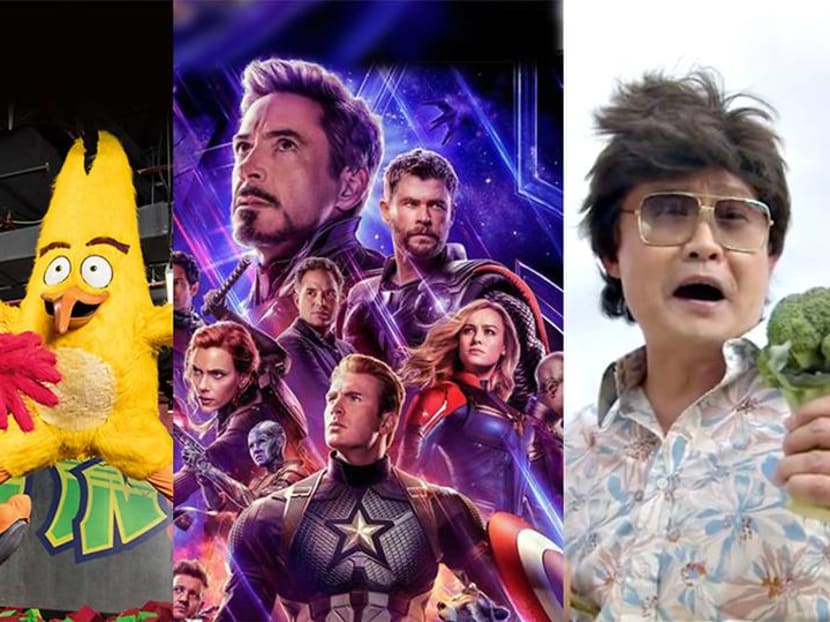 What a decade for pop culture it has been. It's hard to remember a time before we saw Lady Gaga's meat dress at the 2010 MTV Video Music Awards, a time when we didn't have incredible television shows like Game Of Thrones, Stranger Things and The Handmaid's Tale, or when Singaporean actor Chen Tianwen was just, well, Chen Tianwen.
Thanks to the smartphone, the 2010s also changed our lives in many ways. The rise of social media celebrities on apps like Instagram, YouTube and TikTok has redefined the way we think about influence, and what our parents think are acceptable careers. Most importantly, the advent of social media has made it easier than ever for memes, fads and important social topics to become global conversations in an instant.
It doesn't matter if you've been hiding under a rock all this while, or if none of this sounds familiar to you – we'll catch you right up, with our list of top ten pop culture moments from the past decade:
2010: ANGRY BIRDS
Who knew a flock of red, round birds trying to defend their nests from their porcine enemies would take over the world? Created by a small Finnish company, Angry Birds became one of the biggest and most addictive mobile phone games of 2010, and has since accumulated billions of downloads through dozens of spin-off games, launched its own line of merchandise and even inspired two feature films.

Honourable mention: It's been almost 10 years since the late Steve Jobs unveiled the iPad. Like the iPod and iPhone, the Apple tablet has changed the way we check our e-mails, read the news and watch videos.
2011: THE ROYAL WEDDING
Our very royal decade began when millions of people around the world tuned in to watch the UK's Prince William and Kate Middleton's fairy tale wedding at Westminster Abbey. But the festivities didn't end there. The decade also saw another royal wedding – Prince Harry and Meghan Markle's in 2018 – and the birth of not one, but four royal babies, including that of the future King, Prince George.

Honourable mention: Chinese palace dramas, with lavish costumes and court intrigue begin its decade-long rule with The Legend Of Zhen Huan.
2012: PSY'S GANGNAM STYLE
Who would've thought a rather portly musician – instead of a pretty boy band or girl group – would be responsible for putting K-pop on the world map? But that's exactly what Park Jae-sang did with his catchy hit single. Gangnam Style topped many charts, The music video has garnered 3.4 billion views to date on YouTube, had countless people – including celebrities and politicians – doing those trademark dance moves. BTS may have ruled the latter part of the decade, but it was Psy who started it all.

Honourable mention: The Hunger Games immediately became a cultural phenomenon when it first landed in theatres in 2012, introducing the world to renegade hunter Katniss Everdeen and the actress who plays her, Jennifer Lawrence.
2013: BINGE-WATCHING
Can you remember what we used to do before the days of binge-watching? We certainly cannot. Netflix changed the rules of content-viewership, when it dropped all 13 episodes of its first Netflix original series, House Of Cards, at the same time on February 2013. Now, with more streaming services like Prime Video, Apple TV+ and Disney, it seems we'll never leave our couches again.
Honourable mention: The Red Wedding kills off some of our favourite Game Of Thrones characters, in what is arguably the most shocking scene in prestige television's most shocking series.
2014: THE ICE BUCKET CHALLENGE
You kind of had to be there to understand this. The challenge went viral when, to raise funds for research on ALS (a motor neuron disease also known as Lou Gehrig's disease), millions videoed themselves pouring ice water over their heads, and then nominated their friends to do the same. In total, more than 17 million videos were uploaded to Facebook, raising US$115 million (S$156 million), and some heavyweight participants included Oprah Winfrey, Bill Gates and Leonardo DiCaprio. This month, one of the challenge's most recognisable participants, Peter Frates, died at the age of 34.
Honourable mention: Ellen Degeneres casually broke the Internet when she got Brad Pitt, Angelina Jolie, Jennifer Lawrence and other celebrities to squeeze together for the Oscars Selfie, which eventually became the most-retweeted photo of all time.
2015: MR UNBELIEVABLE
Okay, nobody saw this coming. We were all "stunned like vegetable" when Chen Tianwen's hilarious parody music video, with its catchy tune and absurd lyrics, went viral and gained millions of views in a matter of days. The video, which was produced to promote the Channel 5 sitcom Spouse For House, was covered international publications like Time and The Huffington Post, and even inspired a feature film of the same name.
Honourable mention: Is it black and blue, or white and gold? The dress – you know which one – set the Internet on fire, as netizens who saw the same dress debated over its true colours.
2016: POKEMON GO
It was the year we simply had to catch 'em all. Pokemon Go not only revived the Pokemon brand, which is beloved by Millennials (who spent their childhoods watching Pokemon cartoons and playing the original video games on Nintendo). The augmented reality game, which has since been downloaded a billion times, also encouraged gamers (and retired uncles and aunties) around the globe to walk around their cities to catch the adorable monsters.

Honourable mention: Singapore beamed with pride when Nathan Hartono made it to the reality contest Sing! China, and eventually finished second place. Joanna Dong followed suit a year later.
2017: #METOO
The #MeToo movement is possibly this decade's defining moment. Following The New York Times' and the New Yorker's revelatory reports of serious sexual misconduct by American film producer Harvey Weinstein, the actress Alyssa Milano asked, in a tweet, women who have been sexually harassed or assaulted using #MeToo, to "give people a sense of the magnitude of the problem". Millions, including Gwyneth Paltrow and Jennifer Lawrence, responded with their own harrowing stories of abuse, hopefully paving the way for reform, around the world.

Honourable mention: Oh, Singaporeans. If we aren't queuing for Hello Kitty toys, we're queuing for burgers. McDonald's caused quite a stir when it launched the Nasi Lemak burger in 2017 to celebrate National Day. All 750,000 burgers were sold out in two weeks, alongside other locally inspired treats like the Chendol McFlurry and Bandung McFizz.
2018: CRAZY RICH ASIANS
Some may scoff at the lack of racial diversity in its portrayal of Singapore, but the movie was certainly an important milestone for Asian representation in America. The film starring Constance Wu, Henry Golding and Michelle Yeoh was not only the first all-Asian Hollywood film in 25 years, it was also the highest-grossing romantic comedy in a decade. Also: Singapore pride.
Honourable mention: BTS made history when they became the first Korean pop act to be ranked number 1 on the Billboard Artist 100 chart. The boys have since charted many more firsts, including becoming the first K-pop band to perform as a musical guest on Saturday Night Live, to present an award at the Grammy's and to headline London's Wembley Stadium.
2019: THE AVENGERS: ENDGAME
It seems only right that our list should end with The Avengers: Endgame, the highest-grossing movie of all time, beating James Cameron's sci-fi epic Avatar from 2009. Endgame was an emotional and fitting conclusion to a 22-film story that has kept us enthralled and entertained for an entire decade - and it's anyone's guess how many of our favourite superheroes we'll see again, in the 2020s.
Honourable mention: The return of Keanu Reeves, aka the Internet's Boyfriend or He Who Can Do No Wrong. Fans have been swooning over the 55-year-old actor, since revelations about how he does not touch women he takes photos with, how he has secretly donated millions to children's charities, and his hilarious cameo in Always Be My Maybe.