Backstreet Boys band together for virtual rendition of I Want It That Way
Filming from their own homes, the members crooned along to the song for a benefit concert aimed at providing relief and support for those affected by COVID-19.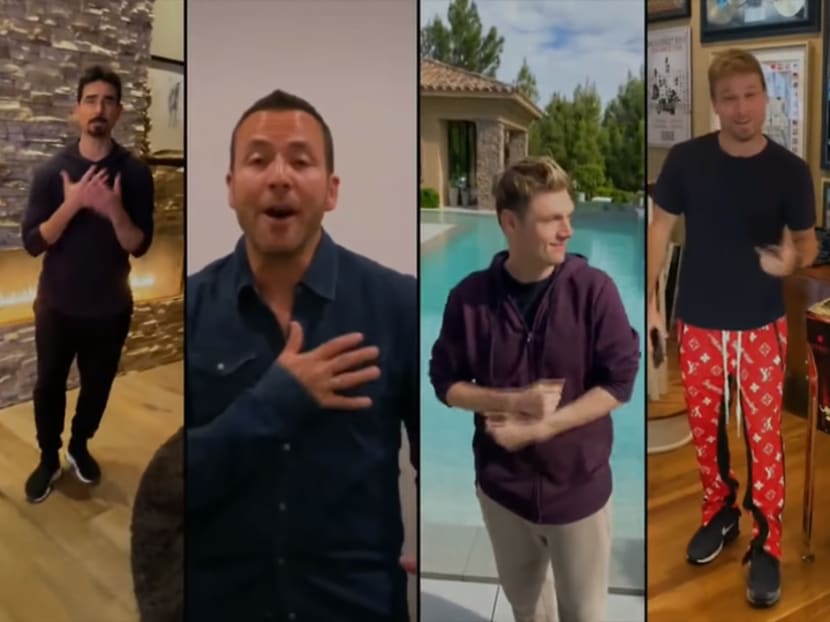 Being two worlds apart won't stop the members of the Backstreet Boys from performing, it seems.
Despite being forced to stay at home amid the COVID-19 outbreak, the popular boyband managed to reunite over video for iHeartRadio's Living Room Concert for America on Sunday evening (Monday, Mar 30 in Singapore), a benefit concert that aims to provide relief and support for Americans impacted by COVID-19.

Opening with the lyrics "You are my fire, my one desire" was Brian Littrell, singing from his home in Atlanta. He was soon joined by Nick Carter in Las Vegas, before the other members all chimed in for the chorus' "Tell me why".
Carter and fellow member Kevin Richardson were both accompanied by their children in the video as well – with the little Richardsons even playing the drums and singing along adorably.
The performance was well-received by fans, with one social media user commenting: "I love that they had their kids especially kevins [sic] kids playing back up."
Another user wrote: "Crying inside! What a beautiful reunion! Thanks!"
The hourlong show, broadcast on Fox television in the US without ads, raised US$1 million (S$1.42 million) within the first 10 minutes, thanks to a US$500,000 donation by household goods giant Procter & Gamble. The amount was matched by Fox.
Other stars that performed from their homes included Billie Eilish, Elton John, Mariah Carey, Camila Cabello, Alicia Keys, Shawn Mendes and Sam Smith.