Famous rescue dog Bear continues to help find koalas in Australia bushfires
The furry canine impressed Tom Hanks and Leonardo DiCaprio last year and starts 2020 being a hero. Just check his Instagram account.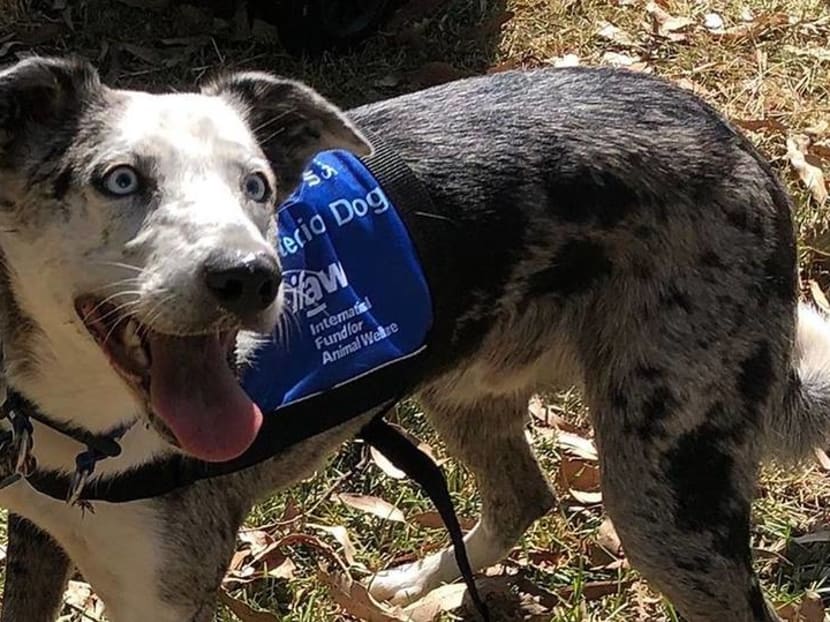 As Australia continues to battle with the devastating bushfires into 2020, everyone from celebrities and ordinary folk to governments from different countries have been chipping in to help.
But equally important have been the efforts of four-legged friends who have been on the frontlines of the battle – including perhaps the most famous of them all at the moment, Bear the koala detection dog.
The six-year-old border collie and koolie cross-breed was in the spotlight late last year for his efforts in helping and saving injured koalas – so much so that he even got a shout-out from Tom Hanks and Leonardo DiCaprio.
And Bear has started the year continuing his heroic ways. "It's hot out here," was the caption from the latest post on his Instagram account (@bearthekoaladog), which was posted a couple of days ago and featured a photo of him drinking water.
According to the WeRateDogs Twitter account, Bear was abandoned as a puppy due to his OCD, but was trained by the University of the Sunshine Coast (USC) and has since gone on to save koalas as part of a detection team that helps wildlife rescuers. His Instagram account also mentions him working with the International Fund for Animal Welfare (IFAW) charity group.
How does he do it? In a press release, Dr Celine Frere of USC Detection Dogs for Conservation said: "Because they can smell what we can't see, dogs can be used to track rare animals, detect pest species and locate threatened native plants, so they have such an important role to play in conservation."
She added that prior to being called to help in the fires, Bear had already been helping to locate sick and injured koalas. Judging from the Instagram posts, Bear also wears little dog shoes to help against the heat.
In November, both Hanks and DiCaprio have shared images of Bear. He was included in the latter's Instagram video post highlighting Australia's rescue dogs. Meanwhile, Hanks even suggested a Disney movie be made about him. "This is a Disney movie that must be made – the story of Bear, the koala detection dog. That's adorable. I like Bear," the actor had said, during his regular Nice Tweets session on Twitter.
The celebrity endorsements have helped put the spotlight on detection dogs during the Australian crisis, according to Bear's, erm, employers.
"We have been contacted by people all around the world telling us how Bear has provided a bit of much-needed comfort and also has put in the spotlight the plight of koalas, some even telling us that Bear's story inspired them to support koala conservation," said Dr Frere.
"We are delighted that the world now sees Bear for what he is, a wildlife hero," added Joey Sharrad, a wildlife campaigner at IFAW.
Koalas have been badly hit by the bushfires, with experts fearing that approximately 8,000 koalas have burnt to death in New South Wales alone. The number of koalas killed corresponds to up to 30 per cent of koalas in that habitat, and is among the estimated 480 million animals that have died due to the bushfires.