What is the standout model in this year's smartphone shootout?
We looked at the key flagship devices and their specs from Apple, Samsung, et al for comparison. You're welcome.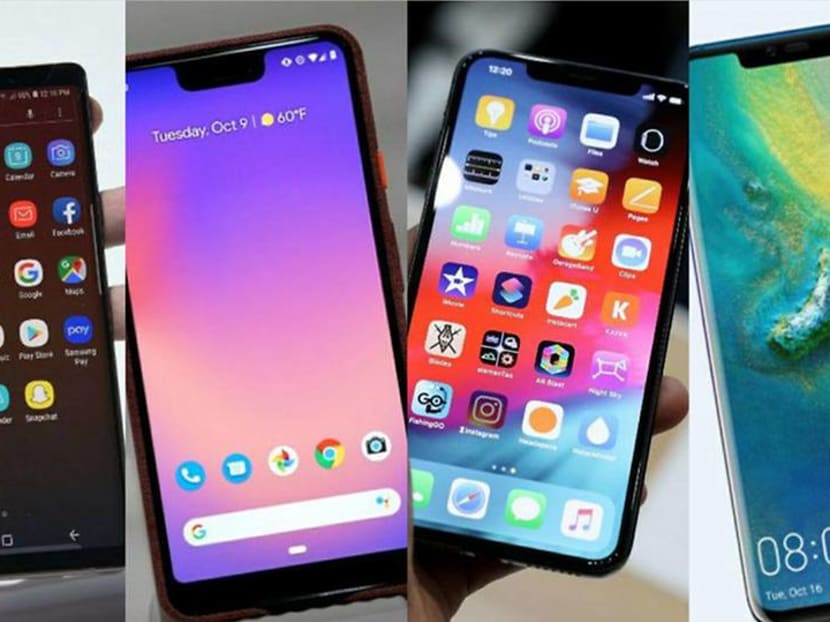 SINGAPORE: There comes a time when choosing something becomes less of a pleasure and more of a stress-inducing, cold sweat-creating chore.

For smartphone-toting Singaporeans eyeing shiny new gadgets, the time is usually now. 

In anticipation of the year-end festive shopping frenzy, phone manufacturers like Apple, Samsung, Huawei and Google are pushing out their latest and greatest. 

To help bring your blood pressure down to normal (check your Apple Watch … oh look, another shiny gadget), Channel NewsAsia has prepared a list of the flagship devices from these handset makers to help guide you through the minefield of which one to choose.
APPLE iPHONE XS MAX

Claim to fame: 
Apple introduced its full slate of new handsets in September this year. For the most part, the changes were incremental and under the hood, but it's worth noting that the iPhone XS Max - with a screen size of 6.5-inch - is the largest smartphone Apple has produced to date.
The latest devices also come with dual SIM functionality, although that will only become a plus point when Apple decides to turn the functionality on (possibly in the next OS update). 

The twist: Existing dual SIM offerings have, literally, two SIM trays to enable the use of two networks (like in Samsung Galaxy Note 9). Apple, however, has turned this on its head by pairing the traditional SIM card with an embedded SIM functionality instead. 
Only Singtel has enabled eSIM functionality in Singapore (for Apple Watch) currently. 
Key specifications:
Capacity: 64GB, 256GB and 512GB
Display: 6.5-inch Super Retina OLED (2,688 x 1,242 pixel-resolution)
Cameras: Dual 12-megapixel wide angle and telephoto cameras (rear) and 7-megapixel with Face ID
Colours: Silver, Space Grey and Gold
OS: iOS 12
Pocket pain: 
The entry-level 64GB device will set you back S$1,799 while the 512GB variant costs a hefty S$2,349.
HUAWEI MATE 20 PRO

Claim to fame:
The Chinese handset maker took the covers off its latest Mate devices in London earlier this month and, as promised, fitted it out with its latest 7-nanometre Kirin 980 chipset. The internally developed processor also comes with artificial intelligence smarts baked in via its dual neural processing units. 
One feature that particularly whetted consumer appetites was reverse wireless charging. Given that it comes with a huge 4,200 mAh battery, the Mate 20 can also act as an emergency power bank to wirelessly juice up your dying devices.
Key specifications
Capacity: 128GB (expandable to 256GB with its nano memory card)
Display: 6.39-inch OLED (3,120 x 1,440 pixel-resolution)
Cameras: Triple Leica lens configuration (40MP RGB, 20MP ultra wide angle, 8MP telephoto) for the back, and 24MP front-facing lens
Colours: Emerald Green, Twilight and Black
OS: Android 9.0 Pie (with Huawei's EMUI skinned over)
Pocket pain: 
The Mate 20 pro will cause a S$1,348 dent to your wallet. (Available from Oct 27)
SAMSUNG GALAXY NOTE 9

Claim to fame:
The introduction of the Galaxy Note 9 in New York back in August this year seems a lifetime ago, and it is already being overshadowed by an impending launch of a foldable device next month. 
Before that though, the Note 9 remains the Korean consumer giant's flagship device and it played catch-up to match or surpass its rivals in terms of storage, AI capabilities and camera technology. 

The beefed up S-Pen stylus was arguably the main draw though, allowing users to take photos or trace over existing photos for an artistic touch.
Key specifications:
Capacity: 128GB and 512GB (expandable with up to 512GB microSD card)
Display: 6.3-inch AMOLED (2,960 x 1,440 pixel-resolution)
Cameras: Dual 12MP rear with 10 times digital zoom with 8 MP front cam
Colours: Ocean Blue, Metallic Copper and Midnight Black
OS: Android 8.1 Oreo

Pocket pain:
The 128GB version retails at S$1,398 while the 512GB one costs S$1,728.
GOOGLE PIXEL 3 XL
Claim to fame:
Leaks, leaks and more leaks. As the days ticked down to Google's Oct 10 annual hardware event, it looked as if there was nothing else to reveal about the tech giant's third iteration of its Pixel smartphone. 
Yet, even as the hardware was largely predictable (including the huge notch), Google still managed to generate interest in how it's integrating its software smarts more deeply into the phone. Think (a quite capable) Google Assistant, Google Lens within the camera app and the yet-to-be-rolled-out Night Sight mode for low-light photography using its single-lens rear camera. 

For a point of comparison, Huawei created waves for low-light photography with its P20 devices earlier this year, but that's with a triple-lens configuration. 
Key specifications:
Capacity: 128GB and 512GB (expandable with up to 512GB microSD card)
Display: 6.3-inch OLED (2,960 x 1,440 pixel-resolution)
Cameras: 12.2MP dual-pixel rear with 8MP front cam with both wide angle and telephoto lenses
Colours: Clearly White, Just Black and Not Pink
OS: Android 9 Pie 

Pocket pain: 
The 64GB variant will set you back S$1,249 while the 128GB will cost S$1,399.