Blackpink's reality show episode featuring baby panda postponed due to complaints
Some Chinese netizens were concerned about Jennie, Jisoo, Lisa and Rose's handling of the delicate animals.
The latest episode of Blackpink's reality TV show, 24/365 With Blackpink, that was due to be released on Saturday (Nov 7) has been postponed.
This comes after a teaser clip of the episode on Nov 4 drew concerns from Chinese social media users about the group members' handling of a baby panda.
In the clip, Jennie, Jisoo, Rose and Lisa got to act as zookeepers for the day as they interacted with giant pandas Ai Bao and Le Bao at the Everland Resort in South Korea.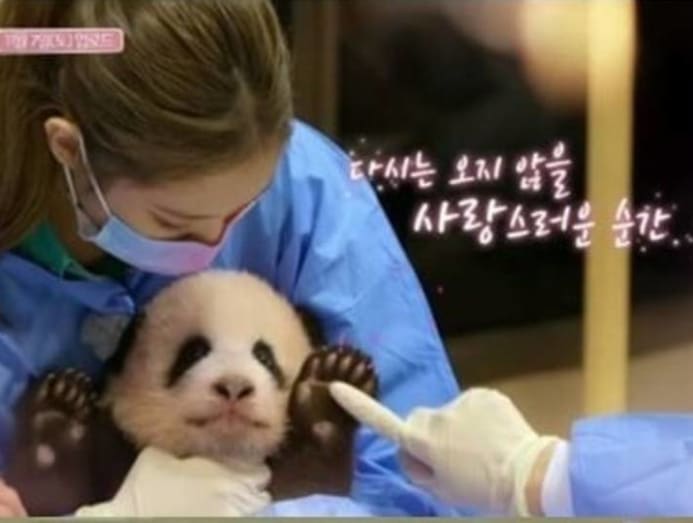 Jennie was also seen holding three-month-old baby panda Fu Bao, the first panda to be born in South Korea.
The netizens complained that the Blackpink members should not have been allowed to handle the baby panda, which requires delicate care, and that there was a danger of transmitting diseases to the animal.
The China Wildlife Conservation Association sent a letter to the theme park and demanded that they stop allowing non-professionals to have contact with the baby panda and depicting such scenes.
Blackpink's agency, YG Entertainment, has responded to the concerns by postponing the video in order to respect the panda conservation experts.
They explained in a statement that the interaction took place with professional veterinarians and keepers in attendance and that Blackpink had followed the strict disease prevention and sanitation guidelines that were given.
The statement further outlined that Jennie, Rose, Jisoo and Lisa were all wearing gloves, masks and protective clothing and that their hands and shoes were disinfected each time.