Blackpink in Singapore: Enthusiastic fans filming taints experience for first-time K-pop concert goer
The K-pop girl group performed a slew of songs, including crowd favourites like How You Like That and Kill This Love, but the concert experience was somewhat marred by fans determined to record the show.
As someone who's never quite surfed the Korean wave, I've always imagined jumping aboard the lean, mean K-pop machine to be an unforgettable experience.
A huge part of the K-pop experience is, after all, getting acquainted with K-pop's most devoted fans (also known as stans). Even though stan culture exists across the globe, K-pop's loyal followers seem to be cut from a different cloth. It is no secret that they will go to extreme lengths to defend their idols against critics and even fellow fans who might not elevate their idols to the same pedestal, often resulting in online harassment or personal attacks. 
Their obsessive behaviour is why I've been reluctant to give K-pop a chance, despite its undeniable influence on popular culture. 
Until Blackpink burst onto the scene in 2016 to test my resolve.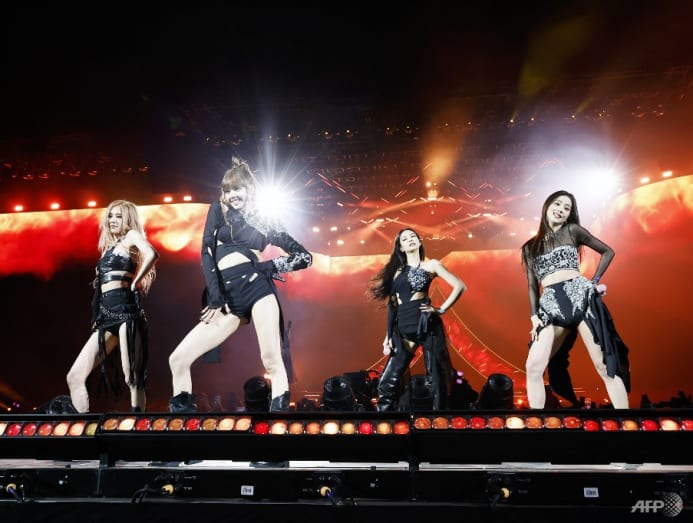 CHART-DOMINATING ANTHEMS, DISTINCT PERSONALITIES
The K-pop juggernaut quartet – comprising Jisoo, Jennie, Rose and Lisa – has been touted as the biggest girl group in the world, with nearly every concert earning them rave reviews. Most recently, they made history as the first K-pop band to headline Coachella, the annual popular music festival in California, in April this year. 
The group is known for their conservative number of songs compared to their peers, citing "quality over quantity" in interviews. But the songs they do release can only be described as mass market pop on steroids – and I mean this as a compliment. 
With every song a banger, it's as though they have cracked the code for chart-dominating earworms, leaving no room for filler tunes. Perhaps it is the mix of trap, Europop, hip-hop and electronic dance music, refreshing the quintessential female empowerment anthems for Generation Z. Perhaps it is their individual distinct personalities honed through the years. 
Whatever the case, the first time I listened to a Blackpink song about four years ago, I finally understood the hype. It didn't matter that I didn't know what the title Ddu-du Ddu-du meant or didn't understand half the lyrics. All I knew is that I wanted more. 
So when they announced the Singapore leg of their Born Pink world tour in 2023, their first shows here since 2019, I decided to try my luck. After one-and-a-half hours virtually queueing up, I scored tickets for Saturday (May 13), their first of two shows over the weekend at the National Stadium.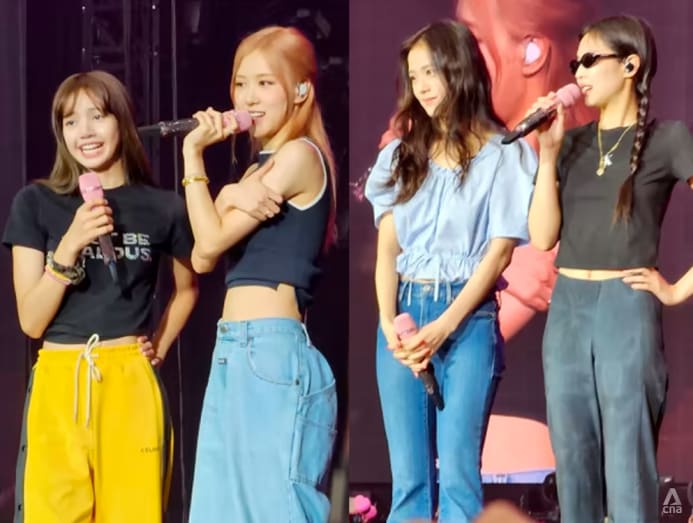 NON-STOP FILMING BY FANS
My love for Blackpink's energetic chart-toppers, coupled with the knowledge that K-pop acts are famed for their dynamic and visually-captivating performances, meant I had high hopes for my first K-pop concert. 
After all, subtlety is not quite K-pop's strength, and I love that it doesn't pretend otherwise. 
Unfortunately, it seemed the same could be said for Blackpink's fans (affectionately called Blinks), as those in the standing pen in front of the stage were armed with phones, and seemed to lower them only between songs or to check if their videos were good enough.
From where I was, I had the impression that many were standing stock-still, focusing on getting the best shot of their favourite member, immune to the addictive beats of Boombayah or the catchy rebellious lyrics in Tally.   
Behind me, an apparent fifth member of Blackpink was inspired to howl the lyrics to every song with a confidence that only made the case for Autotune. I could have forgiven the Blink for screaming his head off till kingdom come – if he hadn't done it while shamelessly filming the show at the same time. 
After Saturday's concert, a TikTok video by @babyyblob called out the concert crowd in Singapore for being "selfish", with "no manners and concert etiquette". It was aptly captioned, "You all filming Netflix documentary or what."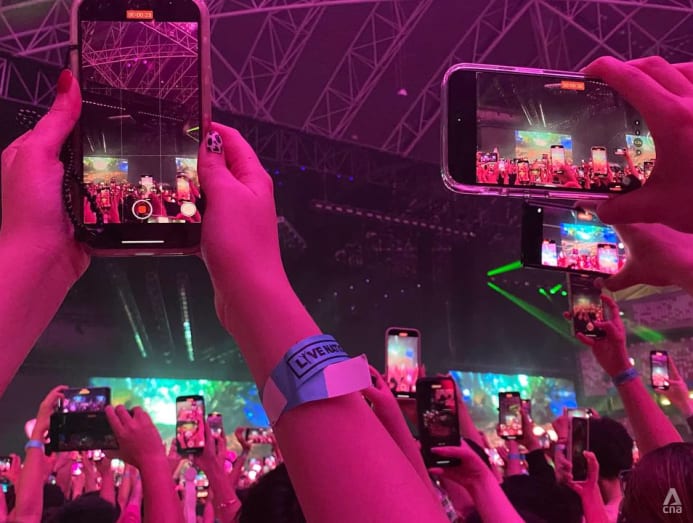 Having my concert experience tainted by Blinks' behaviour, I had heightened hopes that Blackpink's stage presence would make up for it.
Maybe it was the sweltering heat, marked by streaks of perspiration running down their faces and the members' casual banter ("My face is melting," quipped Jennie). Or maybe there were hints of exhaustion from what has been a highly successful but very rigorous world tour. It was a tough order for the group.
Performing to a packed stadium of some 50,000 adoring fans for close to two hours in sweltering weather – to a sea of blinking camera lights at that – surely has an effect?  
In one telling moment that night, Jennie told the audience towards the end of the show: "I see more phones than faces." She requested fans to sing and dance along for the remaining songs. 
Once she fell in line for the next song, Blinks lifted their phones again.   
By this time, I had decided I would let loose and enjoy the music regardless of what anyone else did. I couldn't stop the excessive video- and photo-taking for social media, which seems to be just par for the course these days, but I could still control my experience. 
Thankfully, the night's stage production somewhat made up for the distractions. After all, more is more in K-pop; confetti rained from the ceiling more than once, dramatic pyrotechnics framed the stage, sleek aesthetic videos entertained fans before and between sets, multiple outfit changes reflected varied artistic concepts, and the explosive yet exacting choreography stole the show.
And to Blackpink's credit, they peppered the night with quirky banter that their fans have come to know and love. For one, the sea of pink lights led Rose to joke that fans were witnessing the "debut" of a new girl band that night, the "Pink Puff Girls". At some point, Lisa also revealed how impressed she was by the audience's reaction to Jisoo's new single Flower, which has become a popular TikTok meme – and the latter gamely doing her own dance challenge.
These moments, along with the times they would try to connect with the fans at the front of the stage, made it seem we were seeing a bunch of talented girlfriends having fun rather than just mega celebrities.
My expectations had been right about my first time K-pop concert experience. It wasn't perfect, but it was certainly unforgettable.
After all, I knew I would remember the phone screens that blocked my view – but also the joy I felt dancing my little Blink heart out, phone firmly in bag.