Wrestling star Bret 'The Hitman' Hart tackled to the ground while giving Hall of Fame speech
Fellow WWE stars rushed to subdue the surprise attacker and Hart – who was part of the iconic tag team duo Hart Foundation with the late Jim "The Anvil" Neidhart – was able to resume his speech.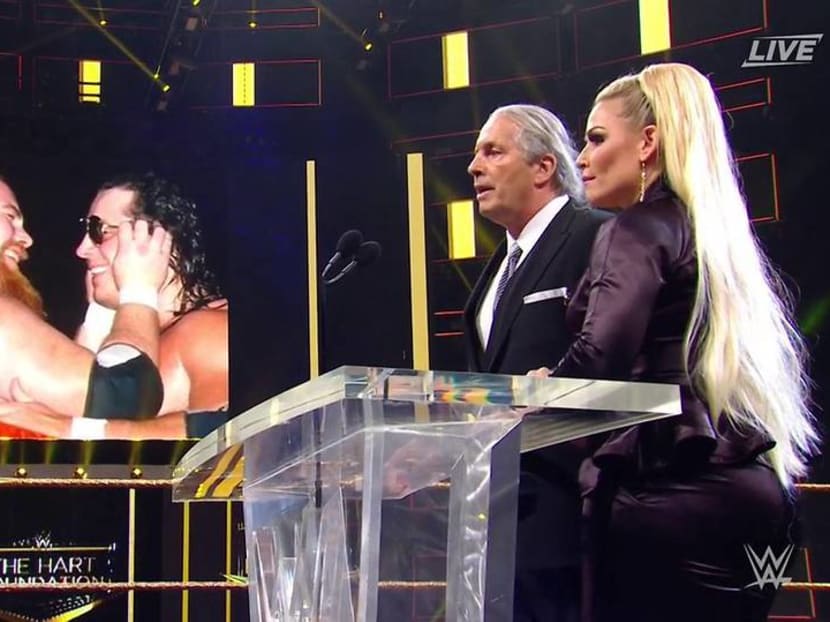 WWE star Bret "The Hitman" Hart was tackled by a spectator while delivering his Hall of Fame induction speech at Barclays Center in Brooklyn on Sunday (Apr 7), reported People.
The attacker, identified as 26-year-old Zachary Madsen, was immediately arrested and taken to the New York Police Department's 78th precinct in Brooklyn, reported CBS News. Madsen faces two counts of assault, one count of trespassing and a misdemeanour charge of violation of local law.
Hart, 61, was giving his speech alongside wrestler Natalya Neidhart, the daughter of his late brother-in-law and tag team partner, Jim "The Anvil" Neidhart. The five-time WWF World Heavyweight Champion and two-time WCW World Champion was part of the iconic tag team duo Hart Foundation, which was being inducted into the Hall of Fame.
In footage posted on Twitter, people can be heard booing and screaming as Madsen is pulled from the stage and out of the arena. The induction event resumed, with Hart continuing his speech, after the fan was taken into custody.

According to CBS News, WWE stars Shane McMahon, Xavier Woods, Tyson Kidd, and Curtis Axel all ran to Hart's aid and helped secure Madsen. Security guards reportedly received minor injuries from the attack.
In reaction to the unexpected attack on her uncle, Neidhart later tweeted: "Bret is a cancer survivor, a stroke survivor and one of the greatest wrestlers of all time. He didn't deserve to be attacked or have his moment or my dad's  diminished."
WWE released a statement shortly after the incident, saying, "An over-exuberant fan surpassed our security at ringside and made his way briefly into the ring. The individual has been turned over the police authorities."