BTS make history as the first K-Pop Grammy presenters
The seven-piece boyband presented Best R&B Album to H.E.R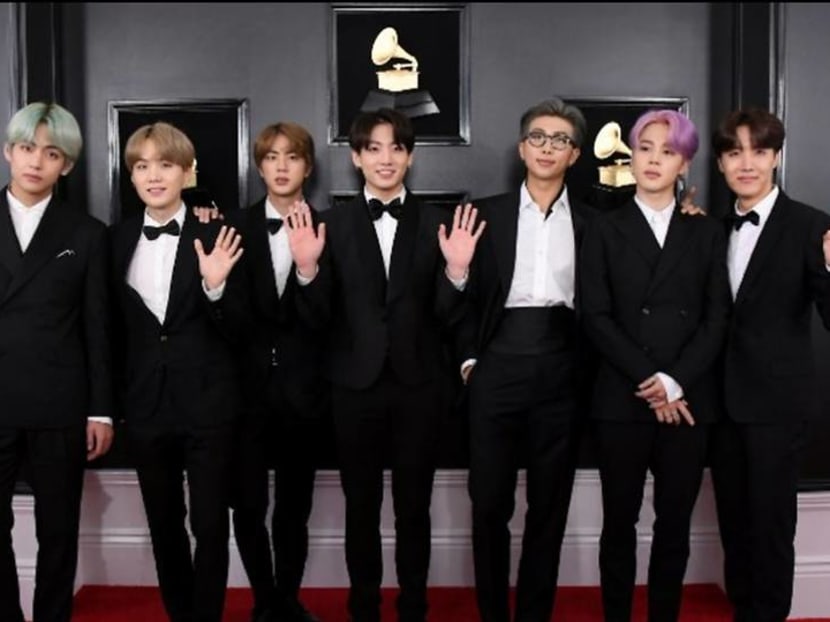 K-pop boyband BTS made history as the first K-pop group to present at the Grammy Awards held earlier this morning (Feb 11, Singapore time) at the Staples Center in Los Angeles.
"Growing up in South Korea, we always dreamed of being on the Grammys stage," said RM. "Thank you to all our fans for making this dream come true and we'll be back."
The boys arrived dressed by two South Korean designers. JayBaek Couture delivered custom looks for V, Jungkook, Jin, Jimin, Suga, and RM, while J-Hope's came from designer Kim Seo Ryong, whose namesake label has long been a fixture at Seoul Fashion Week.
"By choosing these respected, but lesser known names, BTS used their platform to shine a light on their countrymen," wrote Monica Kim for Vogue.
BTS' album, Love Yourself: Tear, was nominated for Best Recording Package for the album artwork, designed by HuskyFox, a branding company based in Seoul.
Known for their huge social media following, BTS has become a global phenomenon since their debut in June 2013.
In May 2018, the band's third Korean studio album, Love Yourself: Tear, debuted at No. 1 on the Billboard 200 chart, marking the highest-charting album by an Asian act.
The BTS World Tour: Love Yourself kicked off in Seoul last August. The group is currently in the final leg of its world tour, having played sold-out venues in cities such as Paris, Berlin and New York City. The tour is set to conclude on Apr 7 in Bangkok.