Here's what happened when K-pop stars BTS met with US President Biden
The group had been invited to the White House to speak on anti-Asian hate crimes and discrimination.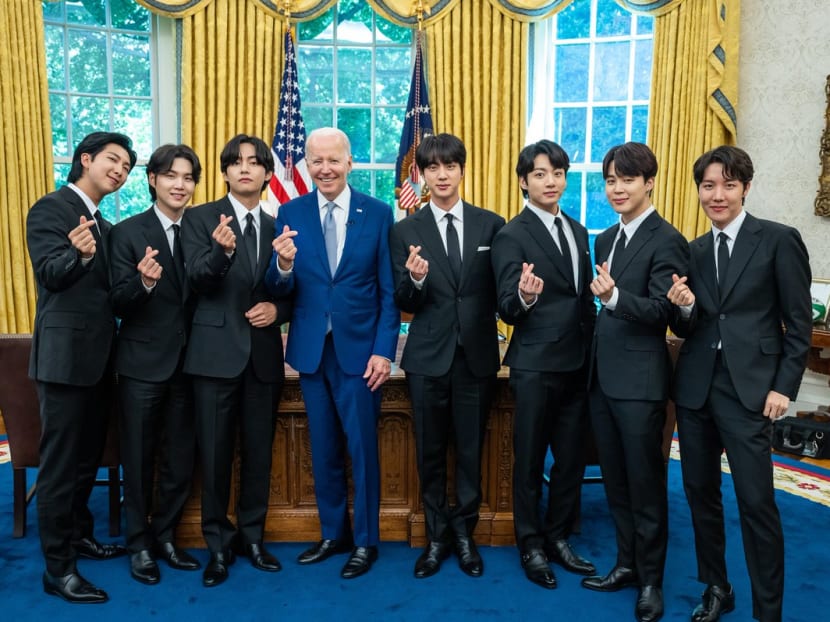 While they're usually burning the stage with iconic performances, Korean boyband BTS – known for their songs with strong social messaging – set social media ablaze again with a visit to the White House on Tuesday (May 31).
United States President Joe Biden had invited the seven-member group to discuss, among other things, the rise in anti-Asian discrimination in light of the COVID-19 pandemic. The invitation came as the Asian American and Native Hawaiian/Pacific Islander Heritage Month in the US came to a close. 
Before meeting Biden, the group made brief statements to the press, accompanied by White House Press Secretary Karine Jean-Pierre.
With the exception of group leader RM, the rest of the band made their statements in Korean. According to Korean broadcaster JTBC's foreign correspondent Kim Pil-gyu, an official from the group's record label HYBE said the decision to speak in their native language was deliberate, and "because they are Korean".
BTS member Jimin said: "We were devastated by the recent surge of hate crimes, including Asian American hate crimes. To put a stop to this and support the cause, we'd like to take this opportunity to voice ourselves once again."
Meanwhile, Suga said: "It's not wrong to be different. I think equality begins when we open up and embrace all of our differences."
Jungkook added that the group is still "surprised that music created by South Korean artists reaches so many people around the world, transcending languages and cultural barriers", and reasserted the group's shared belief that "music is always an amazing and wonderful unifier of all things".
As the group left the press briefing to meet with Biden, one reporter was heard shouting "BTS fighting!" – a Korean expression to wish them all the best – while others joined in a chorus of thanking them in Korean for their statements.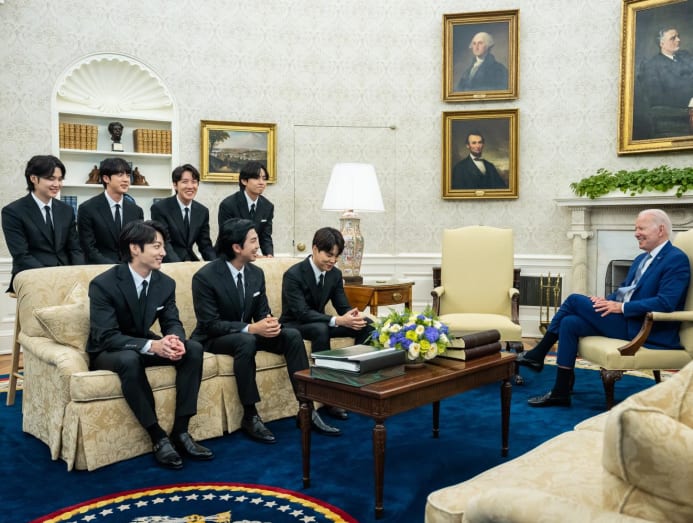 The US President later posed with the group for a photograph flashing finger hearts, a popular gesture among K-pop idols and fans.
Watch the group deliver their statements here.