Staying in on the weekend? Try some budget-friendly home improvement projects
If you're still opting for social distancing and not going out, why not do a little work on your home? Here are some simple suggestions.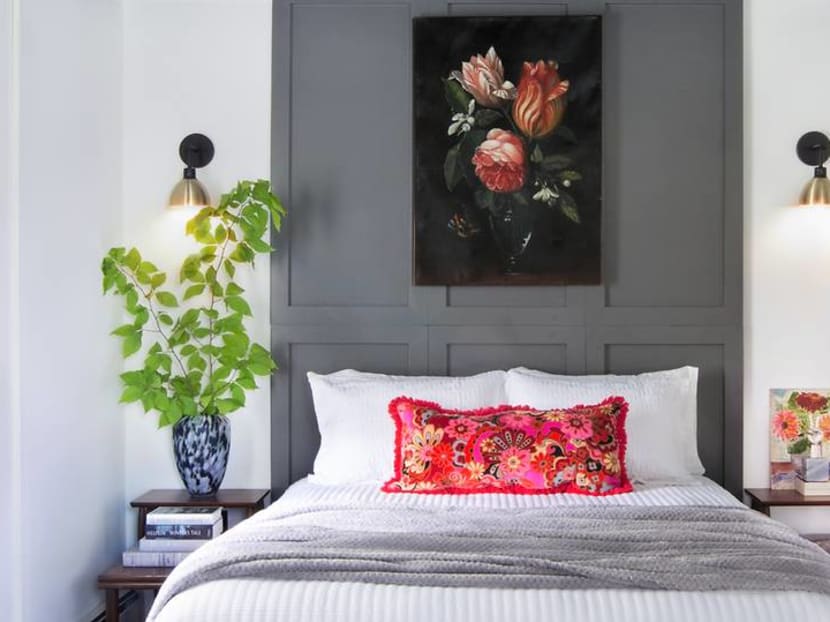 With so much time spent at home, many of us are paying more attention to our surroundings – and discovering that we don't like what we see.
Now might not be the time for a gut renovation, given the social distancing measures still in place and shifting rules regarding construction in different areas and apartment buildings. But it's a good time to think about smaller home improvement projects.
If you're willing to tackle the work yourself, there are changes you can make that won't cost much but will have a big effect on the appearance and comfort of your home. A few designers recently shared some of their favourite budget-friendly DIY projects.
PAINT TARGETED AREAS
Painting has long been touted as one of the least expensive ways to make a big aesthetic change. But there's a caveat that's often left out: Painting all the rooms in a home, from ceilings to baseboards, is a massive undertaking that can require weeks of neck-craning effort.
For more immediate gratification, take a targeted approach to introducing a new paint colour.
"Paint a small space – say, a bathroom – a brighter or bolder colour that makes you happy," suggested Rebecca Atwood, a Brooklyn-based textile designer and the author of Living With Color and Living With Pattern.
Or apply a favourite colour to all the trim in one room, or all the interior doors, to change them from background elements to decorative features. "We all think about the colour of our walls," she said. "But we don't think enough about the doors."
Robert McKinley, a New York interior designer, offered another suggestion: Choose paint with an uncommon finish. In his beach house in Montauk, New York, most of the walls are white, but the den is painted with a cloudy, deep-red lime wash from Domingue Architectural Finishes.
"The lime wash basically gives the look and feel of a plastered wall, but anybody can do it," he said. "I mean, talk about changing the room – it made this simple, white room into the most special room in our house."
ADD WALL PANELLING
Home-improvement TV personalities like Chip and Joanna Gaines have been highlighting the appeal of shiplap and other kinds of wall panelling for years.
Panelling is relatively easy to install, said Joanne Palmisano, an interior designer in Shelburne, Vermont, and an author of Rock York Rental and other books on designing with salvaged materials. And a little panelling, she noted, can go a long way.
"A lot of times we use it as a headboard panelling wall," she said, rather than panelling an entire room. "It gives it this dramatic feel and look."
When she renovated Main and Mountain, a motel in Ludlow, Vermont, she used a handful of green-painted vertical boards in guest-room niches to create eye-catching storage areas. Ms Palmisano has even used reclaimed Shaker-style cabinet doors to create a panelled headboard wall.
The best installation method "depends on the look you're going for and what's behind the wall," she said. In most cases, it involves identifying where the studs are, cutting the boards to size and securing them with a nail gun.
If you need help, she added, "There are so many YouTube tutorials."
CHANGE THE LIGHT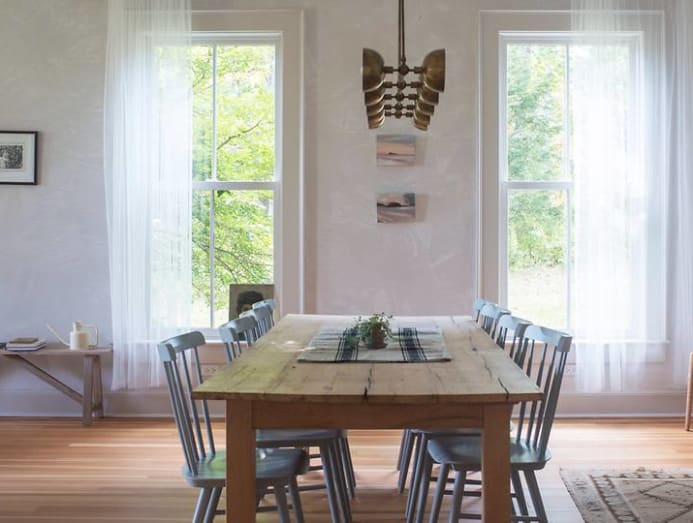 "Lighting is an easy fix" – and one that can significantly change the feeling of a room, said Tara Mangini, a founder of the Jersey Ice Cream Company, a design firm.
Ms Mangini's firm has been offering Zoom design consultations during the pandemic, and she frequently sees a certain problem: "So many people are in houses where they're just living with the same lighting that the contractors put in: It's a flush-mount light with one bulb that's too bright."
As well as replacing flush-mount fixtures with more flattering pendants or chandeliers, Ms Mangini said, she also tells people to add fixtures closer to eye level: "Add some lamps and sconces, which is also a really great way to bring in character."
If you use plug-in sconces, installation is easy. Just mount them on the wall near outlets. Sconces are particularly useful beside beds or sofas and above counters or desks.
Compared to a single, bright ceiling light, having multiple lower-wattage fixtures "creates a mood," Ms Mangini said.
PEEL AND STICK A PATTERN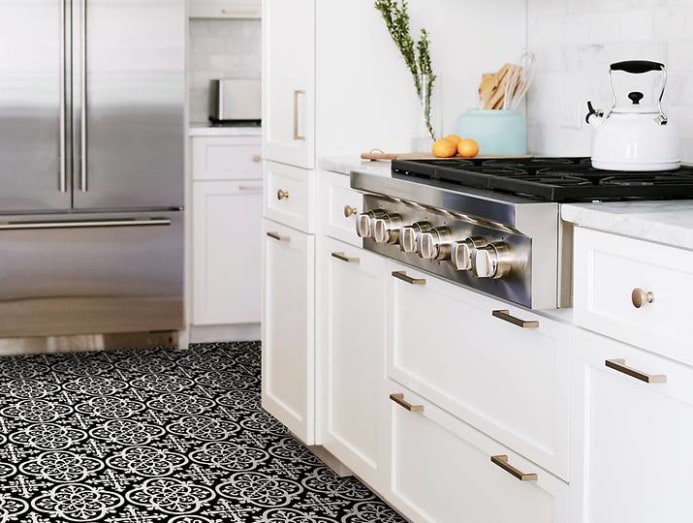 Wallpapering is another job that might sound easy but can quickly become problematic when the paste spills and the paper bubbles and sags. One option for a simpler installation is peel-and-stick wallpaper, which is effectively a giant sticker for your wall.
"I'm embarrassed about how often I use it," Ms Palmisano said. "But it's a really easy way to make a dramatic change in a room."
Another advantage: Removal is almost as easy as installation. "If it's put on right, it can last a long time," she said. "But if you change your mind, or you're renting, you can take it off before you move, usually without damage."
And if you want to cover ugly flooring in a bathroom, mudroom or kitchen, there are peel-and-stick vinyl floor tiles – an old product that companies have improved with new patterns and colours.
During the pandemic, these products have surged in popularity, said Ryan Breau, the web marketing manager at WallPops, a company that sells peel-and-stick wallpaper, floor tiles and backsplash treatments.
"Year over year, in April and May, we saw a 350 per cent increase" in sales, Mr Breau said. "People were at home without much to do. With just a utility knife and a measuring tape, they could do something really impactful to their environment."
OVERHAUL YOUR HEADBOARD
The bed is usually the focal point of the master bedroom, and the headboard is typically its most distinctive element. If you have an upholstered headboard that you don't love, reupholstering it is an easy DIY project.
"You just need a staple gun," Ms Atwood said. "You're stretching the fabric taut and staple-gunning it to the back. It's just like stretching a canvas."
Unlike reupholstering a sofa, re-covering a headboard requires a minimal amount of fabric, she said, and you could even dye or print your own. (Ms Atwood's book Living With Pattern includes instructions for a DIY shibori-dyed headboard.)
If you don't have a headboard, you can make your own, said Ms Palmisano, who has made them out of plywood covered with carpet padding and faux leather.
It doesn't even need to attach to the bed frame. "You just make a wall cleat," she said, or buy one, to mount the headboard directly to the wall behind the bed.
BUILD A BAR
If new paint, light fixtures and wallpaper aren't enough to make you happy with your interior, Mr McKinley suggested adding a bar. In his Montauk house, he and his wife, Kate Nauta, removed a door from a small closet to convert it into a space for mixing drinks.
"We did it ourselves," he said, by installing a couple of low IKEA wall cabinets topped by a counter finished in back-painted acrylic. Above, they added sconces, a mirror and a vintage wall shelf to hold bottles.
This sort of improvement has multiple advantages during lockdown. "It looks so cool," Mr McKinley said. And it's well equipped to ease anxiety.
By Tim McKeough © 2020 The New York Times