Burberry apologises for noose hoodie after criticism by model
The noose not only evoked lynchings but also suicide, the model wrote on Instagram.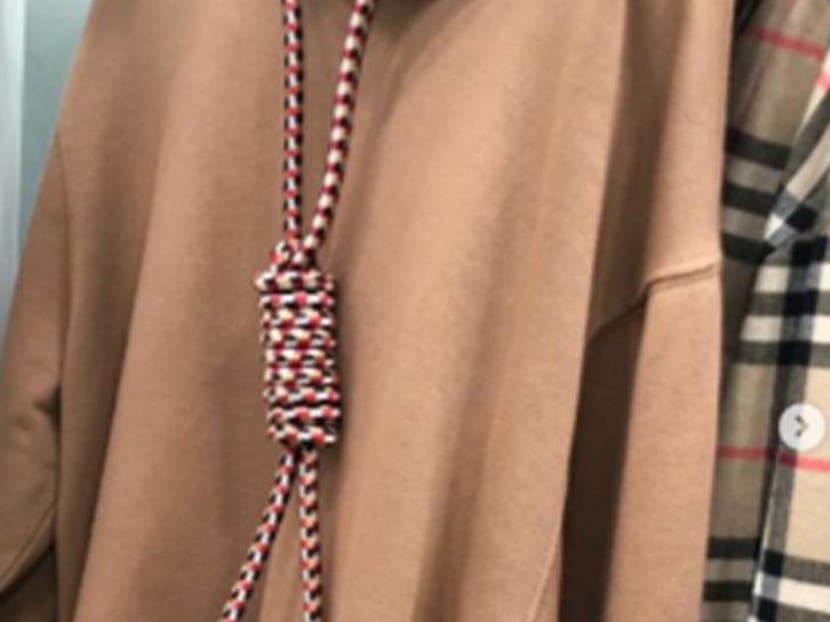 Burberry has apologised after one of its models criticised a hoodie with strings tied into a noose. It was one of its runway looks at London Fashion Week on Sunday (Feb 17).
Burberry boss Marco Gobbetti said the brand was "deeply sorry for the distress" caused. "It was insensitive and we made a mistake."
The hoodie featured in a collection called Tempest, featured "rebellious youths" scaling walls in one space. Burberry's creative director Riccardo Tisci dedicated the collection, his second for the brand, to "the youth of today".
In a long post on Instagram uploaded early Monday (Feb 18), model Liz Kennedy hit back at the fashion label, saying, "Suicide is not fashion".
"It is not glamorous nor edgy and since this show is dedicated to the youth expressing their voice, here I go," she wrote. "Riccardo Tisci and everyone at Burberry it is beyond me how you could let a look resembling a noose hanging from a neck out on the runway."
"How could anyone overlook this and think it would be okay to do this especially in a line dedicated to young girls and youth … Let's not forget about the horrifying history of lynching either."
The model said she tried to clarify the offending item in the dressing room, but was told to "write a letter".
"I had a brief conversation with someone but all that it entailed was 'it's fashion. Nobody cares about what's going on in your personal life so just keep it to yourself' well I'm sorry but this is an issue bigger than myself. The issue is not about me being upset, there is a bigger picture here of what fashion turns a blind eye to or does to gain publicity," wrote Kennedy.
Burberry boss Marco Gobbetti said the item "does not reflect who we are and our values".
"We will reflect on this, learn from it and put in place all necessary actions to ensure it does not happen again."
Tisci also apologised, saying, "while the design was inspired by a nautical theme, I realise that it was insensitive".

It wouldn't be the first time that Burberry has made such a faux pas. The brand's Chinese New Year campaign this year has elicited negative responses, with a Weibo user interpreting it as "a family plotting to kill their rich grandma and fight over the inheritance".