Going on a Zoom date with Moe the capybara from Singapore's River Safari
Turns out, virtual meetings aren't so bad if they're with a friendly rodent. Here's how one "Meet our animals" session with Wildlife Reserves Singapore went.
These days, whenever people – and here, I shall not mention my editor's name – invite me to attend a Zoom meeting, I'm suddenly extremely and regrettably unavailable.
That was not the case, however, when I was recently invited to a Zoom session with a capybara.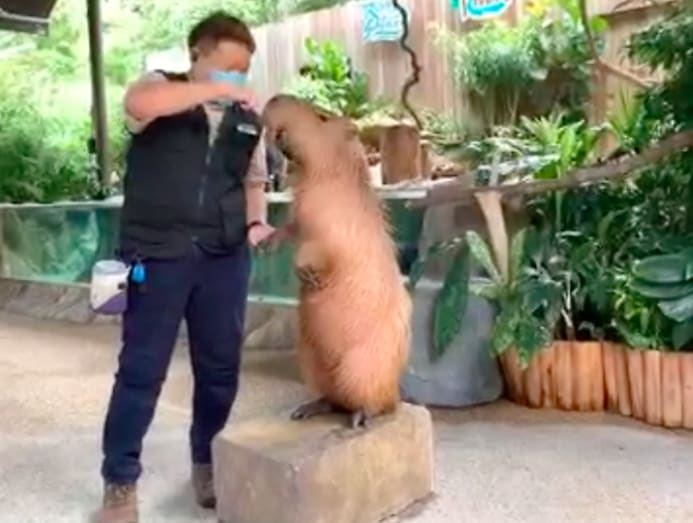 Native to South America, the capybara, the world's largest rodent, is also known to be one of the friendliest and most sociable animals – YouTube videos abound of monkeys riding on their backs and other such fraternising – so it was logical that one would be up for this fashionable new kind of "circuit breaker" interaction.
The distinguished individual in question was Moe, a resident of Singapore's River Safari. And as far as I'm concerned, Moe has singlehandedly redeemed Zoom from being a pandemic phenomenon that has inflicted mainly pain, fatigue, ennui and the pixellated images of bleary-eyed work associates upon me.
Ever had a virtual meeting with a friendly, furry animal? CNA Lifestyle went on a Zoom date with Moe the capybara, from the River Safari in Singapore. The "live" web call is part of a programme by the Wildlife Reserves Singapore for the public to show their support while zoos and parks stayed closed during the COVID-19 pandemic.
Moe's video conference, booked by a friend of a friend through the Wildlife Reserves Singapore (WRS), was part of a programme for the public to show their support while zoos and parks remain closed. 
Seeing as they had no in-the-flesh visitors, several animals including pelicans, penguins and cockatoos were available to take Zoom calls with groups of digital participants.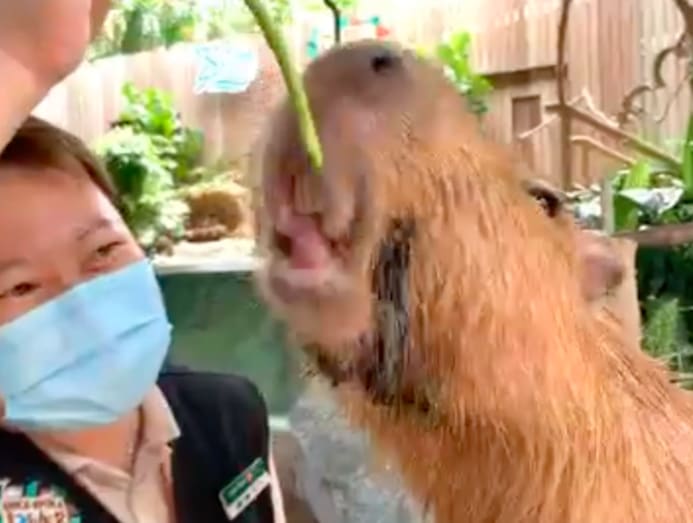 During our intimate session, I got to know Moe quite well. I learned, for example, that like me, food is one of the greatest motivating factors in his life. 
His favourites, he demonstrated as I watched with rapt attention, are long beans, corn and apples. He'll eat carrots, but only if he has no choice (also like me). He's semi-aquatic, good at swimming and can hold his breath underwater for up to five minutes. He's clever, adventurous and a fast learner. And he lives at the River Safari with his capybara bros Peanut and Jelly.
By that point, not to be dramatic but, I was willing to do anything for Moe. Our interaction might only have been 20 minutes long, but I would have given him even unto the half of my kingdom.
The WRS haven't been the only ones enabling the public to interact virtually with their animals, with keepers patiently answering questions and educating participants about their charges.
In fact, zoos all over the world such as the Cincinnati Zoo, the Australian Reptile Park and Seattle's Woodland Park have been offering live online sessions with their residents, ranging from Arctic foxes to skunks and tortoises.
And according to The Guardian, private farms in the UK and the US have gotten in on the action as well, renting out goats, llamas and alpacas for special appearances in Zoom meetings like the superstars they are.
In my mind, we're only a small step away from pet owners hawking their chinchilla's or goldfish's services in a similar fashion for "appearance fees". 
Wouldn't you pay good money for a thoughtful Shih Tzu in a bow tie and glasses to sneak his way into your Zoom meeting while your boss is talking? Or is that just me? Well, all right then.
In any case, I'm waiting anxiously for the day I'll be able to go visit Moe in person and thank him for brightening up my circuit breaker days by filling my Zoom screen with his big, fuzzy, long-bean-eating personality.
And perhaps going forward, we might even figure out more ways for more animals to share their presence digitally with people who might be stuck at home, or to be very special guests at online parties.
Thanks, Moe – you'll never know how much joy you brought to all the people you Zoomed with.
Although the WRS's "Meet our animals" sessions are currently fully booked due to "overwhelming support", other ways to help the animals include micro sponsorship and purchasing a "Good Any Day" ticket. "Meet our animals" bookings will resume next week.