Carrie Wong, Qi Yuwu conquer fear of heights by 'flying' in Ming dynasty drama
And, which A Quest To Heal cast member turned out to be surprisingly popular in Hengdian? The answer might surprise you.
Channel 8's latest blockbuster is a little out of the ordinary: It's a time-travel drama set in the Ming dynasty as well as in present-day Singapore, with characters played by Carrie Wong, Qi Yuwu, Xu Bin, Ya Hui, Bryan Wong and more shuttling between time periods.
A Quest To Heal's main storyline follows Carrie's character, an adventurous young woman, as she's caught romantically between her good friend, played by Yuwu; and the descendant of Li Shizhen, an important figure in Traditional Chinese Medicine, played by Xu Bin.
During an online press conference on Wednesday (Jul 1), the actors shared that in order to work on scenes set in the historical past, several of them spent time in the film studios of Hengdian, China, where they had the opportunity to dress in period garb, simulate martial arts battles and even do stunt and wire-flying work.
"I'm extremely scared of heights, so I had to channel all my energy into not giving in to that fear," said Carrie, about the experience of flying through the air on wires. She concentrated so hard, in fact, that she didn't even notice how physically demanding it was.
"The next day, I realised that my whole body was aching, because the harness had been fastened on so tightly."
What's more, the stunts had to be pulled off in subzero temperatures. "It was about two degrees below zero, and at a high altitude, so it was very windy," Yuwu said.
The tight timelines didn't help, either. "It started to get dark around 4pm, so there was a rush to finish filming before the sun went down," Carrie explained. Because of that, there was often little warning before she was pushed off the edge into the air. "I think, in my whole life, doing this was the thing that required the most courage," she quipped.
"It's difficult if you have a fear of heights," said Bryan, who plays a conniving eunuch plotting to overthrow the emperor. "But if you've always wanted to be a superhero, then it's a lot of fun. I used to want to be an actor and act in martial arts dramas just so I could fly around on wires."
He added, "Flying is fun, but when you land, it can hurt a bit if the harness isn't fastened well, especially in the crotch area!"
While Bryan suffered that rude shock, Wong had a pleasant surprise – she discovered that Yuwu, with whom she had never worked, wasn't all that stand-offish after all.
"He turned out to be completely different from how I'd imagined him," she said. "He gives people the impression that he's hard to get close to; that he doesn't talk much and doesn't like to smile. I realised he's not like that at all. He actually has quite a dark sense of humour."
"Ninety per cent of my scenes were with her, so before filming started, I did think, 'What if we don't get along?'" Yuwu said. "When two people act opposite each other, it isn't just about acting skills – it's really about chemistry that can't be forced. I really hoped there would be sparks, and not just rote acting. I think we were quite lucky – our relationship went from strength to strength."
On her part, Carrie benefited from Yuwu's guidance. "He helped me out a lot," she said. "Before this project, I was on a break for nearly half a year… Many things had to be figured out on set. He sat me down and had a talk with me, and that was helpful."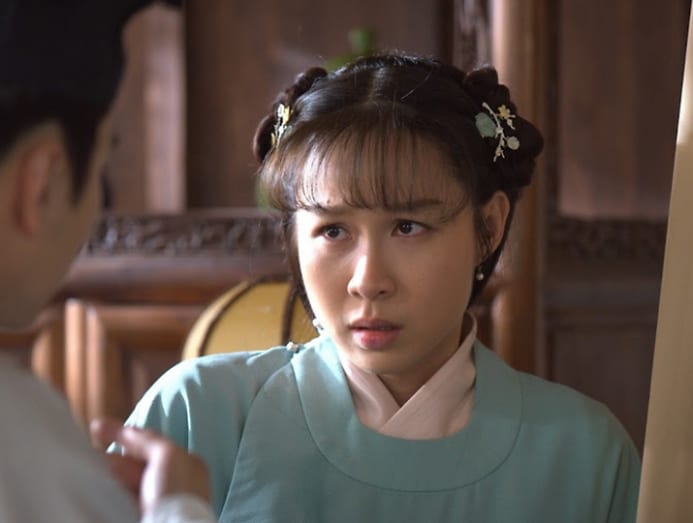 There was yet another thing that came as a surprise to the actors: None of them had any idea just how popular Ya Hui would be among Hengdian's bit part actors.
"Many extras asked for her number," Wong divulged, as Ya Hui herself blushed.
Added Xu Bin, "Once, we were filming a scene with more than 200 extras, and someone shouted her name."
Qi shared that he was once in a waiting area when an extra barged in and asked, "Do you know where Ya Hui is? I'm looking for her."
"Was he cute?" Ya Hui exclaimed.
Looks like she might have to go back to Hengdian sooner rather than later.
Catch A Quest To Heal starting July 20 on meWATCH and on weekdays at 9pm on Mediacorp TV Channel 8.