Carrie Wong finally opens up about texting scandal in meWATCH talk show
In tears, the actress revealed that one of the hardest things to come to terms with was having put her parents in an awkward position.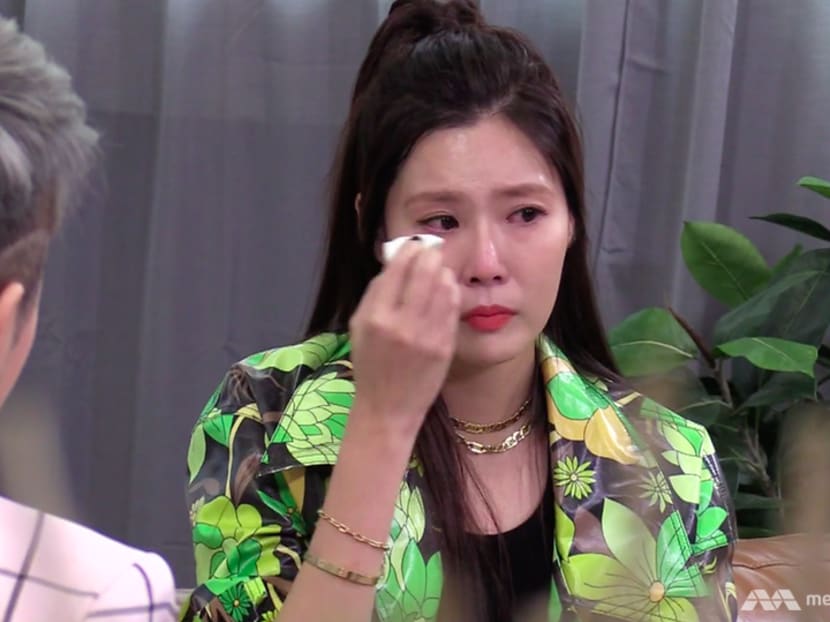 When a salacious-sounding text exchange between actors Carrie Wong and Ian Fang was leaked last year, Wong made sure to keep her responses calm and measured.  
But in a recently aired episode of celebrity talk show Hear U Out hosted by Quan Yi Fong, the 26-year-old broke down when she recalled the incident, tearing up because of how apologetic she felt towards her parents.
It was especially painful, Wong revealed, because the news had broken on her mother's birthday, and she felt that her actions had marred the occasion. On top of that, she was away, filming in Indonesia, and couldn't be there to cushion the blow.
She recounted, "I sent my mum a text message the night before, saying, 'You might see some news about me tomorrow. It will blow over very soon. Don't be too worried about me. I'll be fine. Happy birthday. I'm sorry.'"
Her mum's response was simply, "'Take care of yourself.'"
After returning from her trip, Wong was too embarrassed to face her parents and stayed out most of the time. She would spend the day at a friend's house and come home late at night, hoping not to run into them. But her father was always waiting up for her, she said. "The moment he saw me come in, he'd turn the lights off and go to bed."
Her parents never spoke a word to her about the incident, knowing she didn't want to talk about it, and for that, she's thankful.
Back then, she said, she wanted to "disappear into the crowd", and even up until today, feels fear when faced with people.
Wong told Quan she had felt helpless at the time as "I hadn't managed to protect my parents." She added, "Netizens are very merciless in their comments… I don't mind if they scold me, but they were also scolding my parents."
Quan also teared up in sympathy, saying that as a mother herself, she could imagine the pain that Wong and her parents had gone through.
"I will never be able to repay my parents' love in my lifetime," Wong said, as she went on to share stories about the bond between herself and her father in particular.  
As an only child, she said, she was deeply loved and cosseted. As a result, "I might have taken a longer time to grow up. But I feel it's not too late for me."
She added, "After entering the industry, I experienced many things. Some things are very difficult to do, but you'll regret it if you don't do them. I think that describes me… I would still choose the same path."
Catch Hear U Out on meWATCH here.