Kevin Bacon, David Beckham, Demi Lovato champion #IStayHomeFor amid COVID-19 outbreak
Hollywood heavyweights Mariah Carey, Elton John, Michelle Pfeiffer, Millie Bobby Brown, Eva Longoria, Paula Abdul, Dakota Fanning responded with the most compelling reasons to stay in.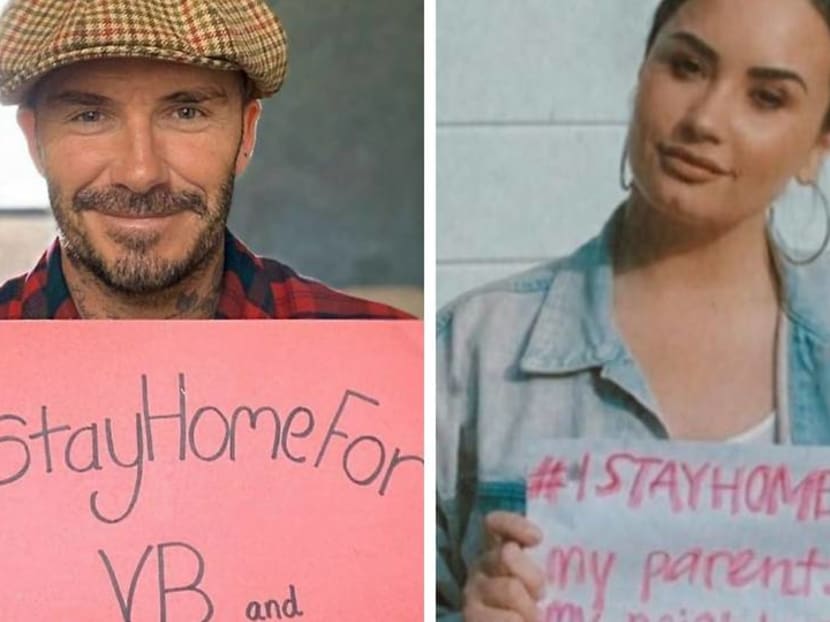 Staying home doesn't sound like a very intriguing idea? Actor Kevin Bacon has a plan – he launched the #IStayHomeFor initiation to help prevent the spread of COVID-19.
"So if you're home too like me, post a video or photo with a sign like mine, telling who you are staying home for and ask 6 friends to do the same. Post it with the hashtag #IStayHomeFor so I can see and share. Let's spread the word! The more folks involved, the merrier - because we're all connected by various degrees (Trust me, I know!)."
The actor kicked off the initiative with six famous friends David Beckham, Jimmy Fallon, Elton John, Demi Lovato, Brandi Carlile and Kevin Hart.
His inner circle responded and so did the rest of Hollywood.
"Staying at home for the ones that we love. Thank you @kevinbacon for nominating me. I'm staying at home for Victoria and our kids, including Cruzie who's made his way into this photo. Let's stop the coronavirus spread together..."

"There's a lot of things going on in our world right now, but if there's one thing that matters it's spreading love. #IStayHomeFor my parents, my neighbors and my health..."

"Thank you @kevinbacon for the nomination!! #IStayHomeFor @davidfurnish and our boys. Today it's snakes, ladders and staying inside to stop the spread of coronavirus. Who are you staying home for?"

"#IStayHomeFor my sister. She is the first person I thought of- she is young and fit, but has compromised lungs. Not everyone is able to stay home and I am so grateful for those of you who show up every day; the doctors, nurses, first responders, delivery, pharmacy, restaurant + grocery store workers, and more. It is YOU who are keeping it all together. Thank you from the bottom of my heart."

"Staying home & keeping positive! Thank you @milliebobbybrown for the great idea!"

"#IStayHomeFor my mom's best friend, Ang, a kidney transplant survivor! Do your part and stay home to protect those who are vulnerable. Please! And to those who can't, and are providing life saving and supporting services, THANK YOU."

"Stay at HOME! It's the least we can do to help STOP the spread of this virus. I stay home because it is such an easy sacrifice to make for my fellow neighbors. For the country. For the WORLD. I stay home for my sweet Santi baby. And for my beautiful husband Pepe..."

"I'm staying at home for these people because they are my everything. my beautiful nan, she protected me my whole life. now its time for me to protect her. keep positive."

"#IStayHomeFor my community to make a difference. It's so important to stay home and social distance ourselves right now to protect our communities. We are stronger in numbers. If more of us stay home, we can slow the spread and stop so much suffering."