From Squid Game to Baby Yoda: The best celebrity Halloween costumes this year
Check out what celebrities like Blackpink's Lisa, Harry Styles, Lizzo and Pierre Png dug out of their closets for the dress-up holiday.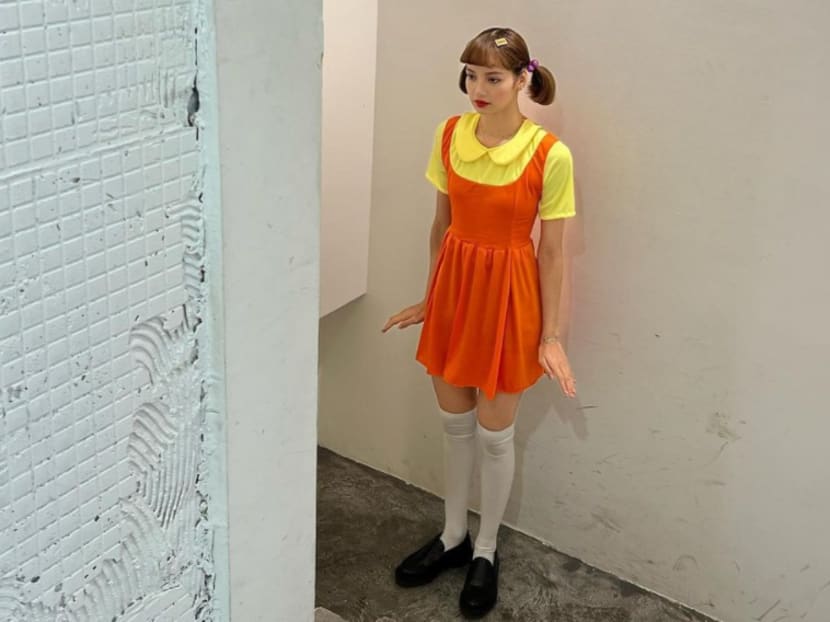 Coming out of the pandemic, celebrities are ditching their loungewear for more daring wardrobe choices. And what better holiday to showcase their offbeat sense of style than Halloween? From creative to downright wacky, here are some of this year's best looks.
Harry Styles 
The Watermelon Sugar singer made waves with his Wizard of Oz Dorothy get-up during his concert at Madison Square Garden. Decked out in a blue plaid dress with sparkly red heels, Styles wished audiences a happy "Harryween" to the tune of Over The Rainbow.
Blackpink's Lisa and Jisoo
Following the overwhelming success of Netflix's Squid Game, it's no wonder so many people have chosen to dress up as characters in the series. For Blackpink's Lisa, she decided to go with the doll from Red Light, Green Light. And fellow Blackpink member Jisoo dressed as... Lisa herself? Genius. 
Pierre Png
Meanwhile, in Singapore, actor Pierre Png also got in the (Squid) game, posting a photo of what we can only assume is himself dressed up as one of the guards from the show in a red coverall and black face covering. Pierre, is that really you? 
Sonia Chew and Joakim Gomez
Mediacorp 987 radio DJs Sonia Chew and Joakim Gomez drew inspiration from a sci-fi cult classic for their costumes. Dressed in all-black leather ensembles, the duo could pass as Neo and Trinity from The Matrix. 
Sophie Turner, Joe Jonas and Olivia DeJonge 
Joe Jonas and his wife Sophie Turner, together with Australian actress Olivia DeJonge, paid tribute to Jonas' Disney origins in a Lizzie McGuire get-up. The trio dressed up as series leads Paulo, Isabella and Lizzie. 
Lizzo
An inebriated Grogu (aka Baby Yoda) made an appearance over the weekend. Draped in a long brown coat, singer Lizzo posted her transformation into the Mandalorian character, pointy ears and all. 
Neil Patrick Harris
The Burtka-Harris household always understands the assignment. This year, the How I Met Your Mother actor and his family showcased an array of movie references. From left to right, we have Bates Motel, The Exorcist, Chucky and The Shining.