Empowerment or vanity? What #challengeaccepted really means for women
With vague origins tracing back to Turkey's high rate of femicide, the campaign has since mushroomed without a focus – one female writer thinks it's one of the strangest empty gestures she's come across.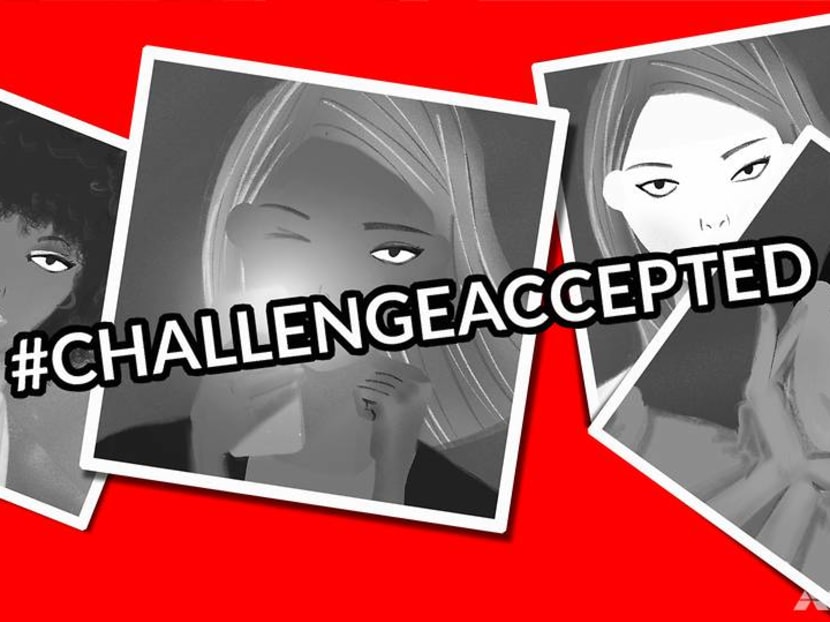 A direct message has arrived in my Instagram inbox that prompts a second reading. "Post a photo in black and white alone, write the words 'challenge accepted' and mention my name. Identify 50 women to do the same, in private. I chose you because you are beautiful, strong and incredible."
I read it again. It seems that I'm being invited to post what is effectively a selfie, and that in doing so I will be contributing to some global expression of female empowerment. There is no charitable donation mentioned, no philanthropic effort. Nor does the challenge link to any other causes. All that's required is a mugshot of my face.
At first I dismiss this selfie-feminism moment as a minor inconvenience (50 women, are you serious?!) – but as the day goes on I realise this is actually a thing. Scrolling through my feed, I find hundreds of pictures of tastefully shot ladies in monochrome, all tagged #challengeaccepted, all "empowering women", all in the same club.
Without wanting to discredit some of the wonderful women who have taken part, #challengeaccepted must be one of the most strangely empty gestures I've ever come across.
Even those taking part in it are unsure of its cause. Its origins have been traced to Turkey, and a movement highlighting the country's high rate of femicide. But the campaign has since mushroomed without a focus, to be promoted using no one's name.
It's a challenge that requires no effort. Moreover, there are zero beneficiaries, or charities to gain. Instead, it offers women an opportunity to regurgitate pictures of themselves looking hot in swimwear, channel their inner Gloria Steinem, or remind people that we used to do something with our lives before we got our hands on social media and melted our brains.
The greater challenge would be not posting a deeply flattering, perfectly lit, self-curated portrait. Or asking someone else to do it for you. Here's a challenge: Get your husband, or teenage daughter, to shoot the frame.
Of course I'm all for expressions of female solidarity – although I understand I may not be giving you that impression. But this just makes us look daft.
At a time when there are many clear-sighted hashtag challenges, such as (the recent) #blackpoundday, which encouraged people to give their money to black-owned businesses, or #62milesforrefuge, a walking challenge run by Refuge to highlight the spike in women seeking help via the National Domestic Abuse Hotline, we're instead filling our feeds with chiaroscuro messages of nauseating self-love.
Social-media campaigns have become the bogeyman of activists: So much can go wrong when trying to do right. Black Out Tuesday, for which organisers in the music industry asked people to post black squares on Instagram in support of Black Lives Matter, went awry when useful protest coverage was wiped out by the endless scroll of empty tiles.
There's also some heat around #passthemic, where celebrities give their social-media platforms to people who represent another point of view. Some might say it's cringingly patronising to have an actress whose deepest commitment heretofore has been to her facialist, swooping in like some crusading Barbie, duty-bound to "share her space".
More gruesome, in this instance, is the screaming vanity of the thing. From the list of nominees by whom you've been selected – "thank you, Oprah" – to the vaingloriousness of the images. It smacks of a self-actualisation exercise where you chant: "I am gorgeous, I am powerful. I am loved" while weeping into a wine cup. These activities are best kept for bathroom mirrors after midnight, not shared in the glare of everybody's screen.
Besides, if you do feel compelled to share a smoking selfie, why not go the whole way? "Just finished a great post-birthday celebration workout and helped to support hunger awareness! #nolimitlegion #pelothon2020", Jennifer Lopez recently typed.
The 51-year-old (who has also succumbed to the #challengeaccepted massive) was posting in support of a Peloton initiative to donate US$1m (S$1.37m) to world hunger relief. It appeared alongside a self-portrait positioned to best admire her buns of steel. She looked so ripped you could bounce coins off her abs. Her hair was lustrous, skin glowy. All that and doing good work, too.
Immediately, the picture coined another hashtag, #whip – a woman who is hot, intelligent and in the prime of life. Now, that's a challenge to reckon with. I'll see you on the bike.
By Jo Ellison © 2020 The Financial Times