Christmas light-up: Glowing dinosaurs, a puzzle hunt and food trucks at Changi Festive Village
The Avatar-inspired Dino Glow is touted as Changi's longest-ever festive light-up. Check it out from now until Jan 31. 
Want your Christmas light-up with a movie twist? Head to Changi Airport Connector to check out Dino Glow, the Avatar-inspired festive light-up.
The light-up event was launched on Tuesday (Dec 6) by Transport Minister S Iswaran, who was joined by the Changi Airport community, also known as ONE Changi, as they celebrated a year of strong recovery for the aviation hub.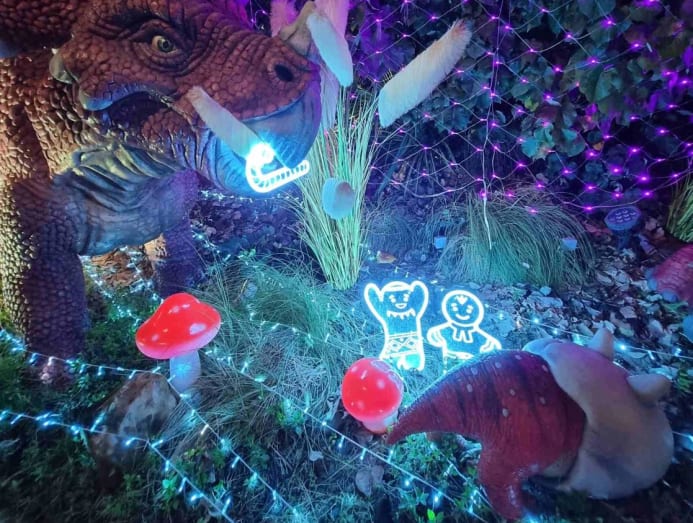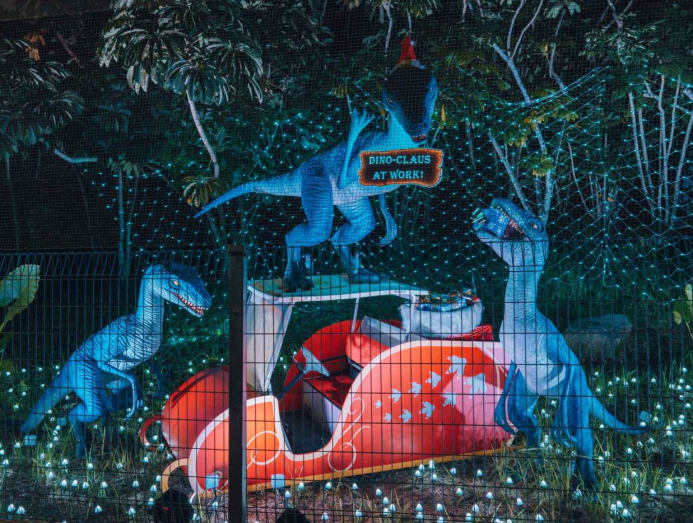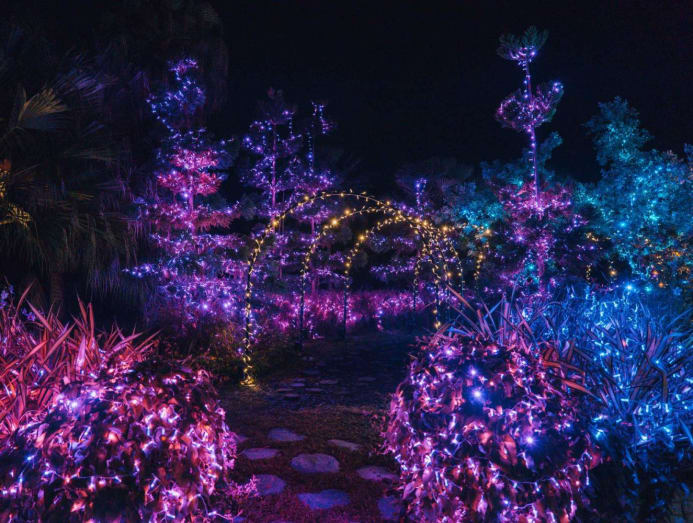 From now until Jan 31, be mesmerised by the dazzlingly lit Jurassic Mile at Changi Airport Connector, billed as Changi's longest-ever festive light-up. The lights will be up from 7pm to 1am nightly with access from T2 South Link (outside Terminal 2 near Carpark 2A) or via Terminal 4. 
Inspired by the colours and bioluminescence of the world of Avatar, the light-up greets visitors with a trail of 1,100 levitating jellyfish beneath the T2 Skytrain tracks. And along the park connector are 3,600 mushrooms and 4,000 dandelions, ushering explorers to a brilliant 40m tunnel of lighted arches.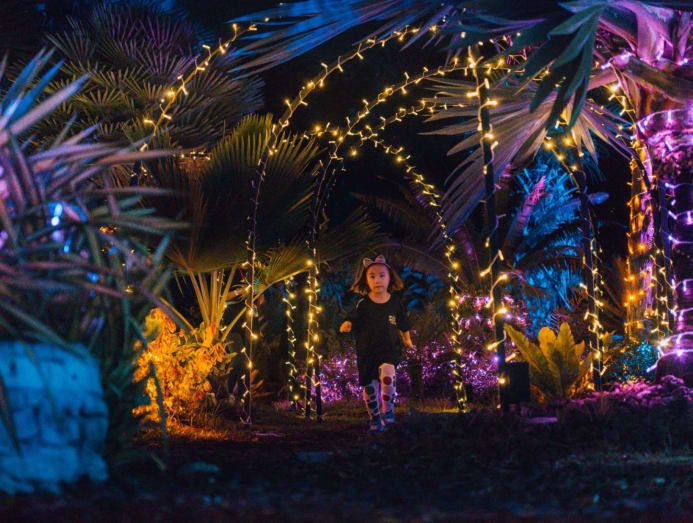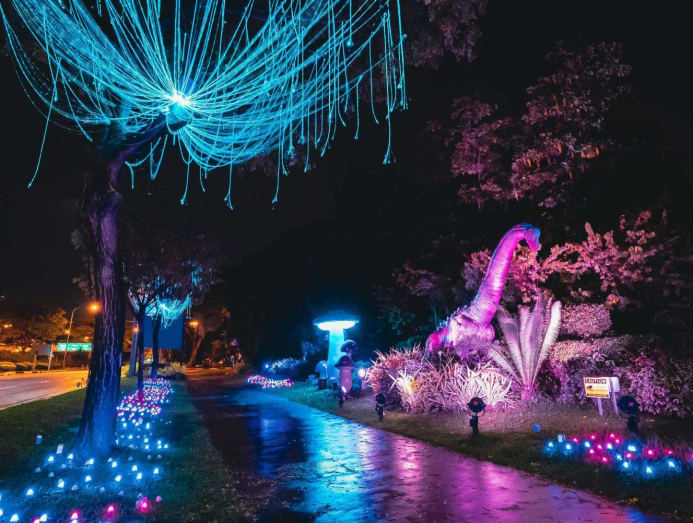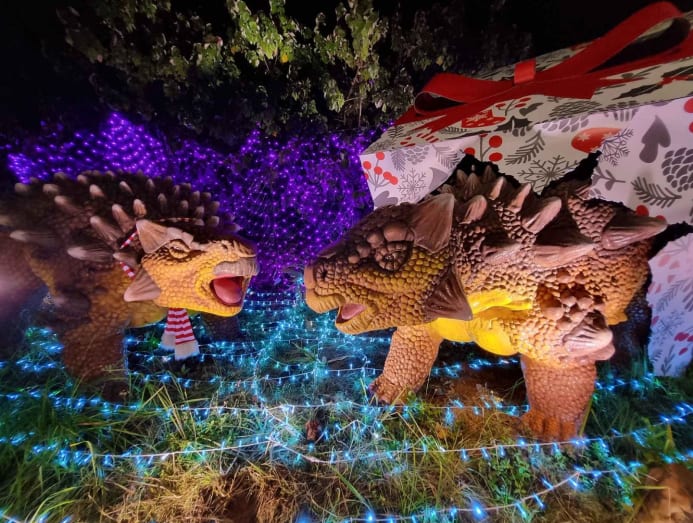 If you're up for some adventure, take part in Changi Jurassic Adventure's first ever 3.5km Puzzle Hunt, which will take place on Dec 10 at 5pm. Setting off from T2 South Link (near Carpark 2A), participants have to find more than 30 checkpoints along the Changi Airport Connector.
The race app detects participants' locations and triggers activities, such as trivia questions about the prehistoric era or augmented reality (AR) games and photo opportunities with dinosaurs. Registration to participate is currently open and closes at 12pm on the day of the hunt.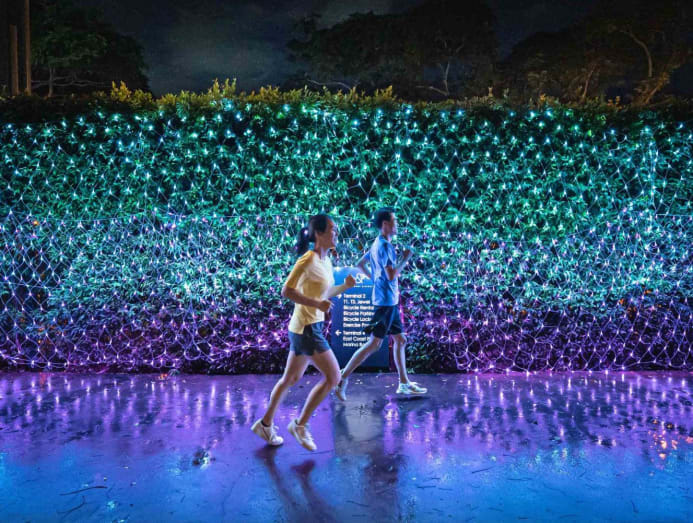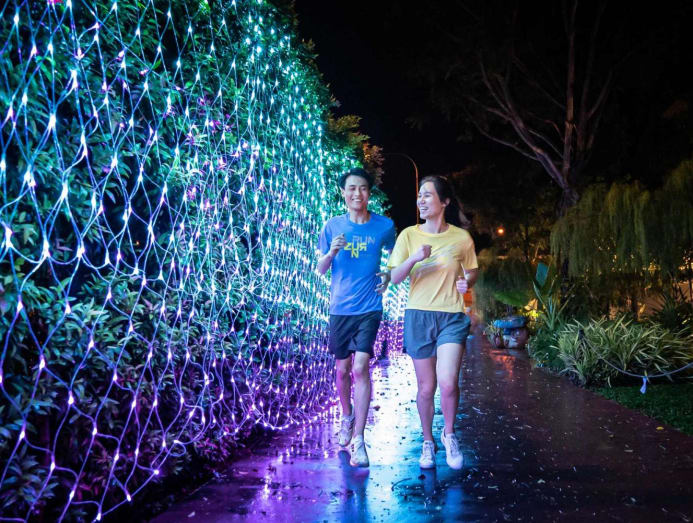 There's also a Virtual Run or Ride Challenge for runners and cycling enthusiasts as part of Changi Jurassic Adventure, which can be completed any time between Dec 12 and Jan 31.
Racers can unlock distance milestones in regular intervals up to 42km (Run) or 90km (Ride) and win limited edition finisher rewards upon completion.
All participants of Changi Jurassic Adventure stand a chance to win lucky draw prizes, including air tickets to destinations like Seoul, Finland, Noumea and San Francisco. 
"Changi Jurassic Adventure and Dino Glow bring more outdoor fun to Changi Festive Village for families, friends, and fitness buffs to enjoy," said Jayson Goh, Managing Director of Airport Operations Management at Changi Airport Group.
"Our first-ever evening puzzle hunt integrates both physical and digital experiences for participants to explore Changi Airport Connector in a new and exciting way. Dino Glow, our festive light-up at Changi, will take visitors on a magical journey into an Avatar-inspired world and show our dinos in a new light."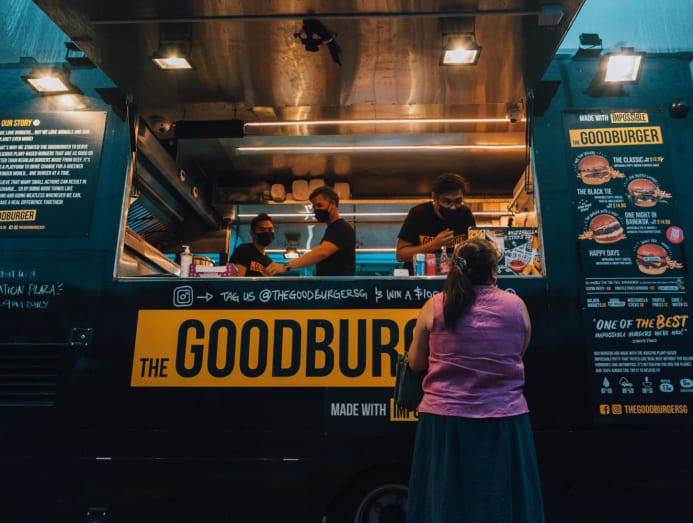 And no festive village is complete without food and drinks. Indulge in yummy treats from Old Chang Kee, Crowne Plaza Travel Van, The Halal Food Truck, The Goodburger, The Coffee Bandits, The Travelling Cow and Ice Cream Uncle.
Dig into Avatar-inspired menu items like the Blue Mojito Crush from The Halal Food Truck and the Pandora-inspired Kakigori from The Travelling Cow.
The food trucks will be located near Carpark 2A at Terminal 2 South Link and run from 5pm to 10pm every Friday, Saturday and Sunday from now until Jan 1.