Exclusive: Meet the first lead character with Down's Syndrome on local television
Timothy Lee, an actor with Down's Syndrome, is a regular main cast member in Kin, the new Channel 5 long-form drama succeeding Tanglin.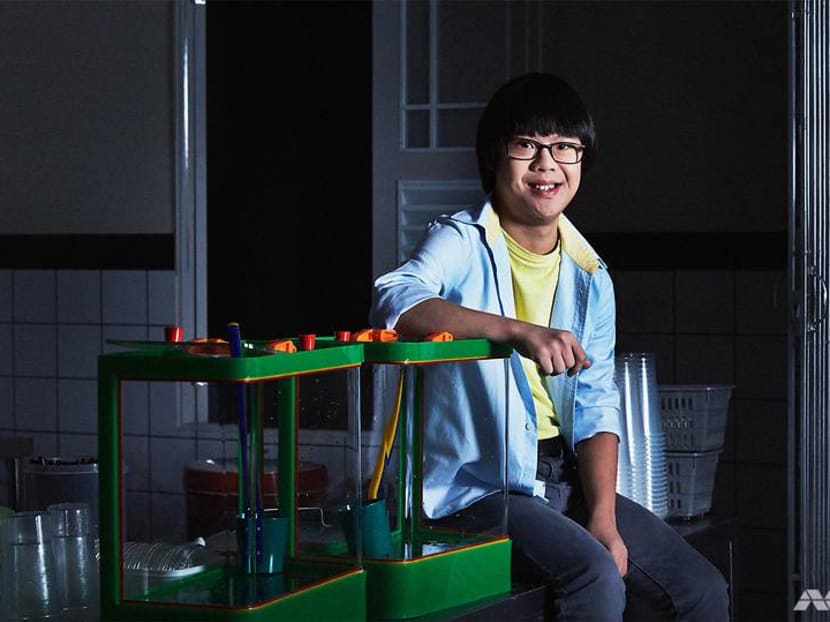 For the first time in local television, a drama will have a character with special needs as one of its main leads.
Kin, the upcoming new long-form drama on Mediacorp TV Channel 5, is about four families and their interactions with one another, through which the complexities of life, love and family relationships will be explored. It stars Jason Godfrey, Ebi Shankara, Carla Dunareanu, Ariati Tyeb Papar and more.
One of the families, which runs a tau huay shop, has a cherished youngest son called Handsome, who has Down's Syndrome.
Handsome is played by 19-year-old Timothy Lee, a student with Down's Syndrome at Mountbatten Vocational School, whose interests also include dancing and modelling.
Lee, who is involved in performing arts programmes run by charity organisation Very Special Arts, got the part after nailing just one audition.
"It's fun acting with the other actors in the drama. I learn a lot from them," he told CNA Lifestyle while on the set of Kin. "I don't get nervous because I enjoy acting."
The biggest challenge – besides getting used to people calling him "Handsome", he said – is to remember all his lines. "My mum helps me revise the script many times." He added, with a smile: "Mummy is the one who is stressed, not me."
His mother, 58-year-old Joyce Tan, is with him on set at all times. "I can tell he enjoys it very much. It's his passion," she said. "He knows it's actually hard work. He has to memorise lines, and that takes a lot of time. Sometimes, he remembers things one minute and forgets them the next. But he's enjoying every minute of it."
It is not an easy commitment: The half-hour show will run for 368 episodes.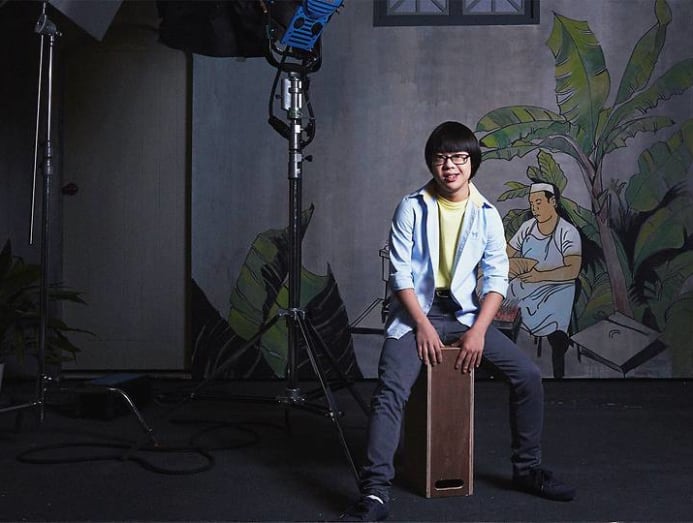 But the rest of the cast and crew has been very supportive, she said. "Initially it was a burden for me – I was like, should I really take up this project? But after I got here, I felt much better because they are such wonderful people. They are very patient and understanding," she said.
She added, "I don't know how viewers are going to receive it. Hopefully, they'll get to know that people with special needs can also act."
Kin's supervising executive producer Tan Wei-Lyn of Tanglin fame, who oversaw the development of the script and stories, agrees.
"When we did Tanglin, we had quite a few fans writing in to tell us either how much they related to our characters who were experiencing what they experienced, or how they appreciated exploring characters and issues they had not been previously aware of, and how that gave them fresh insights. As far as possible, I hope that with each successive long form drama that we do, we can be increasingly inclusive and have greater representation of all Singaporeans," she said.
The character of Handsome was born quite by chance, she recounted. "There was this one day, when nothing was going right and I was rushing around, trying to run a hundred and one errands and generally feeling overwhelmed, when out of the blue, someone with the sunniest smile caught my eye and stopped me in my tracks. He had Down's Syndrome and he looked so happy – his face was all lit up. He was with his mother, I think, and there was such closeness and warmth in their interactions. It was very moving seeing their bond.
"Corny as it sounds, my day got better because for some reason, that smile started me thinking that happiness and contentment can be within our reach if we stop overthinking things. And it prompted me to rush home and have dinner with my parents.
"I then started thinking about how we've never really fully developed a lead character with Down's Syndrome in our local dramas. So, when we were creating this series that's all about complicated family relationships and their conflicts, it occurred to me how right it feels to have someone like Handsome be the sweet, positive, optimistic 'glue' that brings this family together," she said.
Catch Kin starting Oct 1 on Mediacorp TV Channel 5 every Monday to Friday at 8.30pm, and on video-on-demand on Toggle. For updates, visit facebook.com/MediacorpCh5.