Chinese New Year 2023: How (and where) Singapore's celebrities ushered in the Year of the Rabbit
Who was in town, who went revenge travelling, and who posted an adorable CNY throwback greeting from 2007?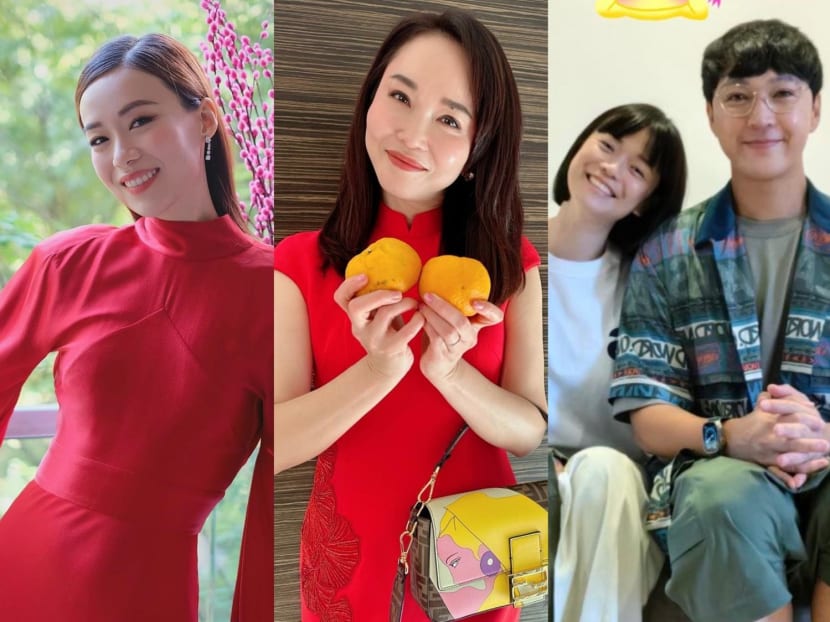 With Chinese New Year celebrations back in full swing, compared to the past couple of years, everyone seems to be in a good mood this Year of the Rabbit. And it's the same for Singapore's celebrities.
Here's a quick look at some of their social media feeds to see what they've been up to these past couple of days. And it looks like a few of them have taken the opportunity to revenge travel during the holidays.
Andrea de Cruz was in Hong Kong for her family reunion – minus hubby Pierre Png, who left a wistful message saying he missed her.
That's because like a few other celebs, he'd been busy with Mediacorp's Chinese New Year eve show – dressed up ala Stamford Raffles.
Meanwhile, Chen Hanwei's in Bangkok, where he visited the Erawan Shrine. 
But of course, he made it a point to get into the CNY mood days before – his first time trying nail gel pedicure (appropriately themed, of course).
Desmond Tan's still soaking up the vibes in Paris during Fashion Week – hanging out with Jam Hsiao at that, and teasing him to come to Singapore for a concert.
Is Rui En in New Zealand or is that a post to trigger our travel FOMO? Meanwhile, Yvonne Lim and family are definitely in Hokkaido.
Others stayed closer to home, like Fann Wong and Christopher Lee. And it's been a meaningful festive period for them, participating in a charity drive a few days before.
Here's Joanne Peh and Qi Yuwu's reunion dinner, courtesy of "Chef Qi".
Felicia Chin and Jeffrey Xu spent their first CNY as a married couple and had fun doing so,
answering some questions
along the way.
It was a family affair too, for two celebrity families: Zheng Geping, Hong Huifang, Tay Ying and Calvert Tay, and Edmund Chen, Xiang Yun, Chen Yixin and Chen Xi.
Chantalle Ng, Ya Hui, Romeo Tan and Rebecca Lim were all dressed up for the festive mood. No sign of Becks' hubby Matthew Webster, though. Maybe next year?
While Elvin Ng hung out with the young 'uns.
And as a bonus, here's Zoe Tay's awesome retro throwback greeting to CNY 2007.