Remembering Karl Lagerfeld's love for his 'kept woman': His cat Choupette
The eight-year-old Birman cat was daddy's little princess, and might have a trust fund of her own following Lagerfeld's death.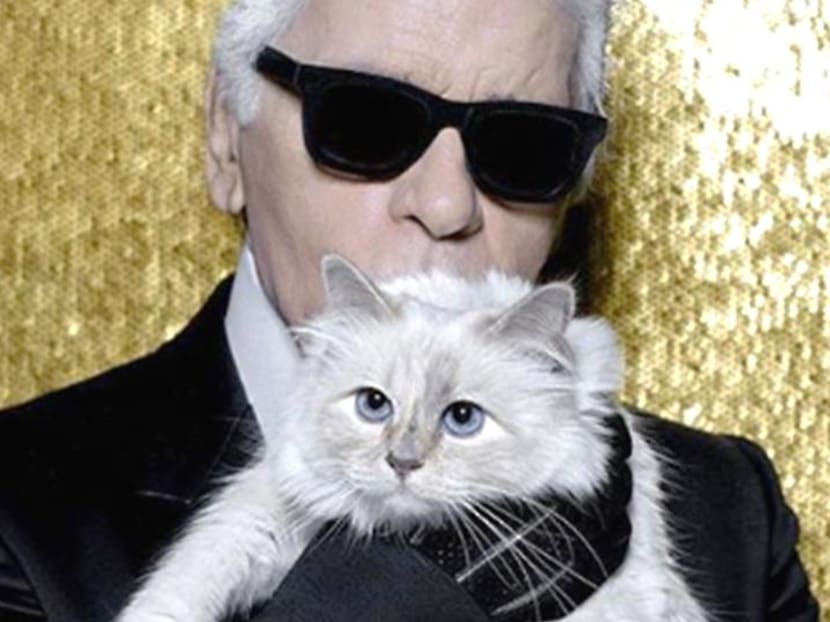 The passing of legendary fashion designer Karl Lagerfeld on Tuesday (Feb 19) has undoubtedly left an impact on the fashion world. But there is one superstar who might be most affected by the Kaiser's passing. And she was the love of his life.
Choupette, Lagerfeld's blue-eyed Birman cat, lives in one of Lagerfeld's many residences in Paris, eating off silverware and keeping company with "exceptional" guests like Caroline de Monaco, who also has a cat.
The blue-eyed beauty had belonged to model Baptiste Giabiconi, who left her with Lagerfeld during his travels in August 2011. Lagerfeld was so besotted with the cat that he refused to return the "divine creature" to her owner.
"I never thought that I would fall in love like this with a cat," Lagerfeld said in an interview with CNN interview.
While it is not known who will be looking after Choupette – which means "sweetie" in French – it is very likely Lagerfeld had made arrangements for her. In 2015, he told The Cut that his little princess was the "most famous" and "richest" cat in the world, having made US$3 million in a year through endorsements with Japanese beauty brand Shu Uemura and a German car company.
"She has her own little fortune," Lagerfeld told Vanity Fair. "If anything happens to me, the person who will take care of her will not be in poverty."
Here's a look back on how Lagerfeld showered little Choupette with every luxury known to cat-kind.
SHE'S A 'KEPT WOMAN'
The Birman beauty hates being alone at home, and doesn't like being left in the dark. To keep her company are two ladies-in-waiting (one for the night, one for the day) as well as a body guard to keep her safe. Madame Francoise, Choupette's favourite maid, keeps a diary of the eight-year-old's every move.
"Even if she sleeps, she doesn't want to be alone," said Lagerfeld. "She's like a chic lady, like a kept woman with her personal maid.
SHE WORKS, OKAY?
The kitty has two books under her fluffy belt – Choupette: The Private Life Of A High Flying Cat, and What's Right Meow.
She was also the face of Shupette, a makeup line by Shu Uemura, a car model for the Opel Corsa 2015 calendar as well as muse for Lagerfeld's titular label.
WHEN DINING OUT
Every Wednesday, Choupette dined with Lagerfeld and ate out of custom-made Goyard or Louis Vuitton silver bowls filled only with fresh food.
Only water cocktails from Colette's Water Bar wet her whiskers. These are made with a quarter of Chantemerle still water and four other assorted waters from the Swiss Alps, Britain, Germany and Sweden.
Even chefs fawn over her. Chef Ozuru (formerly of Nobu Paris) and other culinary magnates have created special dishes like Japanese-styled beef or chicken gelee with asparagus especially for her. As for special kitty treats, Choupette gets the finest caviar – approved by Dr Yola Horn, one of Paris' most upmarket vet, of course.
THEY USED TO JET-SET TOGETHER
Paris, New York, Rome, Dallas, Monte Carlo in winter and Provence in summer... Choupette followed wherever the Kaiser went. And in no less than a custom-built luggage by Louis Vuitton and Goyard. And by private jet, of course.
SHE'S A BEAUTY QUEEN
Choupette's must-have accessory: A customised Cheshire & Wain collar. Her coat is brushed four times a day and she maintains an ideal weight of 3.5kg. The blue-eyed beauty hates manicures and to accommodate her, Lagerfeld wore mittens around her.
SHE HAS HER OWN IPAD – AND SOCIAL MEDIA MANAGER
No, really.