'Gem of a DJ and human being': Tributes pour in for late Chris Ho
Friends, fans and colleagues say Chris Ho was a local music hero and icon, and a sweet and gentle person.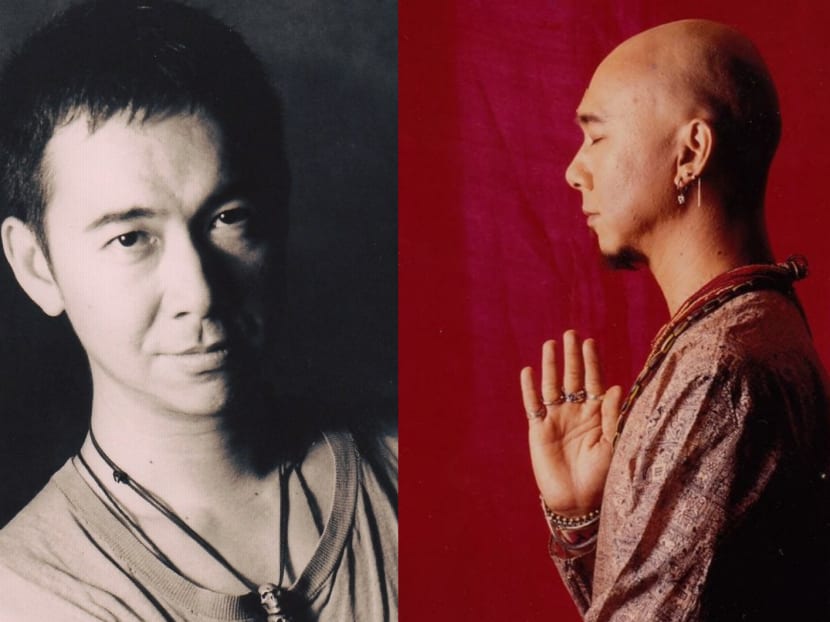 Tributes poured in on Monday (Sep 27) for Chris Ho, the veteran Singapore radio DJ and musician who died early that morning after two months of battling stomach cancer. 
A stalwart of the local arts and entertainment scene, Ho was regarded by many in the industry as a "local hero". 
Before helming the GOLD 905's Homestretch radio programme on weekday evenings, Ho had stints on Rediffusion, Lush 99.5 and Radio Singapore International.
He fronted Zircon Lounge, a band formed in the 80s that is credited with pioneering genres like new wave punk in Singapore, setting off the local alternative music scene. He released several albums as a solo artiste over the past two decades, including Nite Songs in Day-Glo and the lauded No Ordinary Country.
Ho also published several books including Skew Me U Rebel, Meh?, where he expressed his desire for his obituary to read "X'Ho. Age: Forever 27 (the real age is none of anyone's business)".
He was a regular contributor to the now-defunct indie music magazine BigO.
In a statement on Monday morning, Mediacorp said Ho was "much loved by all who knew and worked with him". 
"He was an icon in the local music scene and a household name as a multi-talented artiste. He was well-known and respected for his strong support of local music talent and creation.
"He was one of the few DJs in Singapore who was both a radio and club DJ, as well as a music producer. His knowledge of music was extensive and varied, and it showed through his work as a respected music columnist and author.
"With his passion for music, through his personal abums, and many contributions to songwriting and song appreciation, he left an indelible mark on the local music scene," the company said, adding that his death is a "devastating loss" for his family, friends and colleagues.
Fellow artiste Don Richmond said on Facebook he was "a little shell-shocked" by the news.
"Memories now come flooding back of when you first heard my first few demos (that were admittedly so bad) and you were absolutely gracious, brought me out to lunch and gave me some of the best advice that stuck with me 'til this day.
"Later on I was lucky to have been able to call you colleague and friend. You'll always be a hero to me, a hero to all music lovers here," said Richmond.
Another musician, composer Kevin Mathews, recalled the first time he met Chris Ho, during an interview for Rediffusion in the 90s. 
"I recall thinking he was one of the sweetest, nicest persons I had ever met. The first person ever to play my music over Singapore radio. Will never forget his intelligence, his wit and his passion."
A MENTOR AND AN INSPIRATION
Radio DJ Tim Oh said he was "gutted" by the death and described Ho as "one of Singapore's most enduring and endearing radio personalities" with "countless" contributions to the local broadcast and music industries. 
"Away from the microphone, he was one of the sweetest and kindest souls I had the pleasure of knowing," said Oh, describing Ho as a kind, patient and giving mentor during the former's DJ training course at Rediffusion. 
"A bonafide good guy, I have never heard him raise his voice, exhibit a temper or even speak ill of anyone. Chris is, was and always will be a gem of a DJ and human being," Oh added. 
Poet and graphic artist Gwee Li Sui also chimed in.
"You were the local hero of so many of us heartland youngsters back in the day. We loved your voice and the way you thought fearlessly," he said. 
Podcast host Wayne Cheong credited Ho for being the inspiration behind the Bucket List Bands podcast, citing how the radio DJ was a champion for local bands and had introduced "future music" like progressive punk rock and grindcore to his listeners on Rediffusion. 
"My dream was to interview you and recount the story of your meeting with industry pioneers Throbbing Gristle and Genesis P.Orridge ... I'm kicking myself that I will never get the chance to live tape this episode with you," said Cheong.
Pop culture writer Suzy Wrong, who said in a Facebook post that she worked with him on an album in the 90s, described Ho as "a great person" – "a rebel and agitator for ultra conservative Singapore".
"Thank you dear Chris for fighting the hardest fight, and for never giving up on Singapore," she said. 
Kelvin Tan, one of the founders of the now defunct Home Club where Ho used to perform, said he was "truly shocked" by the death of what he described as a "scene mover" and "the most gentle person I've ever met". 
"You were always encouraging during the days of Home Club and we even did awesome shows together," he said. 
Jazz musician and Cultural Medallion recipient Jeremy Monteiro recalled performing together through the years, "most recently at the Shangri-La hotel ballroom in 2014 when I accompanied him on a Randy Newman song."
"His band indie rock band Zircon Lounge is legendary in Singapore music, shocking and breaking all music trends in Singapore. He was a rebel in his political views, but I always believed that he loved Singapore," he wrote on Facebook. "I really really liked Chris Ho. I will miss him. Rest in Peace old friend."
According to a post on Ho's Facebook page, fans and friends may say their final goodbyes at the Singapore Casket from Monday evening to Thursday.