When your child loves two things about CNY: Hongbao and bak kwa
In this week's Chubby Hubby, Portly Papa column, Aun Koh embarks on the Great Bak Kwa Sampling of 2019 – orchestrated by his eight-year-old.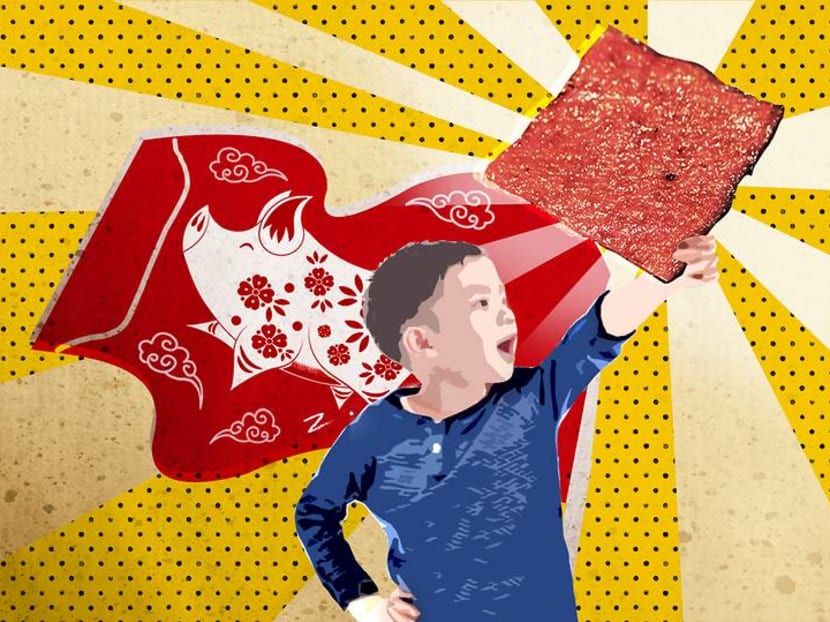 For my eldest child, who will be turning eight in five weeks, Chinese New Year means two things: Money and barbecued pork, but not necessarily in that order.
T1 loves his hongbao, both for the fact that he profits and because our little boy is quite the artist and art lover. He likes to examine the many kinds of red packets that we get sent, commenting on their designs. He's even suggested that in subsequent years, maybe he could create his own hongbao and sell them to people to use.
Killjoy and awful parent that I am, my first response was that every business seems to be giving out free red packets, so why would someone pay for his? This, of course, resulted in a slap to the back of my head by my wife, who was a little less than impressed with my paternal sense of support.
So, of course, I changed my tune and have suggested that maybe he can think about what kinds of designs would be suitable for the upcoming year of the (metal) rat in 2020. Even if he doesn't successfully set up a profitable home business, at least we have a year's worth of arts and craft projects to keep him busy.
Of course, like any child, he also loves what he considers "free" money. He's vaguely aware that his mother is toting around a purse stuffed with red packets that she's expected to dole out.
And even if we did point out that, in the words of the immortal Robert Heinlein, "there ain't no such thing as a free lunch", he would, little litigator that he sometimes is, argue that that is money that mama and papa have to give out – and whatever money he gets is his, not the family's.
Also amazing is how a child's memory, or selective memory, works. Sometimes, this little man can't even tell us if he brushed his teeth in the morning, yet he remembers, to the penny, how much he collected during Chinese New Year in 2018.
He's asked us to add this year's take to his previous haul and, in an impressively mature move, has asked us to bank it for him. I think he knows that if he asks mama whether he can spend it on frivolous things, the answer would be no, so he doesn't even try to go there.
T1 also an incredibly fortunate boy. Recently, his Uncle W and Auntie J (my brother and his wife) have been taking him out for lunches and movie treats. Inevitably, these outings have ended with the three of them roaming the halls of whichever toy store is close by.
Curiously, T1's love for bak kwa only started about two years ago. Last year, he loved it. And this year, he really loves it.

I suspect that he's figured out that he doesn't need to spend his own red packet money on toys because his uncle and auntie will always over-indulge and spoil him. I have told him he should stop asking them to buy him things, but he argues that he doesn't ask – they always offer, and "isn't it rude to refuse an offer?"
He also always tells my brother that if he comes home with toys but doesn't bring anything back for his mei mei, she'll be upset, "so would they please get something small for her too?"
In fact, my brother reported, he spends more time carefully thinking about what she would want than in selecting his own gift. I guess our little man has learned that mama and papa won't scold him (as much) for abusing his uncle and auntie's generosity if he demonstrates his own thoughtfulness towards his little sister, and that a happy little sister helps make his own life a lot easier.
But I digress. As I was saying, T1 loves his red packets, but he loves bak kwa even more.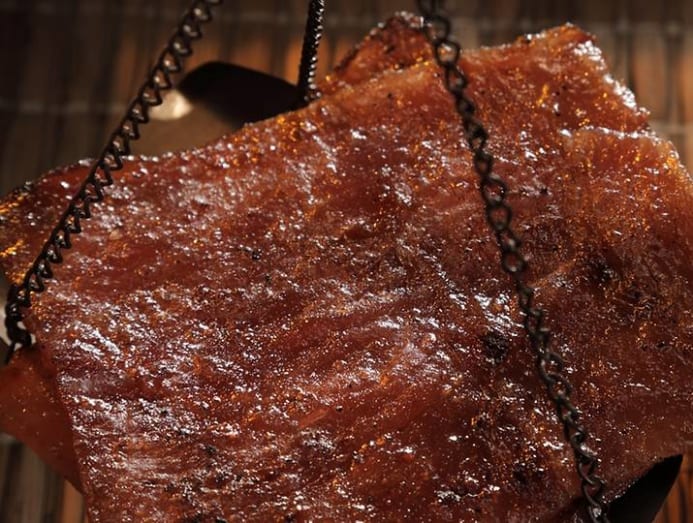 Like many Singaporeans, we seldom eat or stock bak kwa in the house at other times in the year. It's only during this festive period that we seem to indulge in this sweet-savoury barbecued minced pork. Curiously, T1's love for bak kwa only started about two years ago. Last year, he loved it. And this year, he really loves it.
When the first box of bak kwa appeared in the house this year (brought over by my parents), he went wild. He wanted to have bak kwa all the time. As a snack at home, as a snack to take to school, between bread as a sandwich for breakfast, minced and baked in cookies (which the wifey has actually done), even crumbled over ice cream for the ultimate salty-sweet flavour explosion. He's gone bak kwa crazy.
T2, unfortunately, hasn't learned to appreciate the taste yet, so she's been observing her brother's antics with raised eyebrows and a lot of side eye (which frighteningly, at age 4, she's already mastered).
Last week – and I forget whether this was really T1's idea or his mama's – he started talking about holding a bak kwa tasting. He suggested that we should get together multiple kinds of bak kwa and blind taste them, determining which is the best bak kwa in town. My sister-in-law and my wife both thought this would be fun, so they've been enabling the great bak kwa showdown of 2019.
Unfortunately, we only have three kinds of bak kwa in the house this year: A Kurobuta one from Fragrance; a fabulous free-range bak kwa made for SuperNature by Kim Joo Guan (gifted to T1 by his indulgent Auntie); and some Lim Chee Guan. So our tasting was more like a mini sampling as opposed to a proper and comprehensive tour of our nation's best bak kwa makers.
The bak kwa sampling of 2019 happened a few nights ago. I won't reveal the results lest we injure the feelings of sensitive bak kwa artisans. All in all, every piece of barbecued pork was enjoyed tremendously and we had a great time.
Which is really what Chinese New Year and family gatherings are all about.