Circuit breaker celebrations: How Singaporeans are doing birthdays and weddings differently
A butterfly gift, K-pop song covers and parties for pets – here's how some of us are celebrating special events in out-of-the-ordinary ways.
When Amelia Maniam had her sixth birthday just after the start of the "circuit breaker" period, her dad, Adam, knew that hitting up a shop or toy store to buy her a gift would not be an option this year.
Because non-essential services had been halted and staying home was encouraged, he had to think of a gift that was, quite literally, out of the box.
So, he scoured their condominium's grounds for nearly an hour, found her a butterfly pupa, put it in a tank with some leaves and presented it to her. She was delighted.
"She is in love with all insects, especially butterflies, so the choice was quite easy," Adam said.
For the next few days, Amelia would check the tank every morning upon waking, excited to see if the butterfly had emerged from its cocoon. And on the fifth day, the winged creature finally eclosed.
"Amelia was very excited and wanted to keep her new pet 'forever', as did her brother Aidan. Even my wife, who is not the biggest insect fan, thought the butterfly was very beautiful," Adam said. 
"We kept the butterfly in a large tank for a couple of days so the children could observe it feeding and sunning itself, and they then had the pleasure of letting it go and watching it fly away."
He added: "It was a great birthday present that cost nothing but which she will remember for a while."
Creative gifting is just one of the means by which Singaporeans are finding unorthodox ways to celebrate special occasions. After all, gatherings, parties and even – the horror – cake might have been put on hold, but birthdays, anniversaries and other commemorative days have not.
BIRTHDAY FOR A CAUSE
To mark her 29th birthday last week, lawyer Jen Lee Tan started a campaign to raise funds for migrant workers, asking her friends to donate instead of spending money on a gift.
"The original plan was to spend my birthday with my boyfriend as we don't live together and had not seen each other since the start of April. With the extended circuit breaker, that plan had to be scrapped," she recalled. "It was around then that I saw reports about the surge in COVID-19 infection rates among migrant workers, which is absolutely heartbreaking when they are so far from home and their loved ones.
"I did a bit of research to see how best I could help and decided to start a birthday fundraiser for a local charity, Transient Workers Count Too (TWC2). I saw that they have been doing amazing work keeping in touch with and assisting the migrant worker community during this pandemic. They have also actively and consistently helped migrant workers even before the pandemic, so I felt drawn to TWC2's cause."
Via the platform giving.sg, Tan's campaign has raised more than S$2,000 in online donations so far, and will remain open until Jun 1. "When friends and family want to get me gifts for my birthday, I just redirect them to donate the money to my fundraiser instead," she said.
Her birthday fundraiser's success is thanks in part to the help of her boyfriend, Lincoln Lim. Together, the couple came up with the idea of having Lim, a singer-songwriter, offer to perform a cover song for every person who donates S$100.
"He has managed to cover so many amusing requests so far, from jazzing up a K-pop song to belting out a Meatloaf rock ballad," Tan said. What's more, "Videos of the one-minute cover songs are posted at least once a week on his and my Facebook pages, and these thank-you videos have also been a source of entertainment and laughter for many of our friends during this circuit breaker."
E-WEDDING, BYO DRINKS
A birthday comes around once every year – but what about a wedding, which is once in a lifetime?
Karen Tseng, 39 and Rueben Vijay, 38 had their Registry of Marriages (ROM) ceremony scheduled for Apr 7 – which turned out to be the first day of the circuit breaker. They had also planned to have friends and family over at their house on Apr 10, but that gathering could not go ahead, either.  
So, at the last minute, they decided to hold an at-home ring exchange – and invite family and friends to join in online.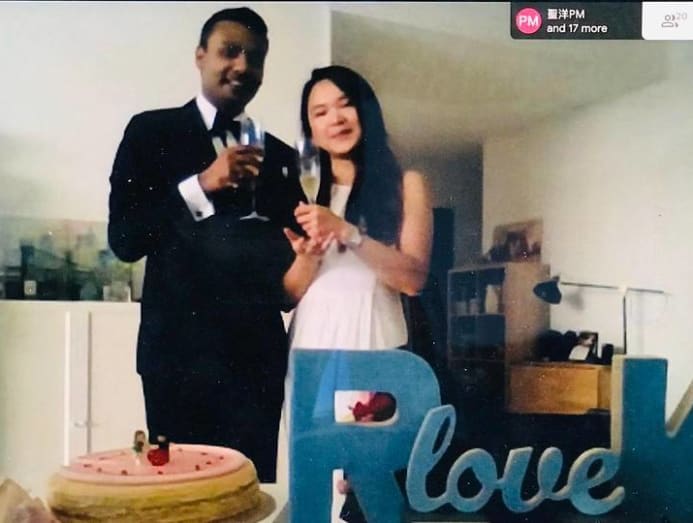 More than 20 friends and family members were able to log on from Malaysia, Australia, Taiwan and Singapore to watch the bride's mum walk her in and give her away, followed by the cake-cutting ceremony and the champagne toast. 
"Some of them were holding infants; some even dressed up – and of course, most of them were crying when we exchanged rings," Tseng recounted. 
"We also got a last-minute surprise from Rueben's sister in Australia – she sent a bouquet, which completed the setup. We want to thank our friends – they were ready to join us with drinks at such short notice!"  
As the couple are in digital advertising, they knew exactly how to pull off a video-call wedding: "We used two laptops, one for screening, and one so we could monitor ourselves." 
And the best part? "You'd never know the bride was in her slippers under her white dress!"
SHARING CAKE, VIRTUALLY
Thanks to digital conferencing apps, even doggies don't have to forego their birthday parties during the circuit breaker.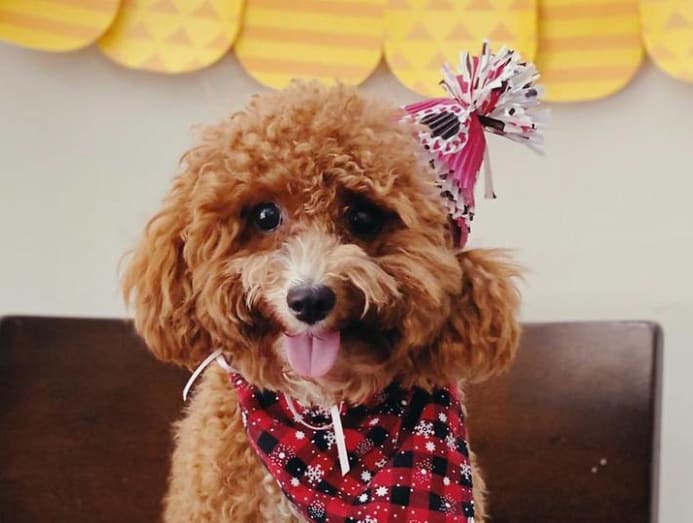 Alicia Ali, a 32-year-old communications manager, had planned a first birthday party for her poodle, Chloe, and issued invitations to her dog-owning friends. But thanks to the circuit breaker, the get-together could not proceed. 
"I was really sad that I couldn't celebrate her birthday, especially since it's the first birthday we have with her and I wanted it to be extra special… So, I thought, 'Why not change it to a Zoom meeting and we could all sing for her'. More for me than her, obviously!"
For a real sense of occasion, she baked dog-friendly cupcakes and had them sent to her friends who owned dogs, along with a cupcake for each of the humans, too.
At the Zoom party, all the dogs and humans gathered in front of their computers, sang Chloe a birthday song and enjoyed their matching cupcakes together.
How did the birthday girl react? "My mum made Chloe a little hat out of cupcake liners and string. I think she spent most of the call trying to remove the hat," Ali quipped.
Although she admits that Chloe might actually have enjoyed playing outside more, "I loved everything about the process," she said. 
"I really didn't want the day to pass uneventfully and my main aim was to make it a memorable day that we could laugh about in the future. I'd like to think it was a success on that front."