Learning life lessons from The Beatles and Kit Chan while I'm stuck at home
CNA Lifestyle's Circuit Breaker Diaries series features musings on Singapore life in the time of coronavirus. Here, someone decides to rearrange his music collection – and discovers a lot about himself.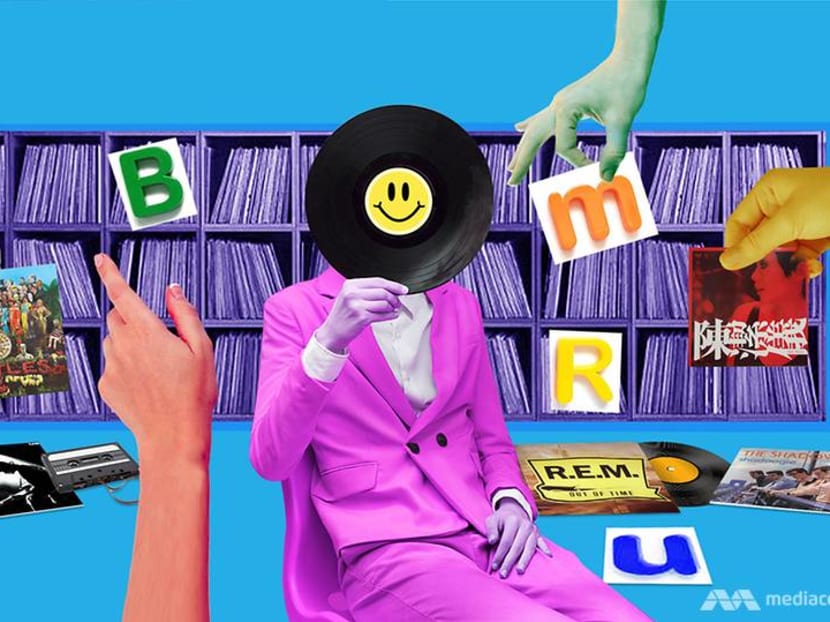 Like many of us glued to our social media feeds during this circuit breaker, I found myself "nominated" to do a popular online challenge: Ten days. Ten albums that changed your life. No explanation why. Just one album cover every day for 10 days.
Friends know that I love music. But the thing is, I have no stamina for such challenges and would probably lose steam after Day 3. So I simply posted on Facebook that my selection would be all 13 studio albums by The Beatles. (Yes, I know how to count but this is the Fab Four we're talking about here.)
So while my friends were diligently participating in this music-sharing exercise to while away the hours at home, I decided to embark on a different musical exercise.
I've recently started to re-arrange my entire music collection.
I had been meaning to do this anyway, after we renovated our flat, but, well, life got in the way. But now that circuit breaker got in the way of life, I finally had free time.
As I took stock of my nearly 800 CDs, about 150 records (LPs – that's British for "albums" – 12-inch singles/Eps and seven-inch singles), and around 100 cassettes (yes, those things), I contemplated my strategy.
Everyone is sharing old memories, photos or objects while clearing out their drawers. For me, it was my music collection.

Should I do it alphabetically? Thematically? In the end, I decided to re-organise it chronologically, based on when I bought or acquired it.
I was inspired by that scene in the 2000 movie High Fidelity that starred John Cusack, Jack Black and Todd Louiso. (For the record, Nick Hornby's book was way better.) In that scene, Louiso visits a depressed Cusack, who planned to re-organise his collection, and asked what his gameplan was. Cusack decided to do it autobiographically, to which both agreed was a comforting way to go about it.
While I'm not in the throes of depression, that's how I felt as I started to re-arrange my collection – I felt comforted.
Why? For one thing, it's a good way to reminisce. On social media, everyone is sharing old memories, photos or objects they found while clearing out their drawers (furniture, not underwear), recalling halcyon days. For me, it was my music collection.
Take, for example, the album Grunt: Pigorian Chants from the Snouto Domoinko de Silo.
It's a parody of those '90s Gregorian chants set to dance beats that were dreadfully popular. They were dreadful but popular.
It reminded me of my eldest child. I'd bought this album for him when he was two, thinking it'd be funny. But he cried every time I played it. So it has languished between Pigeonhed and Powderfinger albums ever since.
There were also albums that reminded me of my teenage years: I bought The Beatles' Rubber Soul when I was 14; my uncle gave me The Shadows' Shadoogie triple-LP box set because he knew I was learning to play the guitar; and The Beatles' Sgt Pepper's Lonely Hearts Club Band was my father's – but I just took it from his rack and never returned it.
I also remembered the moment I bought my first CD, Dire Straits' Brothers In Arms. I got it at Sembawang Music Centre, back when it was still in Sembawang. 
I had mentioned to the owner that I liked the extended versions of Money For Nothing (on the 12-inch single, also from Sembawang Music Centre) and Your Latest Trick (from a pirated cassette). I remember him telling me that nearly every song on the album was available as extended versions on the CD. Extended versions? How could I pass up on that?
This Big Music Remix has stopped my mind from wandering pointlessly and revealed interesting traits I've never realised about myself.

This Big Music Remix – as I'm calling this personal challenge –  has not only stopped my mind from wandering pointlessly (since I've got an extra two hours a day from not commuting to work), it has also revealed a couple of interesting – but probably useless – traits I've never realised about myself.
One is that I may have a predilection for artistes beginning with B, M, R and U than any other letter in the alphabet. Of course, that data could be a little skewed. The U category is basically just U2, since I gave away my Ultravox and Us3 albums; while REM albums and singles make up about three-quarters of the R category.
And you know how they say it's not just what you are like, but what you like, that helps define you? Well, if you go by the different genres in my collection, it's like the music version of my favourite economical rice stall – I didn't realise there was so much variety to what I was listening!
We're talking a cappella, bossa nova, classical, disco, EDM, folk, ghazal, hip-hop, indie, jazz, K-pop, Latin, metal, and even country and western.
I have music from Micappella to Madonna, from Karens Mok to Carpenter, from Alicia Keys to Elyzia, from Fatboy Slim to Too Phat, from Tom Waits to Tomgirl, from Yothu Yindi to Youssou N'Dour, from Jeremy Monteiro to Jeremy from Pearl Jam.
Scandinavian indie (Lucy Swann, Susanne Sundfor) sat alongside French rap (MC Solaar) and Indian playback (Lata Mangheskar, Asha Bhosle). Faye Wong straddled my Canto and Mando-pop categories, and Stefanie Sun and Kit Chan cover the bilingual category, as do Taufik Batisah, Shonen Knife and Girls Generation.
Now, liking variety doesn't mean I crave something new all the time. Right now, I don't need to know who's the new big thing – I mean, it took me a year before I heard Billie Eilish. (Duh, right?)
I feel blessed to have so much music around me.

Right now, I'm perfectly happy listening to different permutations of the music I already have. Do you know, for instance, how many different times you can shuffle Sgt Pepper Lonely Hearts Club Band such that each playlist is different?  87,178,291,200 times. That's how many.
The point is, that while people may be going stir crazy at home, thinking they're running out of things to keep them preoccupied, I feel blessed to have so much music around me – and don't mind listening to any one album backwards, sideways and forwards.
I've only just begun this personal challenge, but I can say that music is spicing up my life in a good way. 
Maybe, when this is done, I can post this up on social media as a challenge to others: Re-arrange your music collection in a way you've never done before. No explanation why. Then nominate someone else.
Consider this my form of paying it forward. Trust me, if you want a simple task to occupy your mind, this is it. And maybe you'll learn something about yourself too. Now, if you'll excuse me, I have to get back to my Big Music Remix. After all, it's only Day 3…
Christopher Toh has written about music for more than 20 years, covering both the local and international music scene.