Comedian Trevor Noah is in town for sold-out inaugural shows
The host of the US satirical TV show, The Daily Show, will be performing on Aug 19 at The Star Theatre.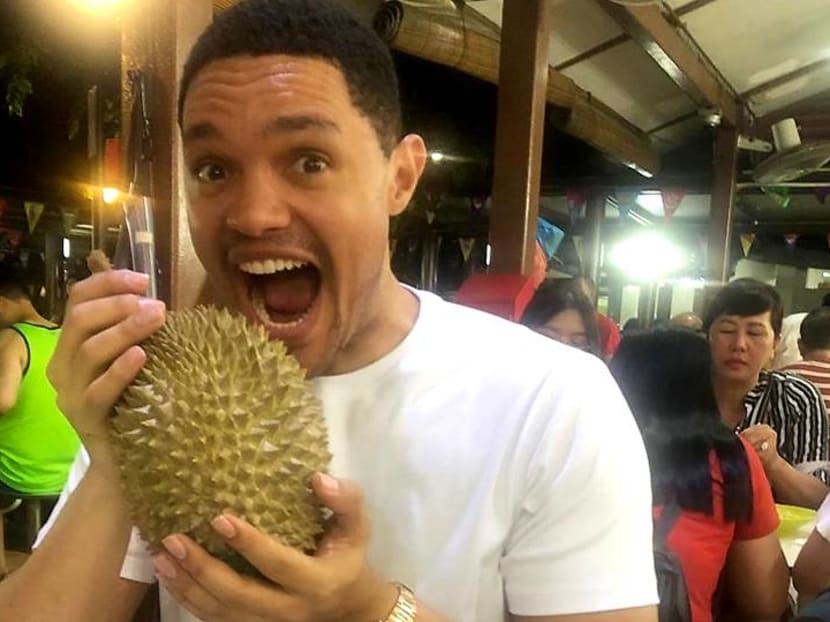 Accent extraordinaire and comedian Trevor Noah was spotted in Singapore on Saturday (Aug 17), two days ahead of his shows on Aug 19. 
And going by the Facebook post by LAMC Productions, the host of The Daily Show has already tackled something thorny – other than his satirical takes on prickly US politics: Durian.

While it isn't clear what the South African-born, award-winning host thinks of the fruit, the picture appears to place him at Newton Food Centre for some grilled prawns, Hokkien mee and black pepper crab. Was he there for a bit of research on Singlish and the Singaporean accent? Only those with tickets to his sold-out shows, Loud And Clear, would know.
Ticket demand (priced from S$98 to S$198, excluding booking fee) for his inaugural performance at The Star Theatre was so overwhelming that a second one has been added on the same day; he will be performing at 7pm and 9.30pm.