Creative Capital: The man who turns boring concrete into beautiful furniture in Singapore homes
From countertops to tables and sinks, Justin Lim has been redefining what concrete can be at home with his company Tsuri Custom Concrete.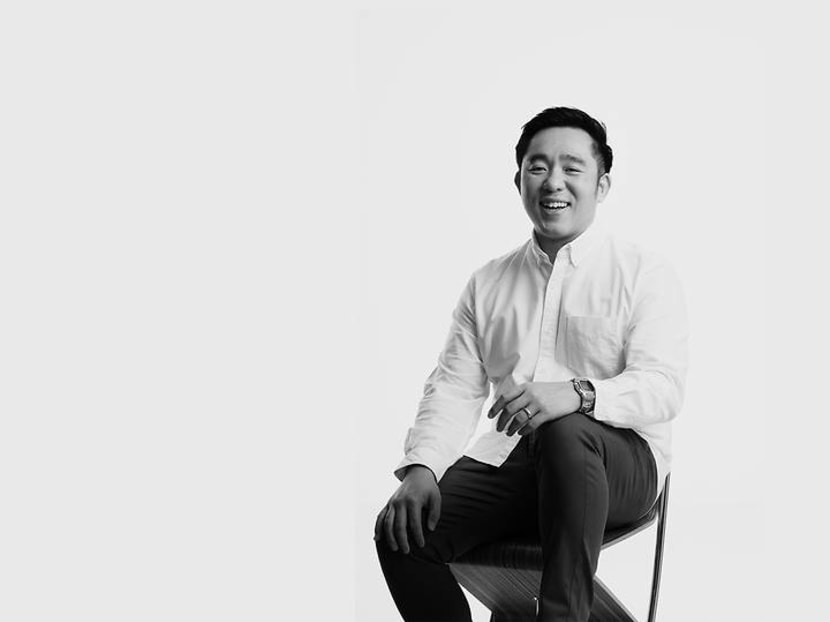 I truly believe Singapore is undergoing a creative renaissance of sorts. For numerous reasons, more and more young (and not-so-young) people are dedicating themselves not to traditional white collar vocations but more creative, artistic, and design- and craft-driven pursuits. And somehow, despite the ever-rising cost of living here, many are able to succeed and thrive.
It's also really amazing that you can find artisans in an ever-growing variety of industries, some which you may not have even considered as fertile for creative entrepreneurship. One such sector, to me at least, was the concrete industry. Yet, recently, while searching for a new dining table, I came across Justin Lim's creations and was blown away.
The 38-year-old is the founder and head artisan of Tsuri Custom Concrete. His mission is to make beautiful functional art, using concrete as his medium. In other words, don't call him if you need to cast a concrete floor. But if you're searching for a really unique countertop, table, sink, wall panel, bench or any other furniture item, he's your man.
Justin comes from a building materials background. His family is in the sector and he had started his own solid surface fabrication and installation company. Eight years ago, he came across a book by a San Francisco architect named Fu Tung Cheng, who is a pioneer in using concrete as an interior decorative element. The ideas, Justin told me, were revelatory; he never knew concrete could be so beautiful.
Six years would pass before technology and casting techniques had advanced to a point in which Justin decided to make a giant pivot. A year ago, he finally closed his solid surface company Harvest Building Products and opened Tsuri in October. His company is the first custom interior decorative concrete company in Singapore and only the second in Asia.
CAN YOU EXPLAIN WHAT YOU DO AND WHY USE CONCRETE?
Whatever preconceptions you have about concrete, leave it at the door. In the simplest terms, I make countertops, furniture and wall claddings out of concrete but it goes beyond that. We play with colours and textures. Concrete doesn't have to be grey, blocky or brutalist. It can be any colour of the rainbow and it can be organic and curvy.
TELL US ABOUT WHAT INSPIRED YOU TO USE CONCRETE.
It was a book by Fu Teng Cheng titled Concrete At Home, and for a book with such a pedestrian-sounding name, it was an absolute revelation as to what beauty could be achieved with concrete. Cheng's creative use of inlays in concrete flooring, walls and countertops combined with his eye for symmetry and colour really created the foundation of what is today's artisanal concrete industry.
HOW DIFFICULT HAS IT BEEN TO MASTER CUSTOM CONCRETE?
It isn't difficult to be proficient in concrete. As with everything, you just have to know how to fail well. Nothing ever comes out fully formed. You need to put in the work to learn from your mistakes, pick yourself up and carry on. I very often try to push myself out of my comfort zone. To try new techniques or at the very least seriously consider any idea put forth to me. I have found that when I am constantly reaching, constantly pushing myself to be in situations where I am uncomfortable, that's when I am improving.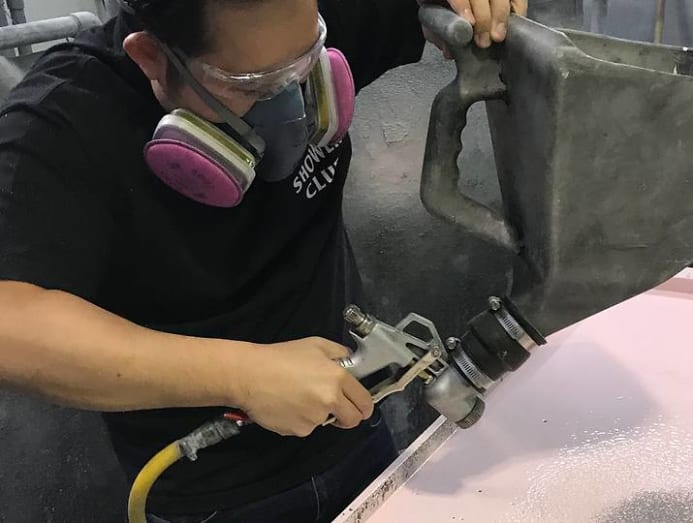 WHAT DO YOUR CUSTOMERS USUALLY ORDER?
It's usually countertops, benches, custom tiles and wall claddings. But what they are able to order is really dictated by my ability to construct the forms and moulds. If I can make the moulds, I can cast the item in concrete.
Even though the bulk of my business is from architects and designers, I have worked with individuals as well. I am especially interested in working with artists and furniture designers to push the limits of what I am able to make.
WHAT WAS IT LIKE SHIFTING FROM YOUR SOLID SURFACE COMPANY TO TSURI?
It was both scary and necessary! We had to offer something completely different and unique. I always felt there was something missing in the interior decorative materials industry in Asia. This coincided with my love and belief that the versatility of concrete could fill this gap.
WHAT'S BEEN THE TOUGHEST CREATIVE CHALLENGE YOU'VE FACED SO FAR?
It's an island counter that I am currently working on. It's a curved V-shaped island – imagine a ribbon bent in the middle like a V and you have a rough image of how it looks like. Concrete doesn't like to bend like that. The sheer complexity of crafting the formwork has left me with sleepless nights thinking of a solution.
WHAT ARE SOME OF THE THINGS THAT INSPIRE YOU?
Just things and objects I observe when I am walking around or sitting down having a coffee. One coffee table I made was from an idea that it would be pretty cool to have the saucers cast into the table because I hated how the usual white saucers spoilt the look of a nice table and wouldn't it be nice if it was all seamlessly integrated. The idea behind my pyramid side table stemmed from a tiny jewellery display I saw in Hong Kong. I thought it would translate well into a piece of furniture.
WHAT HAVE YOU LEARNED IN RUNNING YOUR OWN BUSINESS?
The idea of being your own boss is a lot sexier than the reality of it. I love that there is a certain flexibility to my work schedule that allows me to spend more time with the family but when the lean times come around, it's always about taking care of the staff first and myself last. I remember months of not drawing a salary when times were bad.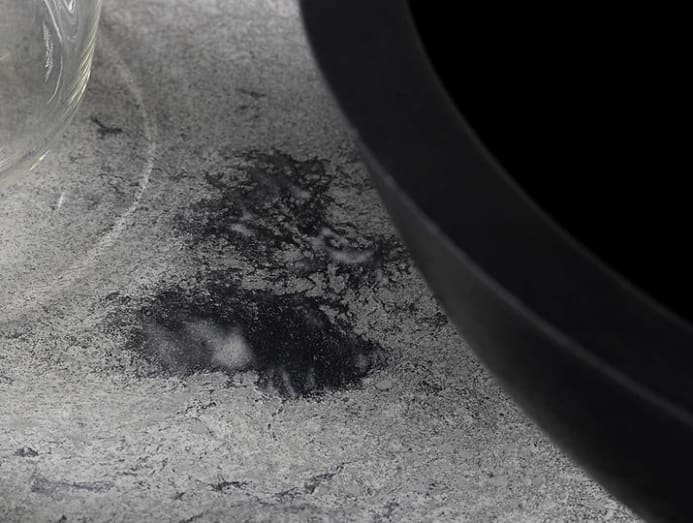 Running my own business has also made me a lot more wary of people. We had a particular sales guy who was also a compulsive liar, who would constantly borrow money from everybody. We also had staff that would collect cash from customers and pocket it. That being said, I am extremely glad to have had those encounters. They have shaped me to be able to identify dishonesty quickly and not to be afraid to sever relationships. Many people will pay you lip service, but only a few are good on their word. Those people I value more than anything else.
IS SINGAPORE A TOUGH PLACE TO BE A CREATIVE?
No, even though I think Singaporeans by and large are an extremely pragmatic bunch. The arts aren't something that we are told to pursue. I think for many Singaporeans, the emphasis has always been to be a banker, a doctor, a professional or civil servant. Those views are definitely changing now that we, as a nation have become more affluent. It affords the younger generation more flexibility to go after their passions. People are starting to value the arts a lot more and families are also more supportive.
I think you can make a great living as a creative here, but you have to know what value you can bring to the table. In order to do that, you need to struggle. You need to hone yourself and your skillset. Nothing comes easily. Nothing should come easily.