Confessions of a bubble tea addict: Not good for me, but it's been good to me
I first had bubble tea when I was nine – and this great love affair has seen me through the highs and lows in life.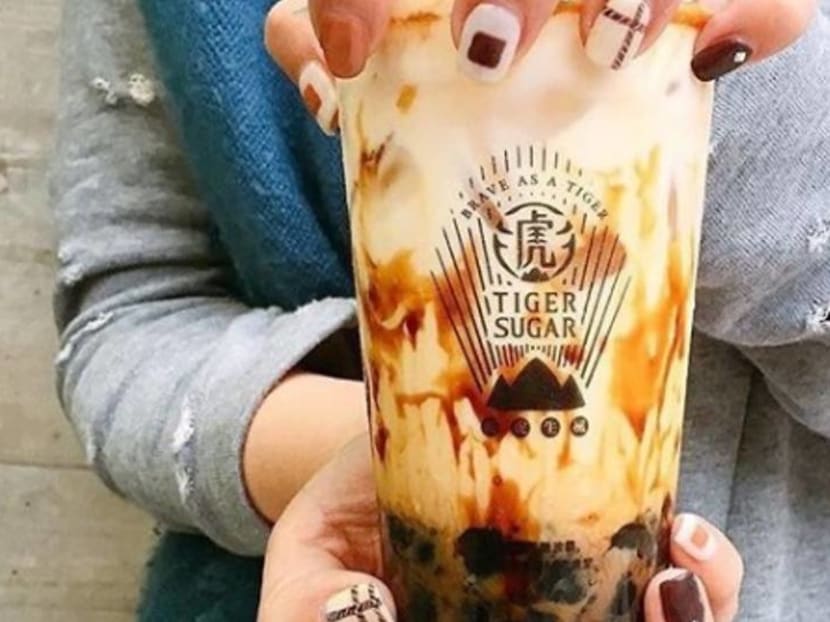 I've become as round as a pearl. A tapioca one. I can't remember when my addiction to bubble tea started, but it's seen a renaissance since a flurry of bubble tea chains started setting up shop in Singapore in the past few years.
Where pearl milk tea was the in thing growing up, we now have Instagrammable fruit teas, handmade pearls, cheese clouds, tea creams, and the newest kid on the block – brown sugar pearls.
Even black pearls aren't fashionable now. The chewy ones, of course – not the real deal. 
THROWBACK TO MY FIRST TEA 
I still remember my first bubble tea, purchased from a kiosk at Holland Village. It was a peach snow shake with pearls. I was nine and curious about this new drink called bubble tea – I thought the name referred to the froth created after shaking the drink.
It would be years before I realised it actually refers to the black (or golden) pearls in the now-ubiquitous drink. 
This love affair with bubble tea has lasted through every season of my life. As a secondary school student, I looked forward to S$1 bubble tea drinks at the MRT station. Sometimes, a generous friend would offer to pay – and add rainbow jelly to boot.
My drink of choice back then was a peach black tea with said rainbow jelly. That was the era when asking for less ice would earn a frown from the shopkeeper, and asking for less sugar was unthinkable. 
But I digress. When I left Singapore to study in Melbourne, bubble tea continued to be a mainstay in my life. I often walked an extra 20 minutes just to satisfy a craving, but doling out close to S$5 for a cup also meant I could not have it as often. It was a treat reserved for special occasions – good luck before a test or as a celebratory drink after; or perhaps I just happened to feel rich that day (we all have those days).
YOU'RE ADDICTED, DON'T BE KOI
Then came Koi and Gong Cha, two popular chains which shook up the bubble tea industry. Friends would brave long queues just to have a taste – and for the first time, we could customise our drinks according to how sweet or cold we wanted them. It was like a revelation. Bubble tea isn't just saccharine sweet; the quality of tea leaves matters, as does each topping.
But it wasn't until the past year that I fell in love with bubble tea again. First came fruit teas, filled to the brim with slices of watermelon, orange, apple and other ingredients, successfully fooling me into thinking that the drink could actually be good for me. I now find myself on the lookout for Teafolia or Muyoo when I'm out and about and in need of a thirst-quencher. 
Not forgetting cheese teas, which I reviewed last year: 
While I don't have a favourite bubble tea chain – it greatly depends on what I am craving on the day – I often wonder why I love the drink so much (only second to coffee, which is necessary for survival).
Perhaps it's because it has remained a constant for most of my life. It has evolved alongside my tastes and preferences, from sickly sweet concoctions in my teens (which I still crave from time to time) to more sophisticated mixtures in my 20s, there is nothing like holding onto a cup with a thick straw, strategically made for maximum enjoyment of tapioca pearls and other toppings. 
It was my drink of choice whenever exams loomed, when I missed home while living overseas, when I was so nervous on a first date I simply resorted to chewing on the straw. It brings simple joy for a couple of dollars, a little pick-me-up when I feel I need one.
It might sound a little strange but it also reminds me to be thankful – thankful that I can afford one almost whenever I feel like it. That I can look back at every season of my life and see the constants: My favourite drink, the people who have stayed, the highs and lows that have made it all pretty wonderful. 
Even if I may be a little bit rounder than I'd like.