COVID-19: Financial aid fund to be set up for freelancers in Singapore performing arts industry
Actresses Janice Koh, Pam Oei and Petrina Kow are hoping to raise S$100,000 for the newly formed Pasar Glamour Art Aid, which will provide immediate financial assistance to those in urgent need. Here's how you can help.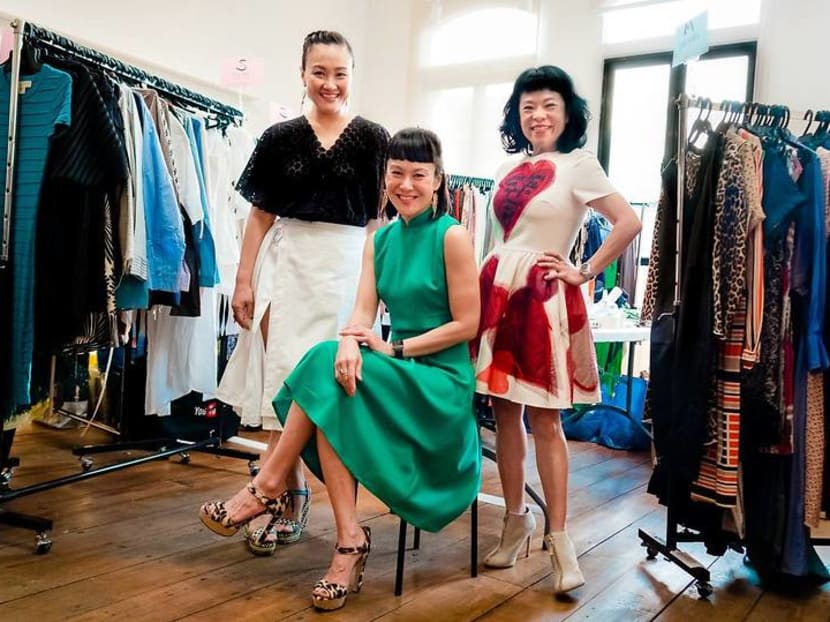 The COVID-19 pandemic has proven to be trying times for many livelihoods across different industries, both in Singapore and globally. But it has been especially so for professionals in the performing arts sector.
Since Feb 2020, the Singapore creative arts scene has been dealt a severe financial blow. Widespread cancellation of productions and events, as well as the closure of entertainment venues island-wide, have been prompted by necessary COVID-19 precautions. And it is the local independent artists, creatives and freelancers who have, inevitably, taken a hard hit.
According to the National Arts Council, approximately 47 per cent of Singapore's arts workers are freelancers, which is significantly higher than the national proportion of our resident labour force at 14 per cent.

With projects coming to a standstill and future work remaining uncertain, the performing arts community – comprising self-employed and freelance performers, directors, stage crew, musicians, designers, choreographers and playwrights – are all facing financial pressure.
Which is why Pasar Glamour is starting a campaign to raise S$100,000 for an emergency relief fund called Pasar Glamour Art Aid that will provide immediate and urgent financial assistance (one-off S$500 grants) to Singapore and PR freelancers working in the live performing arts scene here.
DOLLAR-FOR-DOLLAR MATCHED FUNDING
In partnership with an anonymous donor, this not-for-profit enterprise will match any donation to this fund, up to a maximum of S$50,000.
The funds come from monies previously raised through Pasar Glamour's pre-loved charity sale in 2019, and from the generous gift by the above-mentioned anonymous donor.
According to Pasar Glamour co-founder Janice Koh, what the organisation currently has is sufficient to support 100 individuals.
"By matching dollar for dollar, we hope to raise $100,000 and support more freelancers in need," she said. "We would like to help at least 200 freelancers with heavy financial burdens cope temporarily, while our performing venues remain closed."
Founded by Koh along with fellow actresses Pam Oei and Petrina Kow, Pasar Glamour is an annual pop-up pre-loved clothing charity drive that partners with numerous celebrity donors, homegrown designers and volunteers to raise funds that benefit the arts, as well as charities supporting disadvantaged women and children in Singapore.
WHY THIS FUND NOW
This emergency fund is targeted at helping performing arts freelancers who have lost income overnight, and are now struggling to make ends meet during this difficult period.
Koh told CNA Lifestyle that the trio were glad that the government has stepped up to support self-employed and freelance workers.
"However, there will be many performing arts freelancers who may fall through the cracks because they are not eligible for government support," she explained. "Pasar Glamour Art Aid is set up to specifically help those who have lost contracted jobs due to the sudden cancellation or postponement of shows, as well as the closure of entertainment venues."
RAY OF HOPE
According to the organisers, Pasar Glamour specifically chose to work with Ray of Hope – a member of the National Council of Social Service – "because of their experience and expertise in verifying the needs of the beneficiaries, especially those from vulnerable backgrounds".
As Ray of Hope is a registered charity with yearly audited accounts, they explained, donors can be assured that donations will be properly accounted for. 
"They are a crowdfunding platform where 100 per cent of all donations go to the beneficiaries," said Oei. "It is important that our fundraising and disbursement process is transparent to our donors."

EVERY CENT COUNTS
Koh wants the public to know that any amount donated is welcomed and much appreciated.
"This is an opportunity for arts audiences in Singapore to give back in some small way," she said. "And we hope the public will step up to donate. If you are in a position to give, we will match your donation so that your contribution will go a longer way in helping the Singapore performing arts scene."
Koh added: "Our performing arts practitioners have played a vital role in Singapore's cultural life and creativity. And if our freelancers, which make up almost 50 per cent of the arts scene, can't weather the storm, it will be extremely challenging for the state of the arts in Singapore."
PASAR GLAMOUR ART AID DETAILS
Deadline for submission: Friday Apr 24 at 11.59pm. All applicants will be informed of application outcome by mid May.
Grant amount: One-off grant of S$500, limited to one grant per household only.
Who can apply: Singaporean & PR self-employed (SEP) or freelance personnel (performers, dancers, musicians, designers, technical and production crew, directors, choreographers, producers and playwrights) working in the performing arts sector, who have suffered job loss or loss of income due to cancelled projects arising from COVID-19 measures.
The group is specifically looking to help freelancers working primarily in live theatre, dance, and music, who were engaged for projects in 2020 that were unexpectedly cancelled or postponed.
Full-time employees in the performing arts are not eligible.

For more information on Pasar Glamour Art Aid and details on how to apply, click here: https://rayofhope.sg/campaign/pasarglamourartaid/
Download our app or subscribe to our Telegram channel for the latest updates on the coronavirus outbreak: https://cna.asia/telegram