Creative Capital: The witty BFFs behind the creative studio with the weird moniker
One is the originator of The Fingersmith Letterpress; the other, a children's book illustrator. Together, they've created 8EyedSpud – and the mural you see at Jewel's Shake Shack, among other works.
Chances are, you've seen Jacqueline Goh's and Natalie Kwee's works. This dynamic duo, who prefer to be called Nat and Jackie, and are professionally known as 8EyedSpud, have created murals and illustrations for a pretty fantastic client list, including Google, Facebook, Airbnb, Tiffany & Co., Singapore Airlines, Fast Company, and the Singapore Tourism Board.

But perhaps their most recognisable work is the 10m-long mural in Shake Shack's flagship eatery in Jewel. This big green scene depicts Singaporeans goofing off and having a great time in a lush garden city backdrop. The characters all look happy, which is something of a running theme if you look across 8EyedSpud's portfolio. These two local artists have a great knack for infusing joy and happiness into their work.

Their "BFF-led creative studio", according to their Instagram, started in August 2018. And from what I can tell, they have been having the best of times. Even in these socially-distanced times, they've managed to stay connected and have found ways to make each other laugh.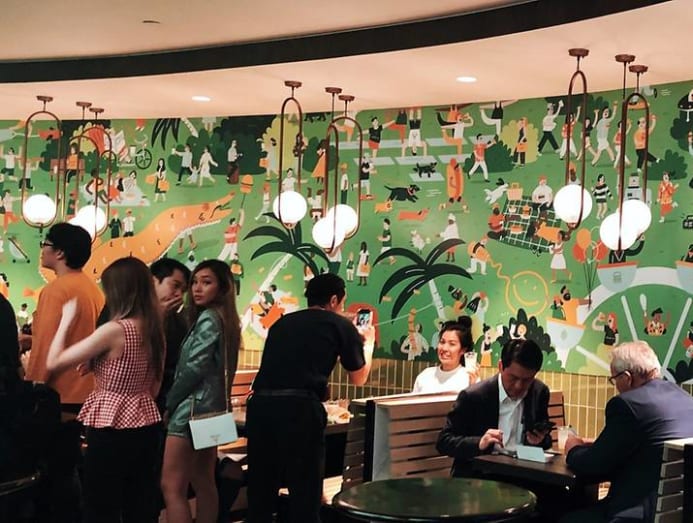 HOW DID YOU GUYS MEET AND WHEN DID YOU DECIDE TO START WORKING TOGETHER?

Jacqueline: I first heard about Nat through our mutual friend Jo. She said she knew another weirdo illustrator like me who also had a black dog. To be honest, I was more excited to meet the dog.

Natalie: Jackie and I had been friends for about a year before we took a three-week trip to the US. We'd wanted to hit up New York, Mexico City, New Orleans and Texas, but we both got really bad food poisoning three days into our time in Mexico City.

We had to slow down our itinerary a lot, so we spent a good amount of time in cafes and Airbnbs drawing the things we saw or the funny moments that happened to us. We were cracking each other up non-stop, and that was when we realised we could create stuff together. We came up with the moniker "8EyedSpud" for our collaboration.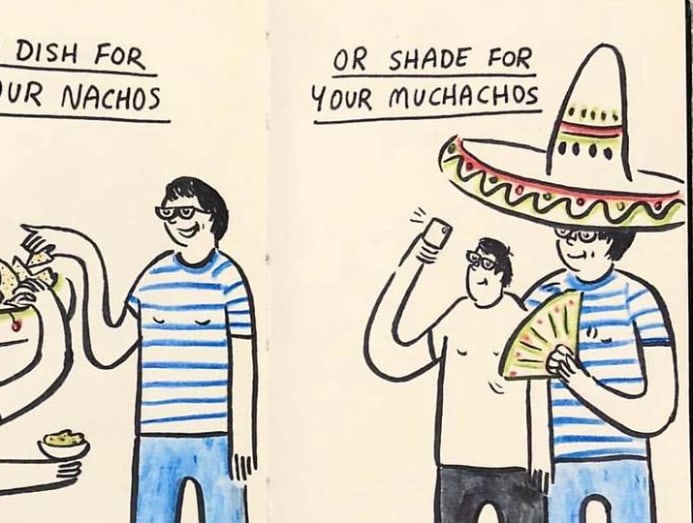 WHAT ARE YOUR OWN BACKGROUNDS? HOW DID YOU GET INTO ILLUSTRATION?

Jacqueline: My dad said I could study whatever I wanted only after I went to business school. So like the good daughter that I am, I did just that. After graduating from Ngee Ann Polytechnic, I went to Lasalle College of the Arts, got introduced to letterpress and started a letterpress printing studio after graduating in 2012.

Natalie: I studied architecture in the US and worked as an architect in NYC for a year before moving back to Singapore. During my final year of architecture school in 2013, I decided to do my thesis by hand and just kept drawing after that. I started with random thank-you cards for friends and professors, and kept it going as a side hustle for two years until it became my main hustle in 2015.

JACQUELINE, ARE YOU STILL RUNNING THE FINGERSMITH LETTERPRESS OR HAS 8EYEDSPUD BECOME YOUR CORE BUSINESS?

I'm super old school, so the idea of working with vintage printing presses really excited me. I've always enjoyed the slower process of working with my hands than staring at the screen. But even when I started The Fingersmith Letterpress, I knew I wanted to go beyond print and take on more creative and design focused work. When I got to do more illustration projects at 8EyedSpud – especially with a super-talented partner like Nat – it was like my dream came true. Drawing for a living? Sign me up!

WERE YOUR FAMILIES ENCOURAGING ABOUT THE CAREER PATHS YOU HAVE CHOSEN?

Jacqueline: It took a whole lot of convincing before my parents let me turn our garden shed into a printing studio. My mum wanted me to find a job and work for a company first but I told her to give me two years to try it out. When you have to prove your parents wrong, you know how hard you'll work. Now, I'm thankful that she's my biggest cheerleader.

Natalie: My parents were a little confused when I told them I was quitting my job to be an illustrator. They didn't think such a job existed. They were like, "Huh? People pay you to draw things?" I'm pretty sure they imagined me sitting around in pajamas, doodling on my iPad, and mooching off them for the rest of my life.

But, to give them credit, once things started to pick up and they saw the work I was doing, they have been nothing but supportive. My mum's Whatsapp profile picture is an illustration of her that I did!

WHAT ADVICE WOULD YOU GIVE IF A FAMILY FRIEND SAID THAT HIS CHILD WANTS TO BE A PROFESSIONAL ILLUSTRATOR?

Jacqueline: To the parents, support your kids. And I mean emotionally, not financially! Here's a pro tip: Telling your kid you like their work is a little ego boost that goes a long way. To the kids, give your parents a reason to support you. If you really want to do it, give it your best shot. Don't give them a reason to say "I told you so."

Natalie: Couldn't have said it better myself. At the end of the day, we all still yearn for our parents' validation, and nothing beats a pat on the back from good ol' mum and dad! Jackie and I always share our work-in-progress pieces with our folks. This gives them an idea of what we're working on, the clients we have, and they get to see how our work evolves along the way. My dad is very creative and always gives good feedback, so we sometimes run designs past him for suggestions if we're stuck on a project.

WHAT COMPRISES THE MAJORITY OF YOUR WORK?

Natalie: Snacking and laughing at each other's jokes. Just kidding. We started out with a lot of murals, which was really exciting. Prior to that, we were used to much smaller-scale work – Jackie with letterpress printing, and myself, personal portrait commissions.

We still create a lot of murals, but our work has also branched into more interactive/installation pieces. We recently did an exhibit and trail guide for kids at the Asian Civilisations Museum, and an interactive piece for Facebook's Women's Day event. We really love exploring new mediums and seeing how our illustrations can exist beyond two-dimensional drawings.

WHAT WAS THE FIRST PROJECT YOU GUYS DID TOGETHER AS 8EYEDSPUD?

Natalie: It was a self-initiated project called Business Casual, a series of double-sided prints that we created for fun. We never expected 8EyedSpud to become a real business, hence the nonsensical name. But once we started getting real clients, it was too late to change!

Jacqueline: I started selling some of these prints at the art fairs I usually did as The Fingersmith Letterpress and we actually sold a bunch. It was really fun working with another creative with the same sense of humour and I kept trying to find an excuse to work together more.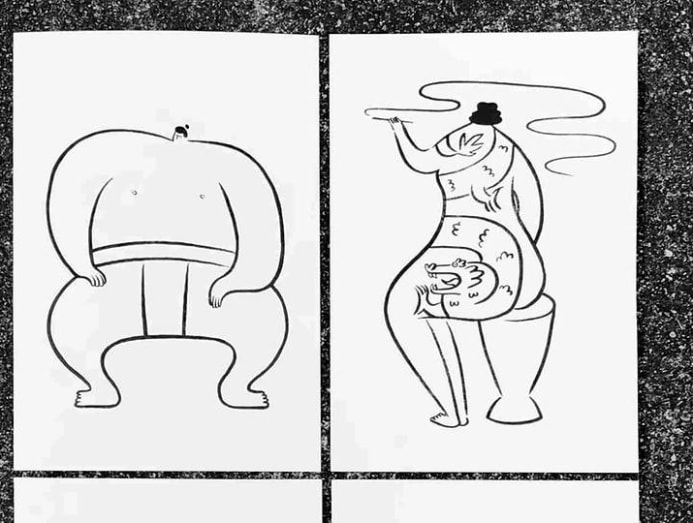 WHAT HAS BEEN, FOR EACH OF YOU, THE MOST EXCITING PROJECT TO DATE?

Jacqueline: Wow, that's really tough. The most exciting project is always the next one. But if I really had to pick, I'd say the full-page illustration we did for Fast Company. We had so much fun coming up with quirky characters and the client really let us run with it. When the issue came out in September, I was in San Francisco and I remember buying it at a little kiosk and texting Nat right after.

Natalie: It'd also be our work for Fast Company magazine. We only had five days to conceptualise, detail and complete the final artwork. To throw a wrench in the mix, Jackie was headed to Bali the day after we sketched out our ideas.

We spent the next 96 hours working remotely, sending portions of the final artwork back and forth. Jackie was literally drawing on her iPad with her feet in the pool. We were basically running on adrenaline the entire time. Then, we had to wait four months for it to be published. I remember being at Changi Airport before a flight and seeing it on the newsstand. It was so surreal, I bought three copies. I was so proud.

IS IT DIFFICULT TO BE A CREATIVE ENTREPRENEUR IN SINGAPORE?

Jacqueline: It would be tough if passion is your only driving force. Passion is super important but it also helps if you are less afraid of numbers and put on your business hat.

Natalie: I was really nervous about moving back to Singapore after spending seven years in the US. I thought the scene here would be small and uninspiring, but the opposite turned out to be true. In the beginning, it was harder when we hadn't established our point of view and didn't have much work to show clients.

But over time, we've built a pretty varied yet consistently punchy body of work. Once we started putting our projects out there, there were many companies that wanted to collaborate with us. And even though Singapore is small, many MNCs have offices here, and that has given our work the chance to have a global footprint.

WHAT HAS BEEN THE HARDEST THING YOU HAVE HAD TO FACE IN THIS JOURNEY?

Jacqueline: Getting out of my comfort zone and embracing technology. I thought I was doing okay with my 10-year-old laptop and Wacom, but then, Nat came along and I had to learn how to use an iPad, upgrade my laptop, learn how to backup stuff to the Cloud, and properly label my layers in Photoshop. It was like I came out of the dark ages and into the 21st century. I felt like a Neanderthal!

Natalie: Working apart during this circuit breaker period has been tough. We were so used to drawing over each other's sketches, passing a sheet of paper back and forth to build on one another's ideas, and listening to murder mystery podcasts when we draw. It has taken a while to get used to working on Zoom.

AND WHAT HAS BEEN THE BEST SURPRISE?

Jacqueline: Technology isn't so bad after all. It really is what's getting 8EyedSpud through during this circuit breaker period. We have three separate chat rooms on Whatsapp alone, with only just two of us in it –  one for work, one for sharing recipes (we both started learning how to cook), and one just for fun. It always surprises me that we never run out of things to think about or talk about with each other.

Natalie: Since the circuit breaker began, we've been doing Casual Friday Costume Showdowns. Each week, we pick a theme – for example, Sci-Fi, Pixar, Broadway – and show up for our Zoom meetings fully dressed in DIY costumes and a background to match. We've done four "episodes" so far. The best part for me was seeing Jackie's Phantom Of The Opera costume. She cut up a face mask and plastered it on her face. I laughed so hard my Book Of Mormon name tag almost came off!

I've always avoided working too closely with friends because I never wanted work to come in between friendships. However, working with my best friend is by far the highlight of this entire journey. There's never been a day that I've dreaded going to work. Although we've been each other's only colleague for almost two years, we still haven't run out of things to talk about or laugh at.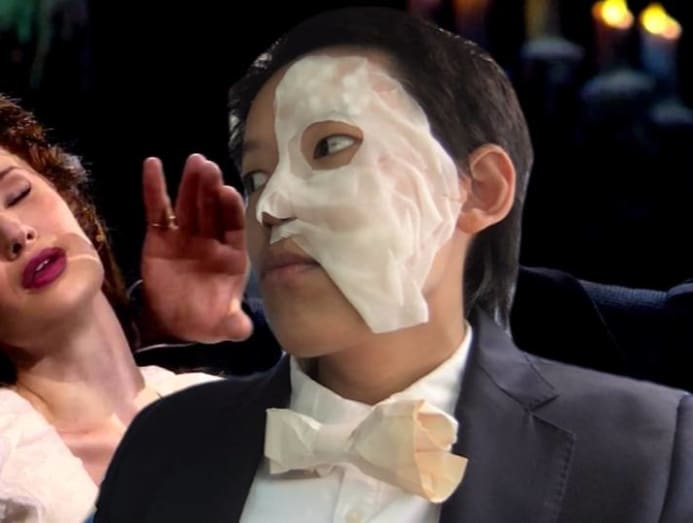 HOW ARE YOUR STYLES DIFFERENT AND COMPLEMENTARY?

Jacqueline: It has always been 50/50 from the beginning. I'd say my style is more loosey-goosey. It's almost impossible for me to draw a straight line or a perfect circle like Nat can. I'd have to click "undo" a thousand times before I accept my fate and send it over to her.

Natalie: Jackie and I inherently have different drawing styles, but our sense of humour is freakishly similar, so we used that as a jumping-off point to build a "new" style that plays to both of our strengths. Jackie is really great at capturing people's expressions and poses, and she's our in-house colour consultant.

But like she said, we work on every aspect of each project. Sometimes when we look back at old work, we can't even distinguish who did what because it all melds together.

NATTALIE, YOU'VE BEEN ILLUSTRATING A BOOK SERIES FOR A WHILE NOW. DO BOTH OF YOU DO WORK OUTSIDE OF 8EYEDSPUD?​​​​​​​

Jacqueline: Occasionally, I'll participate in overseas book and art fairs to showcase works from The Fingersmith Letterpress. Also, that way I can tell people I travel for work. It just sounds more adult.

Natalie: Yes, we still work on individual projects with clients that we've partnered with before 8eyedspud. Over the last two years, I've been illustrating a series of children's books with the US-based publisher Simon & Schuster. I'm working on the seventh book now.

WHAT IS THE DREAM FOR 8EYEDSPUD?

Jacqueline: To be able to draw together till we're in our 80s and not have Nat fire me.

Natalie: Same as Jackie. Except I hope we're still best friends and still drawing when we're in our 90s.