Creative Capital: This American carpenter turns Singaporean wood into functional masterpieces
Aaron Arthur Foeste may be American by citizenship but his love of all things Singaporean has made him call this sunny island home.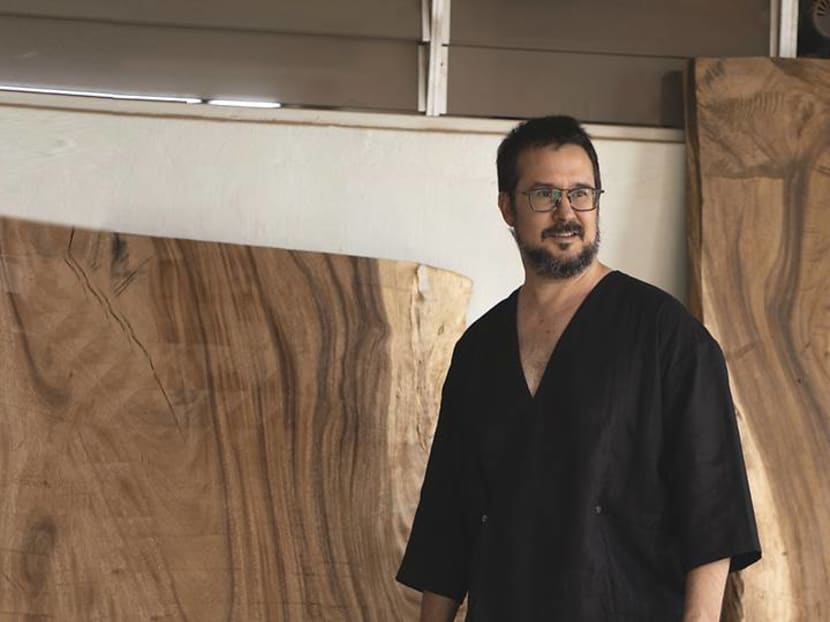 I love to cook. Though I can't fit too many sexy, shiny kitchen tools and gadgets into the tiny kitchen at my rental apartment, I can't help but coo over them. Take it from a man who prepares most of our family meals that when it comes to kitting out the kitchen, nothing beats a good cutting board. It's as fundamental as a great knife.

What are the qualities of a superb cutting board? For me, wood is the best material for a home cook. Not only is it a renewable resource, it is also kind to our kitchen knives. And it's way more attractive than any synthetic board will ever be.

And if you ask me, the best wooden cutting board you can get in Singapore – if you give two licks about sustainability – is from Arthur Zaaro. The local brand, run by Aaron Arthur Foeste, sources local wood from tree-cutting contractors and hand-makes each board. 

HOW DID YOUR BRAND NAME COME ABOUT?

It is important for me to have a name fronting the brand but my name is a mouthful. A German last name, with an umlaut (a mark used over a vowel) no less, simply wouldn't make a good domain name. So I thought why not give my name a twist – Arthur is my middle name and Zaaro came from my name Aaron but with the "n" turned sideways. With a name like that, we'll either be first or last on the list depending on how you alphabetise.

WHAT'S YOUR BACKGROUND? 

I'm married to a Singaporean who wants to live in New York but I want to live here. I won. I trained as a carpenter at the top film construction coordinators in New York before running my own business in custom restoration and carpentry. My training comes from working on feature films and movie sets in the set construction departments.

WHY DID YOU DECIDE TO START ARTHUR ZAARO?

On the retail side, we started exporting Peranakan tile tables to America and Europe a decade ago. The audience there wasn't familiar with the Peranakan culture, they thought the tiles were Moroccan, Victorian or even Spanish. And on the custom side, we ran a carpentry business making bars, conference tables, and other made-to-order items out of solid wood. 

YOU MAKE FURNITURE, LIGHTING, AND ACCESSORIES. HOW IS IT THAT CUTTING BOARDS SEEM TO BE YOUR HERO PRODUCT?

Cutting boards are not our money spinners, especially when they're made in Singapore from premium hardwood that takes a year to dry. But we are passionate about our boards. As a company we are proud of our material and craftsmanship. The buyer isn't being charitable just because they are buying a locally made product, they're also getting the very best board they could get.

We do also a lot of custom carpentry work – big items, corporate items, residential dining tables, benches, coffee tables and desks – but in our industry, we often work incognito.

TELL US ABOUT YOUR NO-WASTE PHILOSOPHY.

Our production process is designed to be green: As little goes into the trash, the better. To me, no-waste has to do with making a product out of the remaining material from an upstream product. Only then will it matter if we're using sustainable materials. 
We give our scraps away to jewellery makers and knife handle carvers. A guy who raises beetles comes regularly to ask for sawdust. We're happy to share our resources with them.

DO YOU PLACE A GREAT EMPHASIS ON SOURCING OF WOOD?

During my sourcing and buying trips in Asia, I learned not to trust what is printed on the packaging. Terms like 'sustainable' and 'recycled' are just marketing terms used to increase sales. Even certifications can be falsely printed.

Singaporean wood provided the answer to what I was looking for. I know where it came from; I know that it was cut during landscaping work, not deforestation; I know that there's no fuel or packaging was wasted on import. Plus, it is premium wood. The only drawback is cost, there's no chance of mass production.

WHAT TYPES OF WOOD DO YOU WORK WITH?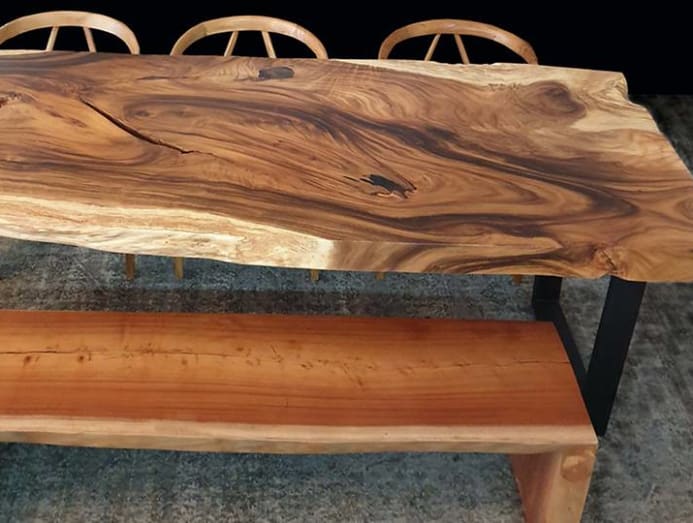 African Mahogany and Angsana are our favourites. We made a few tables from the Singapore Rain tree. We've tried working with Singapore's national tree the Tembusu because of the significance to the country, but it takes twice as long to dry and it has a tendency to crack so we haven't been successful making anything out of them.

BESIDE YOUR CUTTING BOARDS, WHICH PRODUCT ARE YOU MOST PROUD OF?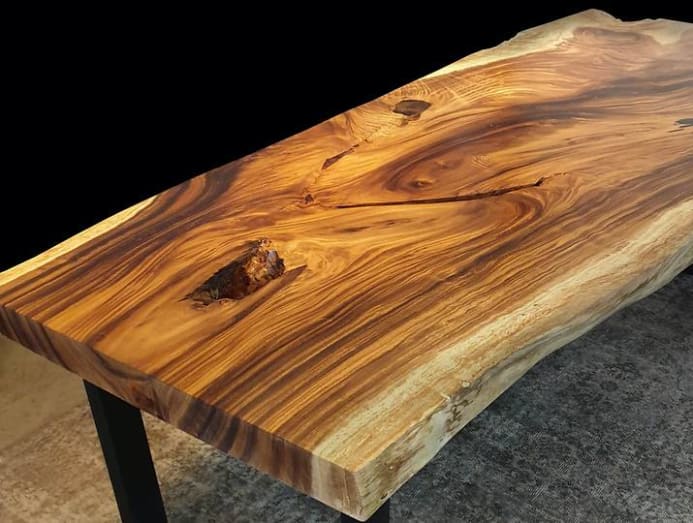 Our solid slab tables. Each piece is unique.

HOW HARD IS IT TO MAKE A LIVING AS A CRAFTSMAN AND ENTREPRENEUR IN SINGAPORE?

Very hard. We are trying to innovate in an industry founded thousands of years ago. The entrepreneurial landscape is focused on tech, crypto currency, etc. I am very proud that our staff is comprised almost exclusively of Singaporeans and PRs who are resolute in their pursuit in becoming a craftsmen or craftswomen.

HOW DO CUSTOMERS FIND YOU?

Besides marketing our website, we also participate in fairs and events that help promote local brands. We also work with other Singapore businesses to cross-promote.

HOW HAS COVID-19 AFFECTED YOUR BUSINESS?

We are very affected since we are a customer-facing business. It's not a matter of having lower productivity while working from home but there is no work at all from home.

DO YOU COOK?

I'm pretty good at making an authentic Northern Italian Pizza. But I live with Asian women so I've learned to stay out of the kitchen.

WHO OR WHAT INSPIRES YOU?

Singapore's commitment to urban greenery is inspirational, especially the tree-lined Eco-Link bridge, along the BKE that is meant to allow wildlife to cross the road without being hit. Lush greenery is a much better view than glaring billboard signs in other cities.