Creative Capital: The former marketer who makes plant-based homemade dips
Chan Fang Lynn got the idea to start Loaded Gun Kitchen during 'circuit breaker' when she hopped on the vegan bandwagon out of curiosity.
I am a sucker for good branding, so the minute I took a look at the products from Loaded Gun Kitchen, I had very high hopes. Chief among those – fusion vegan dips, created by former marketer Chan Fang Lynn. Having tasted all three available dips, I can wholeheartedly attest that they are delicious.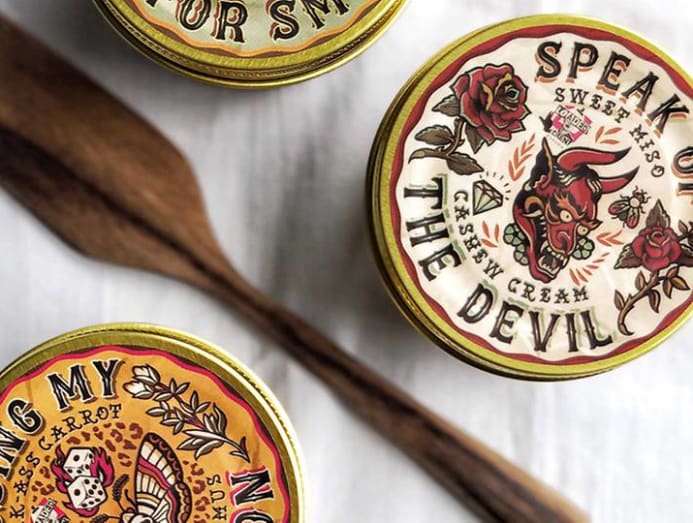 My favourite of the three is the Kick-Ass Carrot Kimchi Hummus. I already have plans to incorporate it into multiple dishes. But that is not to say the other two aren't equally good. If, after reading more about Loaded Gun Kitchen and its impressive young founder, you want to try some, just order the Menage a Trois, a selection that gives you one of each.
HOW DID YOU DECIDE TO START LOADED GUN KITCHEN?
I got the idea during Circuit Breaker (CB) when I hopped on the vegan bandwagon out of curiosity. I decided to go plant-based for a month, purely to find out what the hype was about. I became obsessed! I bought vegan e-books to study recipes, and would stay up till late watching vegan YouTubers make crazy things like Watermelon "steaks" with only plant-based products. I was intrigued by how much flavour could be derived from purely plant-based ingredients.
At that time, my dad spoke to me about the growing interest for home-made products during CB. I toyed around with the idea of a sweet spread, but was unconvinced as the market was saturated. I let the idea sit for a while then it all clicked when I was making hummus one day. Why not make a product as versatile as the hummus – I was spreading it on everything – but with bigger and more exotic flavours?
Loaded Gun Kitchen products were born out of more experimentation. During that time, my ethos became clear. Everything I create must be what I call "big tasty", while being whole-foods based and healthy.
DO YOU HAVE A TEAM OR IS THIS A SOLO BUSINESS ENDEAVOUR AT THE MOMENT?
The moment I started developing the products, I knew I needed a kick-ass marketing plan. Product development and marketing took equal time every day. I pulled together a small creative team who worked alongside me to develop the brand presence. I am so lucky to have had a team who understood where I wanted to go with the brand - the aesthetics, the vibe, the tone… I could not have done this without them.
When it comes to 'running the brand' proper, I've been working pretty much solo since launch in September. I oversee everything from operations, marketing, social content, production, sales, customer service. I'd love to eventually scale but I think it is key at this stage to have a bird's eye view of the entire consumer channel. 
HOW DID YOU COME UP WITH AND TEST THE RECIPES?
I actually modelled them after flavours I myself love. I created a list of what I enjoy eating, and began narrowing the list down to what I thought might work together. You'll notice that my flavours are a bit of a mash-up of cultures. Looking back now, my initial creative list was very ambitious. But I hang on to it because those ideas, germinated at the start, may come in handy one day in the future. However, to get to my core three products, the recipes took a lot of tweaking, experimenting and seeking feedback from friends and family. Those with great palettes, who have had experience as chefs, and brilliant home cooks all had something to contribute. Today, if I refer to my initial list of ingredients for the recipes, they are totally different!
The brand is all about experimentation. Even today, I am still in recipe development and am surprised when I manage to create meals with the products. Take, for example, a meatless puff I recently made with the Kombucha BBQ Pinto Bean. It's so simple to put together, and fits into the whole experimental and fuss-free vibe of the brand.
HOW LONG DID IT TAKE YOU TO GO FROM BUSINESS IDEA TO ACTUALLY BE UP AND RUNNING?
It took three months. I started conceptualising the idea in early June, and sold to my first customer on Instagram in early September, just before the official launch. Entrepreneurs say they always remember their 'first' and I understand why now. I'll always remember she texted me that she was a "happy first customer" and gave me the 'fist bump' emoji. I feel like it's kind of the Insta-'first dollar', like those that business owners frame up in their shops.


Loaded Gun launched solely with Instagram in September and the website followed suit a month later. Now, 95 percent of customers are purchasing via the site. I particularly enjoyed building the site – with help from my team – and charting the customer journey from initial outreach on Instagram, to website and product consideration.
DID YOU ALWAYS KNOW YOU WANTED TO RUN YOUR OWN BUSINESS?
No. But I always knew I wanted to do something I was passionate about. But I also knew it had to make sense financially, and be sustainable. Growing up, my Mum – who herself ran a business, as did my grandmother, who I'm proud to say was a well-known kebaya maker –always encouraged me to do something I loved. Mum would tell me she would even bankroll me! But I struggled for many years to find my stride, and never wanted to take her up on her offer unless I knew I had a business plan that could be sustainable.
DID YOU HAVE A SPECIFIC CUSTOMER IN MIND WHEN DESIGNING YOUR PACKAGING, BRAND, WEBSITE, COPY?
Yes, that customer was myself. I am a wellness junkie. I eat kale, practice yoga and believe in the healing power of crystals. I used myself as a baseline and broadened the audience, eventually keeping in mind athletes, home cooks and mothers. Basically people who want to fuel themselves and their loved ones with the best food possible.
One of my goals is to make plant-based eating more accessible and widespread, and so I feel that my products have to appeal to everyone, vegans, vegetarians, flexitarians, and very importantly, meat eaters themselves who want to get more plants into their diets.
WERE YOU ALWAYS INTO MAKING THINGS IN THE KITCHEN? WHAT GAVE YOU THE CONFIDENCE YOU COULD PULL THIS OFF?
Yes, I make very simple things, nothing fancy lah. I like fuss-free, simple cooking. Anything too complicated, I prefer to pay and leave it to the pros.
I learnt most of my basic cooking techniques when I was studying overseas from YouTube, to be honest. And since moving back to Singapore, I worked the heck out of my air fryer. For many work lunches, all I did was chop broccoli and salmon and pop it into the air fryer. That's a meal sorted.

Before the inception of Loaded Gun, I was unemployed for almost 6 months. I was down in the dumps. Then, COVID-19 hit, which did not help matters. But when you hit rock bottom, the only thing to do is to stand up and do something for yourself. I figured that if the world was on pause, it was then a perfect time for me to think about what truly made me excited and satisfied. I found my answer.
YOU LAUNCHED JUST A FEW MONTHS AGO. HOW HAS THE RESPONSE BEEN SO FAR
It's been awesome. The response has been overwhelming. I'm so happy that several KOLs (Key Opinion Leaders) like Charmaine Seah, Anita Kapoor and Kelly Latimer have been enjoying the dips and helping me spread the word about how plant-based eating can be exciting.
ARE YOU CURRENTLY VEGAN?
No, but I swear by eating more vegetables and less meat. As the author and activist Michael Pollan says, "Eat food, not too much, mostly plants". On the days that I choose to be 100 percent plant-based (because my body wants and craves it), I feel lighter and more energised.
DO YOU FEEL THAT YOUR PRODUCTS APPEAL PRIMARILY TO VEGETARIANS AND VEGANS OR TO A WIDER AUDIENCE?
It's a niche product, with many promising factors that the masses would enjoy. For example, aside from it being used as a topping in grain bowls & on pizzas and pastas, I think that the real magic happens when you modify them for use as marinades, sauces or condiments. They are versatile, and with them, making a tasty meal is possible within 30 minutes. Or they are elements that add 'oomph' to a dish when you're using them as toppings. I took a very specialised vegan product, a dip, and made it versatile. I've had some customers suggest they can even be used as ravioli or dumpling fillings, which I thought was super creative.

Some customers have experimented with some crazy but delicious pairings. Carrot Kimchi Hummus with oysters, Kombucha BBQ Pinto Bean with watermelon and Sweet Miso Cashew Cream with butter popcorn!
WHY SHOULD CONSUMERS CONSIDER ENJOYING MORE PLANT-BASED FOOD PRODUCTS?

I like that you used the word 'consider', because many people I've met and spoken to about my products immediately shut me down with phrases like "I don't do vegan" or "vegan is boring". I conducted a mini survey and the results showed that people have this preconceived notion that vegans are lame and annoying.
TELL US ABOUT EACH OF THE THREE FLAVOURS YOU HAVE RIGHT NOW.
They all suit different moods and have bold yet distinct flavour profiles. When I'm feeling indulgent, I'll go for the Sweet Miso Cashew Cream, paired with cheese and some wine. It's the richest of the three. A generous amount of raw Jamaican cashews are blended and I hand press cashew milk to create the silky texture as well. I use this as a topping on pizza, and my aunt recently used it to stir-fry Chinese-styled pork mince.
I opt for the Carrot Kimchi Hummus when I want something different. It's creamy from organic white hulled tahini, tangy from the homemade vegan kimchi and a little spicy from the Korean red pepper flakes (gochugaru). You can make pasta with this by adding pasta water, a little heavy cream and two to three tablespoons worth of the dip.
The Kombucha BBQ Pinto Bean was the most outrageous to develop because it involved understanding the science behind fermenting Kombucha. My main goal was to develop a healthy BBQ sauce, as most BBQ sauces are laden with sugar and artificial flavourings. I substituted this with Organic Blackstrap Molasses and used Green Apple Kombucha to create a lighter barbeque sauce. The result is a light, tangy sauce that I like to use as a glaze for chicken wings.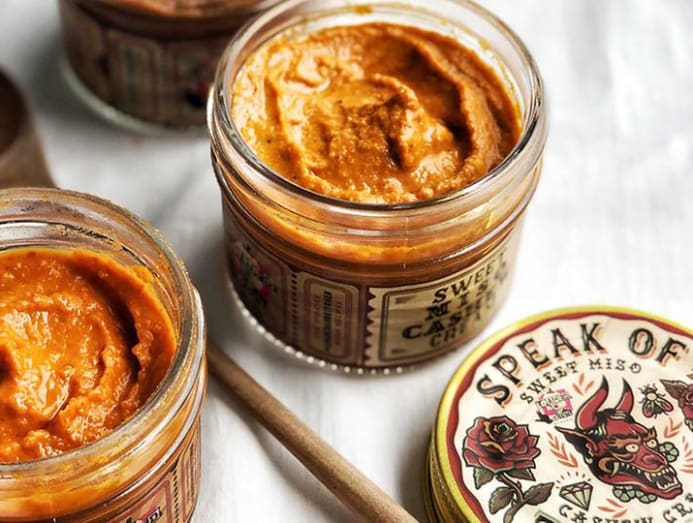 WHICH IS YOUR FAVOURITE AND WHY?

It changes! But for now, it would be the Carrot Kimchi Hummus. I like that it's bold… diabolically punchy, as the label says! It is a little tangy, but also a little earthy from the tahini, which balances it out. And at the moment, that is the mood I'm feeling.
It's worth noting that it took me a long while to figure out how to maintain good consistency, especially with fermenting the vegan kimchi.
I KNOW IT IS STILL EARLY ON, BUT HAS ANY PART OF THE ENTREPRENEURIAL JOURNEY SURPRISED YOU IN A BIG WAY SO FAR?

I learnt, and continue to learn, so much about myself as a person, about business and as a "chef" in my home kitchen every day. The biggest takeaway, or surprise, is that the phrase "follow your passion and you'll never have to work a day in your life" really holds true. This does not feel like work to me. It's my craft, and it's safe to say, after almost 500 gift sets sold and making kilograms of dips, I'm not tiring out anytime soon.
ARE THERE MORE PRODUCTS IN THE PIPELINE?

Ideally, I'd like to expand the product range into sauces, and maybe even vegan clothing. Maybe even kitchenware like aprons – I love fashion too and it's been difficult to find a stylish apron. The possibilities are endless, and I can't wait to show the world what Loaded Gun Kitchen is all about.
WHAT IS YOUR VISION FOR LOADED GUN KITCHEN? WHERE DO YOU WANT TO TAKE THIS BUSINESS?
As Singapore moves towards a more plant-based lifestyle, I hope Loaded Gun can be the edgy cookhouse they can rely on for surprising flavours that will rock their worlds. I would want to expand internationally in years to come too. I know the London and L.A. vegan scenes are buzzing, and I think the brand might fit in well there!